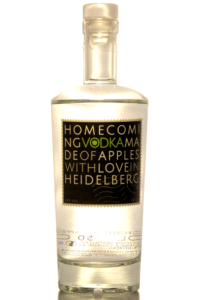 Auf einem immer noch nach Gin durstenden Markt grenzt es an ein wagemutiges Unterfangen, mit einem neuen Vodka an den Start zu gehen. Vor allem, wenn dieser nicht, wie sonst üblich, aus Getreide oder Kartoffeln, sondern aus Äpfeln destilliert wird. Dennoch habe ich es mir nicht nehmen lassen diesen außergewöhnlichen Vodka zu verkosten.
Bei einem Vodka aus Äpfeln kann man sich herrlich darüber streiten, ob das fertige Produkt sich nun Vodka nennen darf oder nicht. Ich bin jedoch der Meinung, dass die Art der Herstellung mit mehreren Durchläufen in einer Destillationskolonne und die Aktivkohlefilterung den Homecoming eindeutig in Richtung Vodka rücken. Bei der Entwicklung des Homecoming Vodkas, der in einer Traditionsdestille in der Nähe von Heidelberg gebrannt wird, wurden die Macher durch einen 70-Jähriger Brennmeister unterstützt, bis nach mehrmonatiger Experimentierphase der Vodka fertig war. Von der Herstellungsweise einmal abgesehen, vermarkten auch einige französische Hersteller ihren aus Trauben hergestellten Brand als Vodka, insofern konzentriere ich mich lieber auf den Geschmack des Destillats anstatt auf die reine Spirituosenbezeichnung.
JD wäre stolz
Um genau diesen beurteilen zu können, habe ich den Homecoming Vodka natürlich pur, aber auch wie üblich in zwei Drinks probiert. Nach kurzer Überlegung, was denn nun das entsprechende Äquivalent des Gin Tonics bei Vodka sei, habe ich mich dazu entschlossen, den Vodka zuerst in einem Moscow Mule zu testen. Neben Gin Tonic und Dark'N'Stormy stellt dieser Highball sicher das Lieblingsgetränk der modernen Bargänger dar, die gerne auch mal als Hippster bezeichnet werden. Als zweiten Cocktail mit Homecoming Vodka hatte ich die Idee für eine Eigenkreation, die an einen Vodka Martini angelehnt ist. Der "Thisisnotanappletini" (ja das ist ein Wort ) ist eine Anspielung an JD's Lieblingsdrink aus der Serie Scrubs (ich weiß, dass Scrubs lange her ist). Statt neongrünen Apfellikör zu verwenden, wird der Vodka einfach für kurze Zeit mit einigen Scheiben Granny Smith Apfel infusioniert. Aber zuerst zum puren Geschmack:
| | |
| --- | --- |
| | Homecoming Vodka |
| Alkoholgehalt: | 40% |
| Preis: | 45 € / pro Liter |
| Anblick: | Klar, mittlere Fenster, langsame Tränen |
| Geruch: | Süßer Duft, Vanille, fruchtig, leichter Alkohol |
| Geschmack: | Zuerst leichter Anklang von Alkohol, dann wieder Vanille, Früchte, Anklänge von Äpfeln |
| Nachgeschmack: | Mittellanger Abgang mit dezenter Fruchtigkeit |
| | |
Im Vergleich zu Gin ist der Homecoming Vodka erstaunlich angenehm pur zu trinken, kein beißender Kräutergeschmack oder eine betäubende Lavendelnote. In der Nase und im Geschmack ist auch nur ein leichter Anklang von Alkohol zu vernehmen, dafür eine ausgeprägte, deutliche Fruchtigkeit. Trotz der vielen Destillationsdurchläufe, lässt sich sofort erkennen, dass dieser Vodka aus Äpfel gebrannt wurde. In einer Blindverkostung würde man diesen Brand sicher als milden Obstbrand einordnen. Dennoch gehe ich davon aus, dass dieser Brand dazu gedacht ist, vermixt zu werden und ich kann mir schon alleine vom puren Eindruck vorstellen, dass er traditionellen Vodkadrinks eine interessante fruchtige Note verleiht.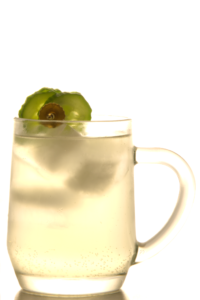 Moscow Mule:
5 cl Homecoming Vodka
2 cl Limettensaft
Top off mit Fever Tree Ginger Beer
Build  – Glaskrug mit Eiswürfeln – mit Ginger Beer auffüllen;
Garnitur: Drei Scheiben Gurke
Song: Zella Day – East Of Eden
| | |
| --- | --- |
| Geruch: | Gurke, Ingwer, fruchtige Noten |
| Geschmack: | Frisch, scharfer Ingwer, leichte Säure, wieder fruchtige Noten, deutlicher, aber nicht störender Alkohol |
| | |
Die deutliche Fruchtigkeit des ungemixten Homecoming Vodkas, wird im Moscow Mule vom Ginger Beer deutlich zurück gedrängt und ist nur im Hintergrund zu spüren. Auch wenn man, allgemein bei einem Moscow Mule, keinen zu komplexen Drink erwarten sollte, ist das Gesamtbild dennoch stimmig. Der Highball wird seiner Aufgabe zu Erfrischen voll und ganz gerecht. Durch die leichte Alkoholnote, die aber nicht aufdringlich wirkt, merkt man gerade so, dass es sich um einen alkoholischen Drink handelt. Ich persönlich garniere meinen Moscow Mule immer nur mit drei kleinen Gurkenscheiben und gebe diese nicht ins Glas, da sonst das Gurkenaroma zu schnell überhand nimmt. Das gleich empfehle ich hier, da die dezente Fruchtigkeit des Homecoming Vodkas sonst droht, ganz verloren zu gehen.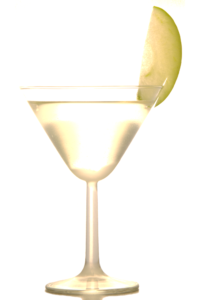 Thisisnotanappeltini:
6 cl Homecoming Vodka
2,5 cl Dolin Dry Wermut
2 Dashes The Bitter Truth Celery Bitters
3 Scheiben Granny Smith Apfel
Granny Smith Scheiben für 15 min im Rührglas mit Vodka ziehen lassen – restliche Zutaten dazugeben – stir – strain – gefrorenes Cocktailglas;
Garnitur: Granny Smith Apfelscheibe
| | |
| --- | --- |
| Geruch: | Zimt, Wermut, Äpfel, Selleriebitter Note |
| Geschmack: | Zimt, Wermut, leichter Alkohol, leichter Apfelgeschmack, etwas Selleriebitter Aroma |
| | |
Die Inspiration für diesen Cocktail kam zum einem von den im Homecoming Vodka verwendeten Äpfeln und zum anderen von einem Gin/Single Malt Tasting bei dem der Gin Tonic mit Granny Smith Apfelscheiben garniert wurde. Außerdem musste ich einfach die Gelegenheit zu dem Wortspiel mit dem Namen des Drinks ausnutzen. Denn diese klassische Vodka Martini Variante könnte nicht weiter vom allgemein als Appletini bekannten Cocktail entfernt sein. Zur Zubereitung muss ich noch zwei Anmerkungen machen: Zuerst habe ich die Apfelscheiben nur im Drink mitgerührt, was mehr oder weniger keinerlei Einfluss auf den Geschmack des Drinks hatte. Deswegen empfehle ich, die Apfelscheiben vor der Zubereitung des Cocktails kurze Zeit im Vodka ziehen zu lassen. Davon abgesehen, sollte man es mit dem Selleriebitter nicht übertreiben. Neben der Selleriebitternote bekommt der Drink durch den Bitters einen leicht an Zimt erinnernden Geschmack. Doch der nicht mit frischem Sellerie vergleichbare Geschmack des Bitters nimmt schnell überhand. Schlussendlich ergibt sich beim "Thisisnotanappletini" eine interessantere und leicht komplexere Komposition als bei einem Standard-Vodka-Martini.
Zur Abwechslung mal eine andere Spirituose als Gin zu verkosten war eindeutig eine nette Abwechslung: Vor allem, wenn es sich um so ein interessantes Produkt wie den Homecoming Vodka handelt. Bezeichnung hin oder her, die deutliche Fruchtigkeit des Homecomings hat mir sehr zugesagt, auch wenn Vodka-Puristen über diese Tatsache die Hände über den Kopf zusammen schlagen werden. Für Bartender ist dieser Vodka sicher interessanter als so manch anderer etablierte Vertreter.