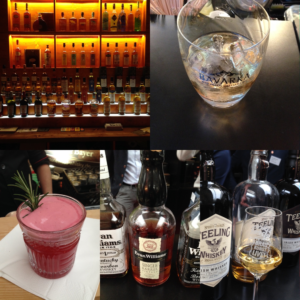 In its eleventh year the Finest Spirits in Munich has become one of the biggest spirits trade show in Germany. Thanks to the good folks of A Wee Taste Of Scotland I this year had the chance to join the press tour of the spirits fair. Even if this was my first visit to this event I was very impressed by the number of exhibitors and of course the beautiful venue. Let us take a look at what I found especially interesting this time!
From NAS whisky to vodka
At the beginning of the press walk we were welcomed by the host of the event Frank-Michael Böer and after a short introduction started exploring the trade show at the booth of Campari. There we were first handed a glass of Glenfiddich 15 Years which of course is not the rarest of single malts, but always a save harbour when it comes to taste. Next we were shown the stand of Andrea Caminneci. He introduced us to a relatively new single malt from the Speyside Distillery. The Spey Tenné is their entry level single malt and after it spent its initial maturation time in bourbon barrels, it was finished in Tawny port casks for six months. The finish of this rather young No Aged Statement (NAS) whisky was more prominent in the aroma with some raspberry notes, rather than in the taste. After that we visited the Pernod Ricard booth and were introduced to the new blended scotch whisky Chivas Regal Extra. This new expression of Chivas Regal is composed of various single malts which were aged in Oloroso sherry casks and of course grain whiskey. The tour ended with two cocktails, the first one at the Diageo Master Class bar was an Apple Pie Mint Julep consisting of Bulleit Bourbon, mint, apple and cinnamon syrup and apple juice. The second cocktail we were offered were a choice of four different vodka drinks at the Finest Spirits Bar. We could choose between a Moscow Mule, two different White Russians and a Vodka Lemon. Since, I wanted to explore some other booths on my own and I had an inkling that I might be offered a few other drinks, so I skipped the vodka cocktails and set out on my own.
From Navy Strength gin to cask aged vodka
My first stop was at the small booth of A Wee Taste Of Scotland to try the new NB Navy Strength Gin. Now I could tell you a lot of interesting thing on their other products like the famous Prometheus 27 Year Old, the Makar Gin or details like the relaunch of NB Gin with a different label, but to make things short: The Navy Strength Gin is really exceptional! It is made with the same level of perfection as the regular NB Gin bottling, but on steroids! The Navy Strength is just an unbelievable complex combination of juniper, citrus notes and herbal botanicals. I only can imagine that they would suit a Martini very well indeed. It also does not have to fear the comparison with other Navy Strength gins on the market. In fact, I only have tried one competitor who manages to produce this style of gin with similar complexity. The only drawback with the NB Gin will be its price which probably will burden your budget with around 70 € for a 0,7 litre bottle.
NB Navy Strength Gin
Alcohol:
57 %
Price:
T.B.A (About 100 € per litre)
Appearance:
Clear, small windows, slow tears
Nose:
A lot of juniper, lemon peel and fresh cut lemons, some oranges, spices and angelica
Taste:
Sweet, juniper, spices pepper and a whiff of menthol notes
With water: Less sweet, earthy with pronounced juniper and spices
Aftertaste:
Long finish resin, juniper and citrus notes
My next stop was the booth of Windspiel. After their gin and a rare barrel aged gin their third new product is a potato vodka. Actually, at the Finest Spirits was the first time they presented this new product to the public. When it comes to the basic facts, the potato vodka is distilled from Pirol potatoes according to a secret distillation technique invented by their master distiller. In contrast, the base spirit for the Windspiel Gin is made from a combination of different potato varieties. Afterwards the vodka is aged in ash wood barrels for a few months. The girls and guys, or should I better say ladies and gentlemen, behind Windspiel chose ash wood over oak, because they did not want to mask the subtle flavours of the potato distillate while at the same time adding a distinct flavour profile. I am a bit ambivalent when it comes to this product, no doubt it is a spirit of the highest quality, but I still could not quite rap my head around the fact that this is meant to be a vodka. Apart from that, I am asking myself right now in which cocktails could I use such a unique spirit?
| | |
| --- | --- |
| | Windspiel Potato Vodka |
| Alcohol: | 40 % |
| Price: | T.B.A (About 90 € per litre) |
| Appearance: | Crème, medium sized windows, medium fast tears |
| Nose: | Distinct sweetness, some fruits and spices |
| Taste: | Dry, potatoes, some vanilla like notes, distinct bonfire smoke, umami |
| Aftertaste: | Medium long aftertaste, smoke, potatoes and a whiff of sweetness |
Some great Scotch alternatives
Next up I went to the Borco Markenimport booth and followed the suggestion to try the Teeling Single Malt. The special thing about this Irish Single Malt is not the bottling at 46 % or the fact that it is neither chill-filtered nor coloured, but the finishing in five different fortified wine and wine barrels. Cabernet Sauvignon, madeira, port, sherry and White Burgundy to be exact. The whisky itself was probably distilled at the Cooley distillery and was not sold with it to Jim Beam in 2014. Right now, after Teeling had finished their new distillery in Dublin in 2015, they are distilling their own spirit there. – I really enjoyed the Teeling Single Malt! It is not the most complex whisky in the world, but at the same time rather complex for an Irish one. Even though this again is a No Age Statement whiskey you will not notice its youth when sipping it. Moreover, all of the Teeling whiskies carry a fair price tag and the combination of all those things makes this bottle my value-for-money tip when it comes to the Finest Spirits 2016. Maybe, even for whisky in general.
| | |
| --- | --- |
| | Teeling Single Malt |
| Alcohol: | 46 % |
| Price: | 53 € per litre |
| Appearance: | Golden, medium sized windows, slow tears |
| Nose: | Cereals, butterscotch, fruits |
| Taste: | Smooth, butterscotch, caramel, dried fruits, sweet citrus fruits |
| Aftertaste: | Rather long finish, with a slight hint of dark chocolate |
When I was almost ready to leave the Borco stand I was asked if I also wanted to try some of the American whiskeys they had lined up. Of course, I found it very hard to say no to such a tempting offer and was then introduced to Thomas Domenig, independent spirits expert, writer and former bartender. After I had admitted that I never tried the Evan Williams Single Barrel Bourbon before, I was given a dram and Thomas and I had a long and very interesting talk about bourbon and American whiskey in general. Obviously, I had to address the fact that bartender's favourite bourbon, Elijah Craig 12 Years, will in the future no longer carry an aged statement. Which on the one hand is sad, but according to Thomas the new bottling will consist of mainly eleven year old bourbon with none of the whiskies in the mix being younger than eight years. In is eyes this could make the whiskey a little bit more accessible. You can read more about this on Chuck Cowdery's blog. Another very interesting fact was that the mash bills for the Evan Williams bourbons and the Elijah Craig bourbons are the same. However, the important difference between the Elijah Craig and the Evan Williams Single Barrel is the location of the barrels in the warehouses. While the Elijah Craig comes from barrels which were stored at the bottom floors the ones for the Evan Williams Single Barrel come from the top floor. Apart from that, Thomas also told me that Heaven Hill are currently expanding their distillery and they will built gigantic new warehouses.
Enough with the whisky! Get me some eau de vies!
A few weeks ago I introduced you to the Birds Weissbrand and clearly I had to make a quick stop to say "hi" to the guys behind this great new spirit. With their new term "Weissbrand" they single-handedly managed to invent a new spirits category. Their brand manager Basti also introduced me to the first product they introduced to the market: The Wolf is an eau de vie distilled from a cuvee of noble sweet wines. Also he explained that The Wolf is intended for star-awarded-restaurants and such. This also is the reason why, besides the gorgeous packaging, this unaged brandy carries a rather hefty price tag. Yet, it was unbelievable smooth, with a coalescence of fruity and sweet grape notes.
On my way to the last booths before heading home, I coincidentally ran into my former colleagues from Gelbes Haus in Nuremberg. and obviously had to say hello. Along with that, I also had to try some of the cocktails made with Lantenhammer eau de vies. Out of curiosity I decided to try the Bird's Tail, a simple combination of rowanberry eau de vie and walnut liqueur. Normally, I am not a big fan of rowanberry eau de vies, because they usually are very earthy and also have a floury taste. However, in this cocktail the combination was just perfect! The sweetness of the walnut liqueur and its nutty aroma just perfectly complimented the earthy and not at all floury Lantenhammer eau de vie. I also highly recommend trying the sloe eau de vie aged in Slyrs Single Malt barrels to you, but this is just another great spirit in the long list of Lantenhammer products you should try!
Two familiar importers and a conclusion
I finished my tour of the Finest Spirits 2016 with a short visit to the Pierre Ferrand booth, where I tried the very intensive, clove-forward Riserva Carlo Alberto sweet vermouth and a short stop at the Perola stand on my way out. The interesting thing about the Carlo Alberto vermouth is that the wine only comes from their own vineyards. Although, mixing with this intensive red vermouth could be challenging, I suppose it will make a number of great cocktails. At the Perola booth my trade show visit ended as every great day should with a sip of mezcal, Del Maguey Santo Domingo Albarradas Mezcal to be exact. This single village mezcal is distilled at an altitude of almost 3000 m and besides the expected smokiness and umami taste there was a nice combination of citrus notes and a slight saltiness, too.
All in all, the Finest Spirits is a great event for spirits connoisseurs and bartenders, but also for people enjoying the occasional dram of whisky. Although, the exhibition was clearly focused on whisky you were able to experience almost any kind of spirit. Moreover, with the MVG museum the venue could not be more perfect, instead of a clinically environment of a exhibition hall the museum gives the whole event a certain comfortable atmosphere. This might have been my first visit to the Finest Spirits trade show, but it definitely will not be my last!