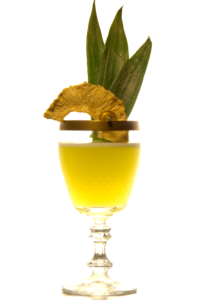 I have been absent from Mixology Monday way, way too long! That is why one of my new-year resolutions was to participate each and every time this year… And what can I say: I already missed January! Damn it! So, I guess I have to make up for it now: here is my entry for Februarys theme: "that's not a Martini!" and the name basically already says it all.
The pineapple incident
Even though Dagreb from Nihil Utopia chose Martini variations for a theme this month, I cannot ignore the fact that February is also Tiki Month! Therefore, I had a flash of genius and remembered the Algonquin cocktail. It is a kind of awkward combination of rye whiskey, dry vermouth and pineapple. I had never tried it so far and was intrigued by the combination of Rye and pineapple. I had the idea just to replace the rye with some gin. So, I went through all of my gins in my mind and decided to use Tanqueray Old Tom Gin, because it is sweetened with pineapple after all… Oh wait, that was just one of those marketing hoaxes. Remember the space aged Ardbeg Galileo?
Sorry for the name
I can only apologize for the pun with the name, but come on who would not have done it? It just was too easy to switch out one letter and end up with a name that basically says it all. Again, I have to remind you that it is Tiki Month and this essentially justifies any means necessary to make drinks that do not take themselves too seriously. This also applies for the technique of preparing the drink: I consider myself as the last bartender on earth who would shake a Martini, or a variation of it, but in which other way would you incorporate the flavour of fresh pineapple in the drink? Stirring just would not get the job done here!
4,5 cl Tanqueray Old Tom Gin
2,25 cl Dolin Dry Vermouth
2 Dashes The Bitter Truth Peach Bitters
0,5 cl Simple Syrup (If pineapple isn't too sweet)
1 Ring Of Fresh Pineapple
Muddle pineapple in base of shaker – add the rest of the ingredients – shake – double strain – chilled cocktail glass;
Garnish: Dried Pineapple – Three Pineapple Leafs;
Song: Divine Fits – Would That Not Be Nice
Rye Whsikey Vs. Gin
Of course I made both, the original Algonquin cocktail and the Alginquin and tried them side by side and what can I say? Although the Algonquin is good, the Alginquin is even better. Pineapple and gin just mix better and the resulting drink is a exotic refreshment that is fruity without being too sweet. However, I have to admit that it is fairly impossible to tell a resemblance to a Dry Martini. But who would sip a Dry Martini on a hot tropical island anyway?
So, I hope I will not be disqualified from Mixology Monday and I am looking forward to next time! But first let's see what your other drink recipes are!