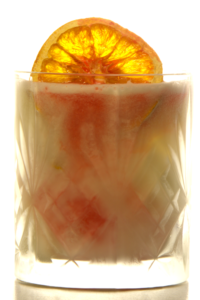 Sometimes your guests demand something "special", something extraordinary. Of course you could just suggest a classic cocktail that fits their taste, but another thing that I like to do and what I consider pretty much fun is creating an unique drink just for them. So, this was what I did for one of my best friends and even if it does not contain rum, I think it is a perfect cocktail for Tiki Month!
Please your guests with tailor made cocktails
Probably the easiest way to end up with delicious "tailor made" cocktail is to use Sours as a base. Obviously, the more experienced cocktail mixers amongst you will probably think that this is a bit uninspired. However, if the person you designed the drink for likes it, you have reached some common ground from which you can move on to more complex drinks. Initially you should ask your guest which base spirit he or she likes, or if they cannot settle for one, you are better off asking what they dislike. Sometimes it is easier to put your finger on what you do not want your drink to taste of. Once you decided which base spirit to use you can choose the sweetener accordingly. There is an almost unlimited number of choices here ranging from special kind of simple syrup, to fruit syrups or even jam.
Two potent base spirits
With the 38. Al Special I went a slightly different way and chose absinthe as a complementing flavour for the drink. Ever since my friend and I tried some Pernod as teenagers we absolutely love absinthe and all absinthe-like liquors. Moreover, when we went to clubs he was the one ordering tequila shots, without anyone asking for them. With absinthe and tequila in the mix I think you can call the cocktail a Tiki drink, but to make sure I decided on floating the drink with a decent amount of Peychaud's Bitters – Just to make sure that the optics match the Tiki theme…
Fainthearted tequila
At the moment I only have Espolon Reposado Tequila on hand and while it is ok to sip neat, it is a bit weak when it comes to mixing. I suggest replacing it with Herradura Reposado or something equally powerful. Apart from that I reduced the amount of absinthe and simple syrup from the initial recipe, because the final cocktail was a bit too sweet and had too many herbal notes. In the recipe below the drink has a good balance between herbal notes from the absinthe and bitters and the agave notes from the tequila.
4,5 cl Espolon Reposado Tequila
0,75 cl Oliver Matter Brevans Spare Absinthe
3 cl Lemon Juice
1 cl Simple Syrup
1 Small Egg White
Float 0,5 cl Peychaud's Bitters On Top
Shake with ice – strain second shaker – shake without ice – fill into chilled Double Old-Fashioned glass over ice cubes – garnish – float bitters;
Garnish: Two Dried Orange Wheels;
Song: Goodbye Chanel – Foreva
Herbal notes – I'll repeat: HERBAL NOTES!
Your probably already guessed that the drink would be dominated by a herbal flavour and guess what: It really is! There is a strong anise and fennel taste which is noticeable throughout the whole sip. Even with 1 ½ oz the tequila is still playing second fiddle, but the agave notes will shine through the thick layer of herbs. With under 1/4 oz of Simple Syrup the drink has a good balance between acidity and sweetness, some part of that is due to the use of egg white, which helps balancing out the whole cocktail and gives it a nice mouth feel. Furthermore, the bitters are far more than just a cool garnish: they perfectly compliment the taste of the absinthe.
All in all, besides the Pinky Gonzales, this cocktail is one of my favorite Tequila Tiki Drinks, if there even is such a category. What do you think? Can you still call a cocktail without rum a Tiki drink?