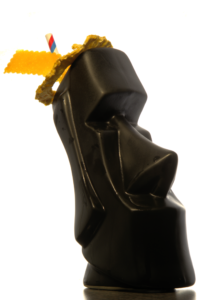 Yes, it is this time of year again! – No, not Christmas! It is Tiki Month and of course I set out to create a few new tropical inspired cocktails for you. So join me on this rum soaked journey with my first creation the "Natives Are Restless Tonight" and yes that is the name of the drink!
In my opinion, while short names are okay for Tiki drinks, long and unusual names fit those flavour loaded and sometimes overly complicated libations perfectly. Do you still wonder about the name of this drink? Of course it is the title of a song, it is the name of a Tiki song to be exact and with all those intoxicating ingredients you probably will agree that this drink can make you quite restless! If you know what I am getting at…
Smoke and pineapple
Ever since I had to make pineapple and Lapsang Souchong tea syrup for work at the bar, I wanted to create something using this flavour combination. The smokiness of the tea just went very well with the sweet and fruity pineapple flavour! However, I did not want to make the same syrup: First, that would have been uninspired and second, I did not want to end up with pineapple syrup, which I only could use in a very limited number of drinks. That is why I decided to make some pineapple gomme syrup, that means syrup containing some resin from an acacia. To deliver the smoky flavour I infused Rhum Agricole with the Lapsang Souchong tea. By the way, Rhum Agricole is distilled from fresh sugarcane juice instead of molasses. Just in case you did not already know this.
A sticky mess of syrup
You might now ask why I went for Rhum instead of Rum? Simply because I had the notion that the vegetal and grassy flavours of the Rhum would go along with the smokiness of the tea just fine. It turned out that I was right the infusion is potent, but delicious. Apart from that, syrup production turned into a disaster of some kind, but more on that in a separate article. Let's just say that you should not use a stainless steel pot, or any metal kitchen tools for that matter when making gomme syrup!
Fine tuning of the drink
I do not want to brag, but most of the times when I dream up a new drink, I somehow manage to get the ingredients and rations right the first time. Of course, I need to adjust one or two components of the drink, but not more than that. That being said: this time it was different and it is not that I am disappointed by that, just a little displeased. Presently, I am trying to replace citrus juice in new creations, because in my opinion far too many drinks use them, just because it is easy and convenient. However, it seems that I did not get the hang of it so far. You see, lemon and lime a ingredients that I am used to, so I can guess how much of it each individual drink needs. With things like Anchor, tamarind syrup or vinegar, I do not have the same level of experience or none at all…
This is why when I tried to replace the lime juice in the "Natives Are Restless Tonight" with a combination tamarind syrup and grapefruit juice, the drink ended up having way too many flavours fighting each other. The smokiness of the tea was hidden underneath an undefined layer of sour taste, with an overripe grapefruit note in the back. Therefore, I admitted defeat and replaced the tamarind syrup with lime juice. I also switched out the white grapefruit for pink grapefruit. This might seem petty to you, but pink grapefruit is the first aid kit for cocktails gone wrong.
6 cl Lapsang Souchong Infused Saint James Fleur Du Cane Rhum Agricole*
3 cl Pink Grapefruit Juice
3 cl Lime Juice
2 cl Pineapple Gomme Syrup
Spray Absinthe Through A Flame On Top
Shake long and hard – strain – Tiki mug over ice cubes;
Garnish: Dried Pineapple Wheel – Long Grapefruit Twist;
Song: Don Tiki – The Natives Are Restless Tonight
*6 g Lapsang Souchong Tea for 350 ml of Rhum – put tea in a tea bag – let steep for 10 – 12 min – remove tea and bottle;
The first thing you will notice are the herbal notes of the burned absinthe. However, when sipping the drink the herbal flavours fade away and the Rhum and grapefruit are dominating the taste. After the initial sip the flavour becomes more sour with pineapple notes and a little bit of smoke lingering in the back. Still, its taste is quite unique and you will end up finishing the drink faster than you should, as it is often the case with Tiki drinks. So, I think a bit of warning is in order: with the use of 100 proof Rhum it is quite strong, but of course you know that this is the whole purpose of a Tiki drink!
Stay tuned for more Tiki drinks and of course my instructions for making pineapple gomme syrup. Just a little teaser: I have heard that not every Tiki drink this year will use rum…! If you have any other good Tiki concoctions, just let me know!