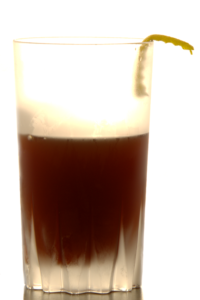 It took my a while, but now I finally managed to create a cocktail containing my homemade liquorice syrup! I had a few ideas for twists on classic cocktails. However, this one was a spur of the moment kind of thing and it is surprisingly good!
There is a curious thing about Negronis and their variations: while they are fairly easy to screw up, it is pretty hard to improve the drink. I can only think of three variations I have enjoyed so far. First of all there is the Boulevardier, another classic which basically is a Negroni using Bourbon, Klaus St. Rainer's the Tabula Rasa and Robert Hess's Trident. I am telling you this, so you see that there was a probable chance of screwing this up…
Inspired by lavender
Imagine my surprise when I just went for it and made the drink anyway! – While I would not dare to list my drink along the other three drinks above, I am certainly pleased with it. But, first things first: The first idea for the cocktail was inspired by an article on Mixology.eu. The Smoked Blossom Negroni was created by Martin Kramer, Charles Bar, Wittenberg. In addition to the usual Negroni ingredients, Martin's drink uses lavender syrup and smoke, as well as some rosewater. This was the reason why I thought: "Hey, if this still is a Negroni, I can also call my drink a Negroni !". After that, I switched the lavender syrup for my own liquorice syrup, scrapped the rosewater and smoke and replaced the sweet vermouth with port wine.
Add liquorice syrup to taste
When preparing the drink the first time, I determined the amount of liquorice syrup to use. I tried the drink before stirring it over ice and repeatedly added syrup until there was a definite liquorice taste, but without the cocktail becoming too sweet. It was astonishing how much syrup the drink could use, without tasting like a liquorice candy-bar. I think this was due to the fact that port wine is way less sweet than sweet vermouth. Of course the amount of syrup to use is up to your individual taste and also depends on how sweet your liquorice syrup is, just start with a small amount and work your way up until you reach the desired result!
Stir – strain – chilled Old-Fashioned glass add ice if desired;
Garnish: Orange Twist
Song: Portugal.The Man – Sleep Forever
Usually I prefer my Negroni straight in a frozen glass without ice. However, the Negroni Tinto can actually use a little dilution, not because of the liquorice syrup, but because of the Campari coming through quite strong. A little ice fixes that and the drink transfers itself from being very complex to getting more approachable as the ice melts. Apart from that the gin plays along with the woody and dark notes of the liquorice just fine. Besides its dryness the port wine is a great substitute for the sweet vermouth.
While this certainly is a great drink and a good change from drinking Negronis all the time, I am sure that there a other interesting drinks out there using liquorice. For instance, I am planning on trying a Whisky Sour with the addition of a little liquorice syrup, but if you have other great recipes just mention them in the comment section!