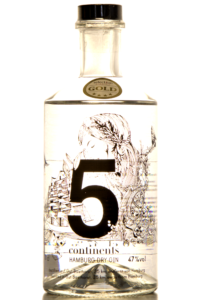 Um im boomenden Gin-Markt mit komplett neuen Gin-Herstellern mithalten zu können, ergänzen auch immer mehr deutsche Obstbrenner ihr Sortiment mit Gin. So auch die Feingeisterei. Das Besondere: ihr 5 Continents Gin wartet mit exotischen Botanicals aus der ganzen Welt auf. Wie sich diese auf den Geschmack ausüben, habe ich selbstverständlich für euch getestet!
Auf Gut Basthorst in der Nähe von Hamburg, wird der 5 Continents Gin von der Feingeisterei destilliert. Betrieben wird die kleine Brennerei von Fabian Rohrwasser, der zufällig wie ich ebenfalls aus Nürnberg stammt. Natürlich habe ich mich dadurch keineswegs bei der Bewertung dieses Gins beeinflussen lassen, oder vielleicht doch? – Ungeachtet dessen setzt sich der 5 Continents Gin bewusst über die von anderen Gin gesteckten Grenzen der Regionalität hinweg. Denn bei der Herstellung werden 22 Botanicals von allen fünf Kontinenten verwendet, darunter befinden sich Eukalyptus, Ingwer, Kardamom, Kaktus, Koriander, Lavendel, Mate, Paradieskörner, Schwertlilienwurzel, Wacholder und Zitronen. Zusätzlich bleibt zu erwähnen, dass alle Botanicals aus biologischem Anbau stammen. Lassen wir uns nicht lange aufhalten und beginnen mit dem puren Tasting des Gins:
Ein Gin für Koalas?
| | |
| --- | --- |
| | 5 Continents London Dry Gin |
| Alkoholgehalt: | 47% |
| Preis: | 50 € / pro Liter |
| Anblick: | Klar, mittlere Fenster, langsame Tränen |
| Geruch: | Wacholder, Citrusnoten, kühlende an Aloe Vera erinnernde Aromen, leichtes Stechen, eventuell vom Eukalyptus |
| Geschmack: | Kräftig würzig mit Wacholder und Pfeffer, Citrusfrüchte, |
| Nachgeschmack: | Mittellanger Abgang mit Pfeffer und Eukalyptus |
| | |
Der 5 Continents Gin versucht gar nicht erst die Zunge zu umschmeicheln, sondern brennt sofort sein Aromen-Feuerwerk ab! Deshalb ist er natürlich nicht besonders angenehm pur zu trinken, aber dadurch gibt er mir die perfekte Gelegenheit wieder meine Trinkt-Gin-Nicht-Pur Keule auszupacken. Inzwischen freue ich mich fast, wenn mir ein Gin pur nicht allzu gut schmeckt – Ausnahmen bestätigen dir Regel –, denn dann hat der Gin genug Potential um in Cocktails mit kräftigen Tonic Waters und anderen Zutaten klar zu kommen. Beim 5 Continents Gin ist es die Kombination aus Eukalyptus, Pfeffer und Wacholder zusammen mit dem hohem Alkoholgehalt von 47%, der für Gins eigentlich Standard sein sollte, der ihn eben genau nicht zum angenehmen "Sipper" macht. Aber keine Angst beim anschließenden Test im Gin Tonic können wir alle wieder Freunde sein.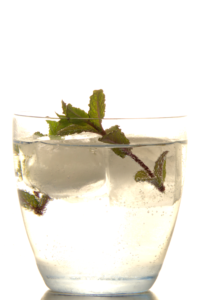 Gin Tonic:
5 cl 5 Continents London Dry Gin
Top off mit Fever Tree Tonic Water
Build  – gekühltes Double Old-Fashioned Glas mit Eiswürfeln – mit Tonic Water auffüllen;
Garnitur: Minzzweig;
Song: Local Natives – Breakers
Click on the button below to load the content of YouTube.
Load content
PGlmcmFtZSB3aWR0aD0iNzgwIiBoZWlnaHQ9IjQzOSIgc3JjPSJodHRwczovL3d3dy55b3V0dWJlLW5vY29va2llLmNvbS9lbWJlZC9DYVlrYXF4SG9acz9mZWF0dXJlPW9lbWJlZCIgZnJhbWVib3JkZXI9IjAiIGFsbG93ZnVsbHNjcmVlbj48L2lmcmFtZT4=
| | |
| --- | --- |
| Geruch: | Chinin, fruchtig, süße Noten, Lackzistrose |
| Geschmack: | Anflug von Bitternoten, frisch, Citrusnoten und Wacholder, Blumen, mit stärkerer Bitterkeit im Abgang |
| | |
Überraschenderweise kommt im Gin Tonic mit 5 Continents Gin die von anderen deutschen Gins bekannte Lackzistrosen Note zum Vorschein, obwohl ich sie in der Purverkostung nicht ausmachen konnte. Inzwischen tippe ich darauf, dass ich diesen Geruch einfach mit einer Vielzahl an sich überlagernden blumigen Noten assoziiert habe. Kann ja nicht sein, dass alle deutschen Gins gleich schmecken, oder etwa doch? Bevor ich hiermit jetzt irgendwelche Grundsatzdiskussionen vom Zaun breche, ist die blumige Note auch schon wieder verfolgen und wird von typischen Tonic Water Aromen verdrängt, die von ungewöhnlich fruchtigen Noten unterstützt werden. Im Geschmack zeigt sich der Gin Tonic dann wieder eher floral mit klassischen London Dry Gin Aromen und einer deutlichen Bitterkeit, die während des Trinkens weiter zunimmt. Insgesamt einer der spannendsten Gin Tonics, die ich in letzter Zeit probieren durfte! Abschließend hatte ich noch die Idee den Gin, auf Grund seiner Eukalyptusnoten, in einem Hanky Panky Cocktail zu probieren.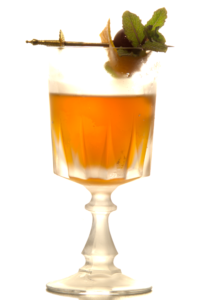 Hanky Panky: – Ada Coleman
4,5 cl 5 Continents London Dry Gin
4,5 cl Carpano Antica Formula Wermut
2 Dashes Luxardo Fernet
Stir  – strain – gefrorenes Cocktailglas;
Garnitur: Orangenzeste – Minzzweig – Cocktailkirsche;
| | |
| --- | --- |
| Geruch: | Orangenöl, Kirsche und Eukalyptus |
| Geschmack: | Mild, Anklänge von Wein, leicht bitter, würzig, etwas Vanille, Minze und Eukalyptus, mit etwas Temperatur: mehr Eukalyptus und Menthol |
| | |
Der von Ada Coleman für Charles Hawtrey maßgeschneiderte Cocktail verlangt eindeutig nach einem kräftigen Gin. Ansonsten wird er gnadenlos in einem Meer aus kräftigem, rotem Wermut ertränkt. Auch die zwei Dashes Fernet sollte man nicht unterschätzen, klingen sie zuerst nach einer homöopathischen Dosis, reichen sie dennoch aus um dem Drink den typischen Fernet Stempel aufzudrücken! Mit dem 5 Continents Gin ergibt sich ein leichterer Drink, als beispielsweise mit Tanqueray, dennoch behält er die Oberhand. Gleichzeitig kommen die subtileren Noten des Wermuts besser zur Geltung, natürlich nur wenn man es nicht mit dem Fernet übertreibt. Ich bin mit dem runden Ergebnis durchaus zufrieden, denn die Zutaten kämpfen nicht gegeneinander an, sondern ergeben den idealen Cocktail für einen ruhigen Abend!
Für mich zeigen sich mit dem 5 Continents Gin zwei Dinge: zum einen, dass man hier einen handwerklich gut gemachten Gin vor sich hat, der nicht dem Drang zum Boutique Gin in der 0,5 l Flasche verfallen ist und zum anderen, dass man sich nur etwas mit der Spirituose auseinander setzen muss um ein gelungenes Genusserlebnis zu haben. Leider interessieren die spannenden Cocktails mit Gin, abseits des Gin Tonics die wenigsten und so wird auch dieser Gin in Mengen von Bitterlimonade ertränkt werden… Zum Glück schmeckt er auch in dieser Kombination gut!