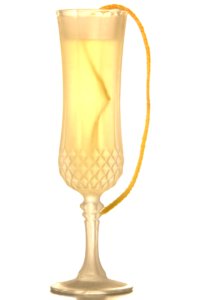 The whole gin thing was fun for a while, but I feel like the time has come to say goodbye! Of course I am somewhat exaggerating, I will still be enjoying the occasional gin and because I am a bartender I have to be informed about new gins coming to the market, too. Nevertheless, my new passion are eau de vies! They are in some ways similar to gin and at the same time completely different. Don't worry I will explain it with a cocktail!
So, let us start with the similarities: like gin, eau de vies can be made by almost everyone who has the right to produce alcohol. This is the reason why certain bartenders think that eau de vies, contrary to tequila, could be the next big thing here in Germany. If you count all the different fruit varieties, especially old ones, the possibilities are endless. Similar to the endless combinations of botanicals when producing gin. However, as with gin you need a certain amount of experience and knowledge to really make a good one. Furthermore, it goes without saying that in both cases the raw ingredients have to have the highest quality possible!
Fermentation as the crucial part
Basically this is where the similarities end, because producing a really good eau de vie is in my opinion far more complex than making a good gin. I do not want to belittle gin producers here, the process of finding the right combination and way of distilling the botanicals can be also very complex. Though when making an eau de vie the most complicated part even comes before the distillation: The fermentation of the ingredients. There is just so much that can go wrong. For example you must know the right temperature at which the fermentation of this particular fruit should take place, then you have to control the temperature during fermentation. You also have to decide if you want to sieve the mash, which influences its viscosity and in the end the taste. Sometimes you will even have to add water to the mash, because mash made from fruits like rowan berries is just too viscous.
Applying this knowledge to cocktails
When it comes to cocktails made from eau de vies most bartenders, including me, first think of replacing common spirits in classic cocktails. While there is nothing wrong with this approach, except the higher cost of material, another practice was presented to me by this article on Mixology.eu. Basically, the author argues that instead of replacing other spirits, you should add just a small amount of a highly aromatic eau de vie to create a new flavour profile in a cocktail. Consequently, I thought I have a go at it. Instantly I knew which excellent eau de vie I wanted to use: the Limoneras Pear eau de vie from the Hiebl distillery in Austria. The Limoneras or Dr. Guyot pear is an old variety which originated in 1875 from Troyes, France. Limoneras is the Spanish name for the same fruit and this is also where the pears used by Georg Hiebl are coming from. They are sour and a little bit sweet in taste, with a very tart peel. Mr. Hiebl lets the pears degreen and this leads to a twelve hour time frame in which the pears are in perfect condition for fermenting. The fermentation itself takes places at lower temperatures, which results in an additional freshness of the eau de vie.
| | |
| --- | --- |
| | Hiebl Limoneras Birnen Edelbrand |
| Alcohol: | 40,3 % |
| Price: | 58 € / per litre |
| Appearance: | Clear, medium sized windows, very slow tears |
| Nose: | Sweet pear notes, lemon, lemon oil, soothing mint, slight grape pomace notes and spices |
| Taste: | Fruity pears, lemon peel and oil, hint of grasy notes, well integrated tannins, |
| Aftertaste: | Cooling and sweet aftertaste |
| | |
Pear and yeast notes in perfect harmony
With the first eau de vie settled I was in need of a base spirit for the drink and something to "dilute" the drink. This is where I strained from the path of just adding a small amount of eau de vie, because I used another excellent spirit from another famous eau de vie distiller: A Riesling eau de vie de lie from Hubertus Vallendar to be exact. I just could not resist the temptation of pairing those two great spirits. With its fruity almost pear like notes and its aromatic and soft texture it is an superb match for the Limoneras eau de vie. Similar to the Limoneras pears the yeast, which comes from the Heymann-Löwenstein vineyard, is fermented at low temperatures to preserve as much flavour as possible. Some people may be a bit repelled by the fact that this is made from the left over yeast used for the production of wine, but there is absolutely no reason for that. After all it is similar to grappa, but with  its delicate and fragrant taste it is far more complex. This alone should be reason enough to give it a chance – I almost forgot to tell you about the ingredient I used to top off the drink. What better way to complete this drink as with champagne?
| | |
| --- | --- |
| | Vallendar Kaltvergorener Riesling Hefebrand |
| Alcohol: | 40 % |
| Price: | 64,20 € / per litre |
| Appearance: | Clear, medium sized windows, slow tears |
| Nose: | Floral, slight pipfruit notes, nutmeg, vanilla, grapes and violets |
| Taste: | Very mellow, fruity & floral, apple and pear notes, reminiscent of wine, slight sweetness |
| Aftertaste: | Long elegant fruity aftertaste with a fair amount of spices |
| | |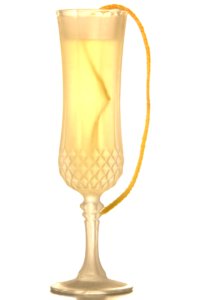 3 cl Vallendar Riesling Eau De Vie De Lie
0,5 cl Hiebl Limoneras Eau De Vie
2 Dashes The Bitter Truth Grapefruit Bitters
1 Bsp. Simple Syrup (Depending on the Dosage of the champagne)
Top off with Coutier Brut Millesime Grand Cru
Stir –  fill chilled Champagne glass have with champagne – strain drink into glass – top off;
Garnish: Long grapefruit twist;
Song: Michael Kiwanuka – I Won't Lie
Do you get the pun? Come 'On this time it's not that hard! Apart from my strange way of naming my creations, let us get to the drink itself. The first important thing when preparing it is to keep in mind is the dosage of the champagne. Fortunately most champagne houses nowadays are telling you how much sugar they add to the bottle after the second fermentation. You might have to adjust the amount of simple syrup in this recipe accordingly. When it comes to the taste of the cocktail it is clearly dominated by the pear eau de vie. There is a distinct lemon note which is supported by the grapefruit bitters and peel. On top of that you can notice a multi-layered pipfruit aroma which of course is partly due to the Limoneras eau de vie, but the eau de vie de lie also plays a part in it. With its aroma reminiscent of wine and spices the Riesling Hefebrand also adds a manifold depth to the mixture. The cocktail is crowned by the carbonation of the champagne, which adds a level of freshness. Furthermore, the bubbly appends notes of freshly baked raised pastries.
For me this cocktail showcases what can be achieved by mixing drinks with eau de vies! And I also think I do not have to tell you that I quite like it. At the same time I also know that most of my readers will not go crazy and buy those two eau de vies to replicate this cocktail. Which of course is a pity, however, just let this combination serve as an inspiration for your own great eau de vie cocktail then!