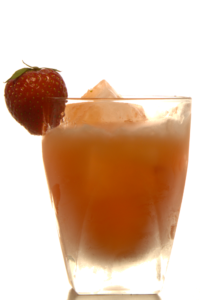 The last few days were the hottest since records began! With this kind of weather I was not in the mood for highproof spirits. Gladly I had just the right stuff on hand: Rhubarb Liqueur made by Florian Faude!
While I admit that on a first glance this cocktail might be more for the ladies, in this kind of weather gents secretly crave those sort of drinks, too. Actually the idea of this came from a cocktail obsessed friend of mine. He mentioned that strawberries would go great with rhubarb and guess what? He was right, but first on to the liqueur itself.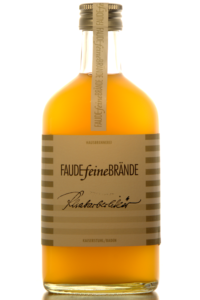 | | |
| --- | --- |
| | Faude Rhubarb Liqueur |
| Alcohol: | 20 % |
| Price: | 54 € / per litre |
| Appearance: | Bright orange, cloudy, big windows, medium fast tears |
| Nose: | Intense, fresh rhubarb aroma, sour notes, lemon juice, hints of lactic acid |
| Taste: | Pungent acidity, rhubarb taste, slight sweetness, stewed fruit, |
| Aftertaste: | Sour aftertaste and whiff of spices |
| | |
This Rhubarb Liqueur made from the variety "Hollsteiner Blut" delivers everything you could ask for: Powerful rhubarb aroma with its characteristic sour taste and just enough sweetness to be called a liqueur. Besides its high level of acidity, the liqueur is quite delicate. I reckon that it would make an excellent "Spritzer" in combination with Riesling sparkling wine. Nevertheless, I had other planes for it!
Basically, I just made a Sour style drink, with the addition of strawberries. To add an extra kick I looked up ingredients, which go well with strawberries. My often consulted Flavour Bible showed that for instance Chartreuse does and because I did not want it to overpower everything I decided to just use some sprays of it.
The only thing missing to the mix was a sweetener. First I wanted to use simple syrup, but in the supermarket I was quite surprise by the vast selection of different sweeteners. Different styles of organic honey, dark and light agave syrup, spelt sweetness and apple sweeteness were just the tip of the iceberg. Consequently, I could not resist the temptation to buy at least one of them. In this case I settled for the apple sweetness. On the label it says that it has a neutral flavour, but in my opinion you can detected a certain hint of fruitiness. It is a long-shot to say it tastes of apples, but there is some pipfruit aroma. However, if you cannot or do not want to get your hands on this exotic stuff, you can just use simple syrup in this recipe.
3 – 4 Strawberries cut in small pieces
Top off 3 Sprays Chartreuse Verte
Shake – double strain – chilled Old-Fashioned glass over ice – spray Chartreuse on top;
Garnish: Strawberry
Song: Coldplay – Strawberry Swing
Not only the colour of this cocktail is beautiful, the taste matches its appearance. It is light with fruity and fresh aromas of summer. Unsurprisingly the herbal Chartreuse notes are the first thing you will notice. Yet, if the strawberries are ripe enough they clearly dominate the drink, but they are splendidly accompanied by the rhubarb flavour. Be sure not to use too many strawberries, otherwise they will overpower the other flavours. All in all this drink is not over the top complex or complicated, but that was not my intention in the first place. Therefore, it does exactly two things very well: it is a light refresher on a hot summer evening, while showcasing the superb Faude Rhubarb Liqueur!