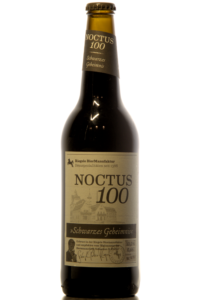 Every once and a while I get fed up with cocktails and I am craving beer. However, as a bartender cocktail nerd I find it hard to enjoy normal beer. What am I saying here: of course I enjoy normal beer, but right now I prefer "craft" beers. So it is no wonder that I followed a recommendation and tried out the Riegele Noctus 100. Which some might even call the most richly flavoured beer on the market…
The Noctus 100 from the renown brewery Riegele is a speciality beer, which is brewed according to a three mash process. For its production chocolate malt and black roasted barley is used. Besides that three other malts and additionally oat flakes are used in the mash. The 100 in the name of this beer stand for the 100 ECB (European Brewery Convention) units of this beer. To put this in contrast every beer above 39 ECBs is allowed to call itself brown ale or dark beer.
| | |
| --- | --- |
| | Riegele Noctus 100 |
| Hops: | Hallertauer Opal, Hersbrucker |
| Malt: | Carmünch, roasted barley, oat flakes, Steffi, wheat malt |
| IBU: | 25 |
| Alcohol: | 10 % |
| Price: | 6,05 € / per litre |
| Appearance: | Very dark brown, almost black, beige head, very viscous |
| Nose: | Sweet malt, some vegetal notes, roasted coffee beans, slight hint of smoke |
| Taste: | Heavy malt notes, sweet caramel, chocolate and coffee notes |
| Aftertaste: | Very long aftertaste, with caramel, malt and sweetness |
| | |
100 must be the top of the ECB scale, because, I never saw a pitch-black beer. While pouring it into a glass you get the impression of crude oil spilling out of the bottle. Nevertheless, the first whiff of aroma reveals the soul of a richly flavoured Imperial Stout. Still, all of the flavours seem to be turned up to the max. While other Stouts, might have some coffee and malt notes this hits your palate with a truckload of them! Besides that, there are some vegetal aromas, which remind me of freshly sprouted cereals, too. Together with the malt aroma the beer delivers a strong caramel taste with a certain amount of sweetness. In the end it is up to you if you describe the heavy roasting flavours as chocolate or coffee notes, you could interpret them both ways.
In conclusion this is really one of the most complex beers I ever tasted. Yet, this richness of flavour comes at a price: you will not be able to drink a lot of it at once. It hits your longing for beer with a club of roast aromas, until it is lying on the floor. Maybe, but just maybe the warm Summer weather has something to do with that. Perhaps you should imagine drinking this beer on a cold Winter's day, which certainly would be perfect!