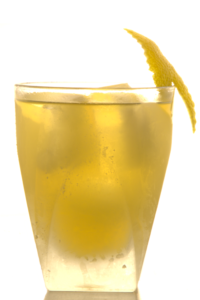 On the Saarland trip with the Trinklaune team, I was given a small bottle of Ferdinand's Quince Gin. Actually there is some controversy as what to call it here, because the Quince Gin is nor a typical gin, because quince juice and riesling are added. Neither can you call it a liqueur, because there is no additional sugar added. However, it does not matter how you call it, as you will see later on, it is simply an interesting and delicious product!
The Ferdinand's Quince Gin is made with quince juice, which was heated to a high temperature for a few seconds. Futhermore, there is Ferdinand's Gin and Zilliken Slate Riesling Kabinett 2011 added. This modern German impression of the traditional British sloe gin results in a very complex and dry spirit, which in my mind is perfect for mixing. As always this might just be perfect for mixing with Riesling sparkling wine.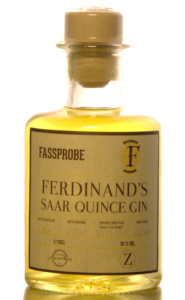 | | |
| --- | --- |
| | Ferdinand's Quince Gin |
| Alcohol: | 30 % |
| Price: | 60 € / per litre |
| Appearance: | Straw-coloured, middle sized windows, slow tears |
| Nose: | Quince and apple notes, slight wine aroma, herbal notes |
| Taste: | Sweet, quince, tannins, some herbs and spices |
| Aftertaste: | Winy aftertaste |
| | |
So, of course I wanted to create a drink with it. The only problem was I did not know which kind it should be. After some consideration, I used the Fcuk Hugo as an inspiration. I switched out the St. Germain for the Ferdinand's and replaced the tonic syrup with homemade lavender syrup. Instead of gin I first used a Williams pear eau de vie.
Trial and error
On the first try I ended up with more or less a Williams Sour. The pear eau de vie overpowered almost everything else. Do not get me wrong, it still was a pleasant sip, but it somehow missed the point of using the other ingredients. When mixing the drink the second time, I replaced the Williams pear liquor with an apple eau de vie from Georg Hiebl. The eau de vie made from Fuji apples has a very delicate pipfruit flavour, which compliments the other flavours rather than overpowering them.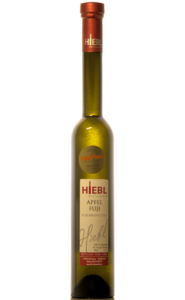 | | |
| --- | --- |
| | Hiebl Apfel Fuji Edelbrand 2013 |
| Alcohol: | 41% |
| Price: | 33 € / per litre |
| Appearance: | Clear, big windows, medium fast tears |
| Nose: | Delicate apple notes, hints of vanilla, sweet must notes, cinnamon |
| Taste: | Very mellow, apple and pear notes, slight hint of tannins, some spices, mostly vanilla |
| Aftertaste: | Medium long aftertaste with pipfruit aroma |
| | |
3 cl Hiebl Fuji Eau De Vie
3 cl Ferdinand's Quince Gin
3 cl Lime Juice
1,5 cl Lavender Syrup
Shake – strain – chilled Double Old-Fashioned glass over ice;
Garnish: Lemon Twist;
Song: Jai Paul – BTSTU
With this cocktail the drinking experience begins with a typical sour style taste, which is accompanied by a slight apple notes and well defined quince notes. In the middle of the sip the floral notes of the lavender syrup will appear and also add a slight bitterness to the composition, which nicely balance out the acidity and sweetness.
I reckon that the Ferdinand's Quince Gin works well in every recipe which calls for Sloe Gin. Nevertheless, it is also fun to replace other liqueurs with it an create new cocktails entirely. The only thing you should keep in mind is its lower sugar content in comparison with traditional liqueurs.