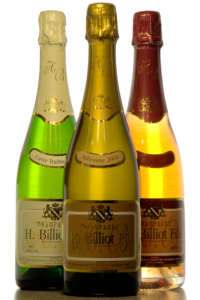 After my small Champagne tasting last year I was totally won over by the standard cuvée from Henri Billiot. That is why I decided to find out if their other bottlings are any good.
If you love Champagne and honestly who doesn't, I only can suggest comparing different bottles of the same style. And if you want to go all out you could also test them in different cocktails! Now, this is exactly what I have done last year and it resulted in a clear winner: the Henri Billiot Cuvée Tradition. It just had a beautiful balance between acidity and residual sweetness. Obviously there was also a drawback: I simply had to try the other Cuvées from this champagne house. It took me a while to sample them, because even I do not open a bottle of champagne every now and then. However, after Christmas and New Year I basically was through with testing them, but I did not find the time to write it all up until now.
From contractual vintner to Recolte Manipulant
In the early twenty hundreds Louis Billiot was producing wine for two of the big champagne houses, Mumm and Moët & Chandon and just a small amount of champagne for himself. This changed when his grandson Henri Billiot took over the company. Under his command the vineyard became a "Recolte Manipulant", which meant that they would produce and bottle their own champagne. Henri's son Serge succeeded and brought the house to the good reputation it carries since then. Serge's daughter Laetitia set out 2011 to renew the perception of the company.
Undiluted champagne experience
All of the vineyard's 37 acres lie in Ambonnay, which is famous for its pinot noir. Moreover, most of the 18 lots are located in the higher valued middle of the vineyards. Every Cuvées is finished in enamel tanks, without malolactic fermentation. Moreover, the champagne is not filtered. The first bottle I tried now, the Cuvée Tradition is a blend of three different vintages. It is the only one where some juice of the second pressing is added to counterbalance some of the acidity. Since, Billiot is famous for its pinot noir, this Cuvée consists out of 75% pinot noir and just 25% chardonnay.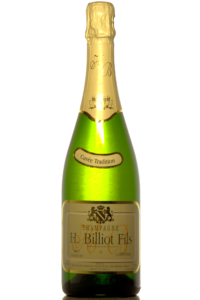 | | |
| --- | --- |
| Henri Billiot | Cuvée Tradition |
| Alcohol: | 12,5 % |
| Price | 40 € / litre |
| Dosage: | 9 g / litre |
| Grapes: | 25% chardonnay, 75% pinot noir |
| Nose: | Little whiff of yeast, apricots, some green fruits |
| Taste: | Dry, green apples, brioche, a little bit of sweetness, again stone fruits, very well balanced |
| | |
I almost copied my tasting notes from the last champagne comparison, because almost nothing has changed since them. The second bottle was identical to the first one I have tried. It is not the best champagne in the world and not the most complex, but it manages to win over even none champagne drinks (if such people even exist). As already mentioned it has just a perfect balance between acidity and sweetness and even some mature bread aroma to impress champagne experts. The Cuvée Tradition definitely has some elements of the big champagne houses, but there is still enough identity from the wine left. Yet, the taste on its own is not even the masterpiece of this champagne! This champagne almost longs to be mixed! And here is one hell of a recipe:
4,5 cl Doorly's Rum
3 cl Pink Grapefruit Juice
1,5 cl Cinnamon Syrup
6 cl Henry Billiot Brut Tradition Grand Cru Champagne
Shake – double strain – chilled Double Old-Fashioned glass over ice cubes – top off with champagne;
When I was preparing a champagne and rum tasting early this year, I realized that there are not a lot of cocktails out there that feature both. – Apart from the Old-Cuban obliviously. The only other two drinks worth mentioning are the Mr. Serious Champagne Cocktail created by Klaus St. Rainer and the I Should Buy A Boat. Since, I did not have a Jamaican rum in the tasting I settled for the latter and I did not regret the decision! I do not know if it is the combination of two "cheater ingredients" or the combination of rum and grapefruit which make this drink an absolute winner! All I know is that everything is better with champagne on top! – Yes guys that is what I pictured right now, too… To get our mind out off the gutter again, let us continue with the Cuvée Millésimé.
| | |
| --- | --- |
| Henri Billiot | Cuvée Millésimé 2005 |
| Alcohol: | 12,5 % |
| Price | 63 € / litre |
| Dosage: | ca. 9 g / litre |
| Grapes: | 25% chardonnay, 75% pinot noir |
| Nose: | Brioche and fresh baked bread, nutmeg, fresh grapes, very winey |
| Taste: | Reduced, but fine perlage, again a lot of raised pastry notes, fully ripe apples, just a touch of acidity |
| | |
This is a different beast! Spending four years on the yeast changes the character of the champagne completely. While the standard Cuvée has a fair amount of acidity and green fruits, this one just has residues of them left. Therefore, this bottle compensates for the lack of freshness with well aged brioche notes. Obviously, with champagne that spends some years on the yeast there is always some degree of trade-off between mature aromas and brightness. However, this one manages to keep some residual – let's call it juvenile – pungency. Where as some other late bottled champagne, costing twice as much, delivers nothing else than yeast notes. Surely, there is better champagne out there, but if you never had the chance to try a good bottle of older champagne, this one is the way to go! This time I let the price play into the rating a bit and the Millésimé really deserves it. Because of its more complex taste compared to the standard Billiot. So, this leaves only one bottle to go: the Cuvée Réserve Rosé!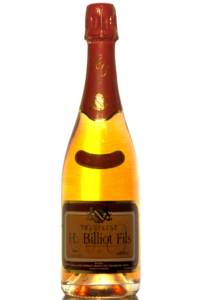 | | |
| --- | --- |
| Henri Billiot | Cuvée Réserve Rosé |
| Alcohol: | 12 % |
| Price | 48 € / litre |
| Dosage: | 10 g / litre |
| Grapes: | 25% chardonnay, 75% pinot noir |
| Nose: | Winey, some yeast notes, red berries |
| Taste: | Noticeable sweetness, very mellow, very good integrated tannins, strawberries and other red fruits |
| | |
This Rosé is made with 6 % red reserve wine and not according to the saignée system. Which basically means that some grape juice is taken from a red wine mash without pressing. Not using this method results in a lighter and more delicate rosé, which is exactly what the Billiot family wants for their champagne. After blending the wines the Cuvée is aged for 15 to 24 months in oak barrels. Let me get to the good news first: There is not too much oak aroma in this. The tannins are very well integrated. Nevertheless, with noticeable more dosage than the other two bottles, this one was too sweet for my taste. A part of the reason of course is that my taste has changed since I first started of drinking champagne. Over time you begin to crave more acidity and less sweetness. While talking about acidity: Unfortunately the Rosé Réserve has too little of it left and I guess that the barrel aging has something to do with that. – All in all, even the fermentation of the sugar in the barrels with some wine, can not hide the fact that this champagne is made for the US market. This is were the lion share of this is going.
In conclusion, I still love the champagne from Henri Billiot! The plain and simple (if you can even call a bottle of champagne that) Cuvée Tradition and the Millésime are well worth a try. While I can only suggest the Rosé and the Cuvée Reserve (dosage 11 g / litre) for people who like a not so dry champagne. Despite that, I am afraid that I will have to try the two prestige Cuvées Julie and Laetitia some time in the near future. Anyone wanna foot the bill?