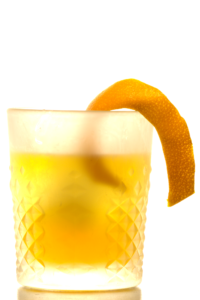 As my blogger colleague Daniel already described on Trinklaune the VOR Gin is not easy to mix with. However, I gave my best and ended up with a rather pleasant drink after a few tries. But, first things first: Let's start at the beginning!
The VOR Gin is said to be inspired by the Icelandic spring, "VOR" even means spring in Icelandic. To capture this the makers of the gin decided to use angelica root, birch leaves, creeping thyme, crowberries, Iceland moss, Icelandic wild juniper berries, kale, rhubarb and sweet kelp. Furthermore, its alcoholic basis is Icelandic organic barley. This all sounds rather funky and guess what this is also what it tastes like! Even the barley distillate is clearly noticeable in the finished gin and it reminds me a little bit of white dog whisky. With so many exotic and unusual ingredients it is definitely hard to put the finger on what you are tasting precisely, but I can assure you: This is unlike any gin you ever tried before! At this point in the whole gin hype, this is a rating of its own.
| | |
| --- | --- |
| | VOR Icelandic Gin |
| Alcohol: | 47 % |
| Price: | 84 € / per litre |
| Appearance: | Clear, big windows, slow tears |
| Nose: | Fruity barley aroma, herbs and spices, fir needles, hint of juniper at the back |
| Taste: | Powerful herbal aroma, slight pomace brandy notes, very dry, peppermint, Genever like malt aroma, reminiscent of a forest floor in summer |
| Aftertaste: | Long aftertaste with fruity cereal notes |
| | |
As mentioned before, this is not like your average gin at all! Some people might even say it is a longshot to call it a gin. In my opinion, the reason why this gin does not have a pronounced juniper note, could be that Icelandic juniper tastes different from what we are familiar with. If you take a look at the prominent sources of juniper, you might find that all those countries have a high average temperature. It takes no Sherlock Holmes to deduce from that, that the juniper in Iceland just has to be different. Yet this is not even the first thing you will notice: The VOR Gin has an almost fruity flavour, which I believe to originate from the barley spirit. Of course, there are a lot of other herbal aromas that I cannot at all begin to match to familiar flavours. This all means that the VOR Gin is a very complex spirit. However, I am not so sure if I want to sip more of it at once. That is why I thought I give it a try in a proper cocktail! Since this gin has more characteristics of a Genever, I decided not to mix a Gin & Tonic with it.
All is well in the end
Instead I tried to come up with a sort of Martini / Hanky Panky variation with Manzanilla Sherry instead of vermouth and Fernet. The problem was that while I liked this idea the VOR Gin seemed to disagree and began to fight the other ingredients. The drink was not undrinkable, but somewhat unpleasant… Consequently, I started to look for other possibilities and had the idea to combine it with Amaro Montenegro and Strega Liqueur. I can not quite explain why I choose those two liqueurs, but in my opinion the Amaro Montenegro somehow works as a cocktail first aid kit. With its slight bitterness and noticeable, but pleasant sweetness it manages to smooth out drinks, which otherwise would lack something. It turned out to be a good decision and for me this drink still counts as a variation of the Negroni, or a variation of a variation of a Negroni…
4 cl VOR Gin
3 cl Amaro Montenegro
3 cl Strega Liqueur