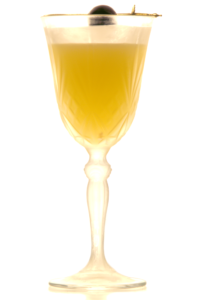 In my last newsletter I promised you new articles on gin, but I am afraid you will have to wait a little while longer. However, I will try to make up for it with even two homemade ingredients in this article! While one of them is fairly simple the other one takes a little bit more work. Yet, let's start with the rum first!
This time it is not about a fancy new product, but an already well-established Rhum Agricole from Martinique. – Sometimes you just need a break from all that crazy new stuff. However, this does not mean that the Clement Blanc Rhum with 50 % ABV is less interesting. After all, Rhum produced in the French overseas departments might just be the more authentic product. In this case the sugarcane for the Clement Blanc is harvested at Habitation Clément and the cane is cut as low to the ground as possible. This is done to get the highest sugar content possible out of it. After the harvest the fresh sugar cane juice is fermented and then distilled to create a traditional unaged Rhum Agricole. This also means that after the distillation you are not allowed to add any additives. On top of that, most young Rhum Agricole is bottled at higher strength than rum made from molasses. This is also the case with the Clement Blanc bottled at whopping 50 % ABV.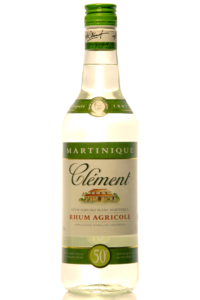 | | |
| --- | --- |
| | Clement Blanc Rhum |
| Alcohol: | 50 % |
| Price: | 27 € per litre |
| Appearance: | Clear, small windows, medium fast tears |
| Nose: | Sugarcane, fresh cut grass, some mint and menthol notes, peppery spices |
| Taste: | Intensive vegetal notes, fresh sugarcane, hints of passionfruit and other exotic fruits, slightly earthy |
| Aftertaste: | Relatively long finish with noticeable menthol notes |
| Rating: | |
While the Clement Blanc of course is a high quality Rhum Agricole it still is not necessarily meant to be drunk neat. With its 50 % ABV it is far better in a traditional Ti Punch or other Caribbean cocktail creations! If you do try it on its own it will show you what a powerful sugarcane spirit tastes like: A combination of fresh sugarcane and an atypical vegetal, grassy note. When it comes to enjoying the spirits on their own there are in my mind parallels between gin and unaged Rhum Agricole. Both spirits are best consumed in mixed drinks and therefore need a certain level of alcohol and an intensive taste. However, in both cases producers would like to make you believe that you should also drink their spirit neat, which clearly is a contradiction. That being said, let us use the Clement Blanc for its intended purpose!
Rhum Arrangé, sort of…
For a cocktail idea using the Clement I got inspired by two fellow bloggers. The first one was Tiare with an article on Rhum Arrangé and the second one Max from Fountain Of Flavour, a new German blog dedicated to the use of spices in cocktails. However, I did not quite have the time to wait four to six months for the Rhum Arrangé to be ready and so I settled for a plain vanilla infusion. After reading the Fountain Of Flavour article on cardamom I could not wait to use it in combination with coriander seeds. The addition of a little bit of coriander to the recipe sort of mellows the otherwise powerful taste of cardamom a little bit. So far the cocktail would just have been an enhanced Rhum Agricole Daiquiri… Still, the recipe was lacking a little bit of revolutionary genius! Luckily, my roommate gave me some quince liqueur he had made for Christmas. So I thought that this was just the thing my Caribbean concoction was missing and gave it a try.
6 cl Vanilla Infused Clement Blanc Rhum 50 %*
1,5 cl Homemade Quince Liqueur**
1,5 cl Lime Juice
2 Cardamom Pods
3 Cilantro Seeds
Muddle spices in base of shaker – add rest of ingredients – shake – double strain – chilled Cocktail glass;
Garnish: Brandied cherry;
Song: Phoenix – Oblique City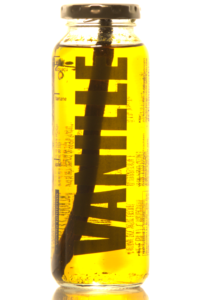 *Vanilla Infused Clement Blanc Rhum:
1 Vanilla Pod
300 ml Clement Blanc Rhum 50 %
Cut vanilla pod in the middle – add to a clean glass bottle – add Rhum – seal and let rest for at least one week;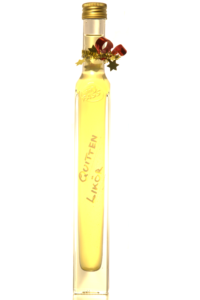 **Homemade Quince Liqueur:
5 Quinces
1 Lemon
3 cm Piece Of Ginger
700 ml Scheibel Fruit Brandy
200 g Sugar
200 ml Quince Juice
Wash quinces – remove stem and kernels – cut and add to clean glass container – press lemon – peel and cut ginger into small pieces – add to container – also add fruit brandy, sugar and quinces juice – let rest for at least one month – stir and taste regularly – when taste is strong enough: strain through a fine mesh strainer – add sugar and water to taste – bottle in clean bottles;
The Oblique City cocktail stars with a strong menthol notes from the cardamom in combination with some vanilla aroma. Yet, the fruity quince liqueur and the Rhum keep the drink from being overwhelmed by the spices. Especially the notes of fresh cut grass together with a little bit of earthiness from the rum are noticeable. The relation to a normal Daiquiri or Ti Punch is still noticeable, but of course this cocktail is more complex. Whereas, I prefer drinking Daiquiris on hot summer days, the spices make the cocktail more suitable for colder days. After all, the Clement Rhum Blanc is a great Rhum for traditional Caribbean cocktails and to experiment with!
*The fact that I received a product reviewed in this article for free, did not – in any way – influence the rating of said product.