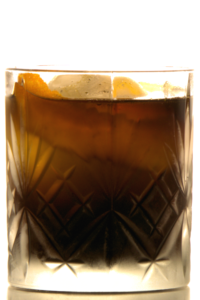 Man, I cannot tell you how long I have been waiting to try this iconic gin! I had almost given up, but then when I thought the gin-hype was almost over, Beefeater raised the game by re-introducing their Crown Jewel! So, after I got my hands on a bottle I instantly started putting the gin to the test! And yes this article needs this many exclamation marks!
Before I get ahead of myself, let us start with the basic facts: The Crown Jewel was first introduced in 1993 as Beefeater's top of the line London Dry Gin, way before the gin-trend started. It was based on their classic nine botanical recipe with the addition of grapefruit peel to lend it a brighter citrus flavour. This means, that besides grapefruit peel, angelica root and angelica seed, coriander, juniper, lemon peel, orange peel, liquorice and orris root are used to create this special gin. After a triple distillation, the gin is also bottled at a slightly higher ABV of 50 %. The Crown Jewel's whole appearance is built around the legend that at least one raven must always remain in the Tower of London or otherwise the Monarchy will fall. To celebrate this, the eight names of the ravens residing in the Tower are imprinted on the large lilac bottle. Beefeater's prime impression was discontinued with the introduction of Beefeater 24 in 2009. Be that as it may – now it is back! Even though, there is just a limited number of bottles available only on-trade.
So what is it all about?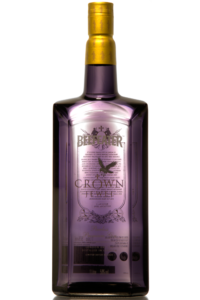 | | |
| --- | --- |
| | Beefeater Crown Jewel |
| Alcohol: | 50 % |
| Price: | 62 € per litre |
| Appearance: | Clear, medium sized windows, slow tears |
| Nose: | Juniper, pine needles, lemon peel, coriander, peppery, earthy notes |
| Taste: | Juniper, pepper, spices, slight sweetness, earthy angelica notes, slight whiff of menthol |
| Aftertaste: | Long finish with a candied lemon peel and spices |
| Rating: | |
Well, what can I say: This is neither the most juniper-heavy, nor the most complex gin. Neither the cheapest, nor the most expensive… Or maybe it is just the best looking gin bottle ever! However, in my very subjective opinion this gin does everything just a little bit better than all the other ones out there. Hell, I always run around telling people that gin is not meant to be drunk neat, but you can actually sip this on its own! For an ABV of 50 % it is damn smooth. Yet, if you throw a few splashes of tonic water on top and some you will have an excellent Gin & Tonic. It was so good infact, that after finishing the first I was instantly craving another one. I cannot say this about a lot of other gin. So, I gave it the highest possible rating. – Why have a five lion scale if you don't use it?
Dark, but delicious
First, I wanted to mix up a sort of Empire Cocktail variation, but I could not settled on a liqueur to use instead of Apricot Brandy. My second thought was mixing a cocktail using an Amaro, but then a fellow cocktail-nerd told me that the Crown Jewel pairs exceptionally well with mint. In the end, I settled for a kind of Amaro-like liqueur from Florian Faude, black tea, sugar and a pinch of dried Egyptian mint. Since the drink is almost black, I chose the title of a Fink song as a name for this cocktail creation.
1 Bsp. Dried Egyptian Mint
Stir – strain – chilled Double Old-Fashioned glass over ice ball;
Garnish: Long orange peel;
Song: Fink – Perfect Darkness
The drink starts with an intriguing chocolate note, I can not quite explain. Nevertheless, with the second sip you will get a powerful alliance of gin and mint, together with a slight hint of menthol. The green walnut liqueur is also present with fruity, slightly bitter and of course walnut like flavours, but most of all it gives the drink structure and a backbone. All of this is rounded off by the black tea. You can really use a strong and powerful one in this cocktail. One thing you might notice is, that the gin is just briefly mention in my sensory description. Malicious tongues would now claim that the gin is overwhelmed by the other ingredients, but as I see it, the Crown Jewel just perfectly blends in with them. If you do not pay careful attention, you will instantly finish your cocktail and crave another one. Let's be honest, this is what really good spirits are all about!