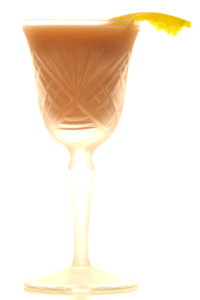 While everyone (bartender) loves bourbon and rye whiskey, they easily forget about other interesting whiskey categories from the States. There is a growing number of corn, Tennessee and wheat whiskies from a few big producers and an uncountable number of small, craft distilleries. Of course, demand determines supply and so it is no wonder that in Germany a new variety of whiskey only comes along every few years. This is also the case with this interesting wheat whiskey from Dry Fly. And I haven't even told you the best part: It is bottled at cask strength!
The Dry Fly distillery, which is named after a sort of artificial fly for fishing, is located in Spokane, Washington. There they set up a distillery with two stills, from renown German manufacturer Carl each holding 450 litres. While other wheat whiskies are made out of at least 51 % wheat, Dry Fly uses a mash bill of 100 % wheat for their Wheat Whiskey. But not only that, they are also following the "farm to bottle" trend. This means that they are only using crops which are harvested within a radius of 30 miles from the distillery. All of the farms are family owned and the major share of wheat and treacle comes from the 117 year old Wisota Farm in Rosalia, WA.
Milling, cooking, fermenting, distillation, aging, bottling…
All of those aforementioned steps are done by Dry Fly themselves. For milling they use an Austrian hammer mill and after the crushing of the crops, the flour is sent to their grain cooker for about five hours. Next, after the addition of yeast the mash is fermented in one of eight fermenters for about seven days. The fermentation is then followed by an initial distillation. Dry Fly call this the "stripping" distillation, in which they strip the alcohol from the grain. Depending on the product, up to three following distillation runs are done to create vodka, gin or whiskey. In case of the whiskey the white dog is filled into 53 gallon American white oak barrels from Independent Stave Company. Currently the whiskies have an average age of three years, but Dry Fly is also working on some older age statements. Following the farm to bottle credo Dry Fly of course bottles their whiskies themselves. I can only applaud this transparency on their production methods and would like to see more distilleries giving this kind of information, too!
So how does wheat taste like?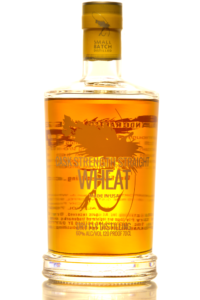 Dry Fly Cask Strength Wheat Whiskey
Alcohol:
60 %
Price:
87 € per litre
Appearance:
Saffron, small windows, slow tears
Nose:
Glue, familiar Bourbon notes, grass, baked goods, slight sweetness, coriander, vanilla, dried apricots, plum pudding, noticeable menthol notes;
With water: charcoal, caramel, vanilla, vegetal notes, slight sweetness, breakfast cereals
Taste:
Hot and spicy, glue, strong menthol;
With water: Mellow, cereals, some sweetness, vanilla, spices, still noticeable menthol, dried apricots, vanilla pudding
Aftertaste:
Long, with classic vanilla and caramel, some hot spices
Rating:
For a single grain American whiskey the Dry Fly Wheat Whiskey is remarkably complex! It might take some time to get familiar with its high alcohol content and to distinguish its taste from the usual American whiskey notes. However, if you look behind the smoke and mirrors you will find delicate baked goods notes, which remind me of high quality Scottish grain whiskey. If you look even further you will even discover some nice dried apricot notes. While you should of course dare to take a tiny sip neat, I highly recommend adding a splash of water to this before sipping it on its own. Only with the addition of water you will be able to recognise the flavours of the aroma in the taste. Apart from that, the Dry Fly delivers everything it promised in the nose, with the caramel and vanilla notes being more pronounced than the dried fruit aroma.
Tex-Mex rock – drink combo
I cannot quite recall how I got the idea for this drink, but it had something to do with Calexico making American and Mexican influenced rock. Because of this, I also wanted to use a combination of American whiskey and tequila in a cocktail. So, I decided to make a kind of sour. Since, citrus juice bores me and I am always trying to work my way around it somehow, I made some raspberry shrub to use for the sweet and sour mix. Originally, I wanted to use a combination of berries for the shrub, but they were not in season when preparing the shrub and since I had frozen raspberries on hand, I settled for them. When mixing with whiskey I always like to swap the regular simple syrup for some spelt sweetness, but I guess a malty cane sugar might also work here. Just one last word concerning the shrub: Try to use the highest quality of vinegar you can afford! Otherwise, you will regret it later! I learned this the hard way during my previous experiments with vinegar in cocktails.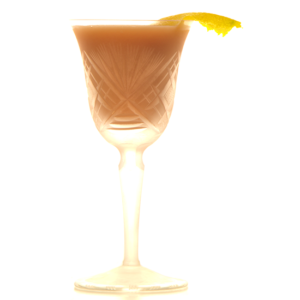 3 cl Dry Fly Cask Strength Wheat Whiskey
2,25 cl Calle 23 Blanco Tequila
3 cl Raspberry Shrub*
2,25 cl Spelt Sweetness Mix (1:1)**
Shake – strain – chilled cocktail glass;
Garnish: Lemon twist;
Song: Calexico – Splitter;
*Raspberry Shrub:
100 g Raspberries
100 g Sugar
Add White Balsamic Vinegar to taste
In a bowl combine raspberries and sugar – place in fridge for 24 h – stir to combine – add vinegar until sugar is dissolved;
**Spelt Sweetness Mix:
1 Part Spelt Sweetness
1 Part Warm Water
Stir to dissolve;
Sipping the Splitter cocktail is an interesting experience, because there is a constant change of familiar and unfamiliar aromas. First you will get hit by the agave notes of the tequila, with the aroma from the wheat whiskey only playing second fiddle. Then you somehow expect to get the usual sweet and sour mix of a regular sour style drink, but instead the acidity from the balsamic vinegar catches your palate by surprise. At the latest then you will understand why it is paramount to use a high quality vinegar! However, not only the odd sweet a sour mix will surprise you, there is a certain lactate taste in the drink, which in my mind comes from the combination of vinegar and spelt sweetness. Though, maybe it is just the colour of the cocktail which reminds me of strawberry milk.
All in all, the Dry Fly Wheat Whiskey is a great contribution to the American Whiskey market and it has fared well, both neat and in cocktails! It is certainly a great substitution for the usual Bourbon you use in your cocktails. I cannot wait to try other expressions of this distillery!