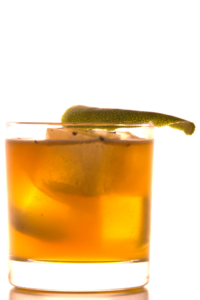 Last year in autumn I helped cleaning out the basement of the bar I'm working in. I noticed several boxes containing white chestnut blossom syrup and asked my boss what he was going to do with them.

He just replied: "A good boy would create a cocktail recipe that uses chestnut syrup." Since I at least wanted to be a good bartender I consulted my "Flavor Bible" as I always do when creating a new drink and came up with this recipe.
1 Dash Lime Juice
3  Black Pepper Corns
Top off with Cloudy Apple Juice
Shake first five ingredients – double strain – Double Old-Fashioned glass over ice cubes – top off with apple juice;
Garnish: Grated black pepper – lime twist;
Song: Cody ChestnuTT – Don't Wanna Go The Other Way
It's a drink with a heavy body, but still fruity. It's perfect for the time in the year when the leaves are falling, but still enough sunny days to enjoy a walk through the woods. The first thing that hits your palate is the Jamaica Rum, with a sweet and fruity combination of flavors afterwards. The black pepper brings a bit of a spicy punch at the end.
"The Other Way" is inspired by a Drink by my boss called "Adult Lemonade", which is a combination of Hendricks gin, apple eau de vie, elderflower syrup, apple juice and cucumber.
If you don't have the Appleton Extra Rum on hand you can substitute it with its younger brother the Appleton Reserve Rum or any other Jamaican flavorful Rum. Just make sure that the ester notes are not too overpowering.
You can switch out the homemade Vanilla Liqueur with some 43 Liqueur but I would suggest you reduce it to 0,75 cl.