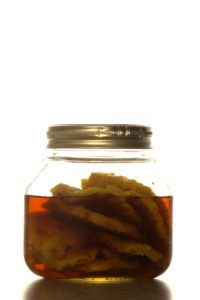 A famous bar in Frankfurt uses pineapple wheels soaked in Rum as a garnish for their Mai Tais. So when I needed a suitable decoration for my drinks last Tiki month I decided to make some myself. The turned out to be quite delicious.

They are easy to make and if refrigerated they last forever. (I still have some from last year and they are still enjoyable)
100 g Dried Pineapple Wheels (organic, no sugar added)
150 ml Appleton Extra 12 Years Jamaica Rum
150 ml Gosling's Black Seal Bermuda Rum
150 ml Havana Club Blanco Rum
450 ml Simple Syrup (2:1)
Add pineapple wheels to jar. Fill with rum. Let sit for at least three days until rum tastes like pineapples. Strain and bottle the rum.
Put pineapple wheels back into the jar and fill with syrup. Let sit for one more day.
When preparing the pineapple you of course keep the rum. Use it in a Pina Colada or try something new. I mix a sour style drink I call the Save & Sound with it, but more on that later!
As a little bonus I will give you a second recipe here. If you try replicating the garnish on the Hot & Spicy Mai Tai you will need pickled chili peppers. They are just as easy to make as the recipe above:


20 g Dried Chili Peppers
100 ml Wray & Nephew White Overproof Rum
450 ml Simple Syrup (2:1)
Put chilies in a jar. Add the rum and let sit for 12 – 24 h. Strain off the rum and fill the jar with simple syrup.
The chili rum is very powerful. When sampling it just one drop almost burned a hole in my tongue. That means handle with care!
However, you can use it as a base for the Hot & Spicy Bitters also used in the Hot & Spicy Mai Tai.