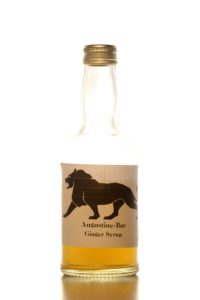 As ginger is an important ingredient for Tiki drinks and I simply love its hotness, I have to share this syrup recipe with you.

Again this is an adaption from A Mountain Of Curshed Ice. I just copied the method of making the syrup an added one or two things. Like Tiare already wrote this is a combination of cooking and cold processing the syrup. First you cook a portion of ginger with simple syrup after that you add fresh ginger and let it sit for three days. On to the recipe then!

50 g Pealed Ginger (30 g for cooking the syrup and 20 g to add later)
5 g Galangal Root (Medium piece dried root)
250 g Light Cane Sugar
125 ml Water
3 cl Wray & Nephew White Overproof Rum
Add sugar and water to pan – heat until sugar is dissolved – add 30 g ginger and galangal – bring to boil – let simmer for three minutes – fill into container – add other half of ginger – muddle the ginger – let cool to room temperature – add rum – let sit for three days or longer depending on the taste;
When tasting the syrup after day one I noticed a slightly bitter note. Since I suspected it to come from the galangal, I removed it after and I can't tell if you taste it in the final syrup at all. The syrup has a rich and strong ginger flavor and can be used in cocktails like the Winchester or the Penicillin.
Just a quick note at the end: After finishing my syrup I read an article from Jeffrey Morgenthaler about making ginger syrup. His way (which is not his own way) seems to be even quicker and more rewarding. I will definitely try it the next time