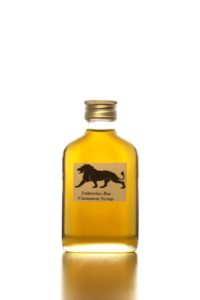 This is an important ingredient in Tiki drinks. Especially the original Zombie wouldn't be the same without it. But don't worry, making it isn't much harder than making plain simple syrup.

The first time I remember tasting cinnamon was when I chewed on a bubblegum as a child. Here in Germany you can buy a brand that is called Big Red. The taste was a tightrope walk between tastiness and disgust. It somehow managed to do both at the same time.
I am telling you this to give you a feeling for how much better this homemade syrup will taste. If you are into that sort of stuff you can use it in your coffee. But be advised: Perhaps you will never want to have Starbuck's cinnamon syrup in your coffee ever again!
2 Cinnamon Sticks (Cassia)
1 Tsp. Dried Cinnamon Blossoms
125 g Light Cane Sugar
75 ml Water
1 cl Wray & Nephew White Overproof Rum
Add sugar and water to pan – heat until sugar is dissolved – add cinnamon sticks and blossoms – bring to boil – let simmer for three minutes – turn off the heat – leave pan on the stove until cooled down to room temperature – bottle and add rum;
Edit: The cinnamon blossoms are just an extra and not necessary for the cinnamon syrup. I just had some on hand, because I'm always in search of new flavors and spices to incorporate in cocktails.
I made just a small batch of syrup, because I just don't use it as much as it probably deserves. If you are a Tiki drink fan though you will maybe want to make a bigger quantity therefore I will include my simple syrup chart here, too.