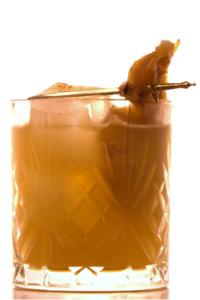 If you like it hot, this is the right drink for you! It combines the classic elements of a Mai Tai with spices and the hotness of chilies.

Ok I admit I kind of stole the idea from the bar menu of Falk's Bar in the Hotel Bayrischer Hof, Munich. I never went there and I never tried the cocktail, but the idea stuck. I can't recall the actual ingredients and you won't find the recipe online. All I did was adding spicy ingredients to the basic Mai Tai recipe.
You could argue now, if a classic Mai Tai even needs more ingredients or if it is best left untouched. However, I think the Mai Tai is a Tiki drink and if there is one rule that applies for Tiki drinks it is that it never has enough ingredients. Of course I tried not to overdo it and therefore I omitted the second rum you will find in contemporary original Mai Tai recipes. Moreover, you can't ALWAYS drink Mai Tais everybody needs a little change sometimes.
Now if you are wondering why there isn't any pineapple juice in a Mai Tai recipe and why the drink's color isn't grenadine red, I will kindly refer you to Tiare over at A Mountain Of Crushed Ice. She will explain to you why every drink that contains any other ingredients than rum, curacao, orgeat and lime is not allowed to be called a Mai Tai!
Ummm… If that rule always applies this isn't a Mai Tai, either. I let you be the judge of that!
1 Slice Of Ginger
1 Pinch Cayenne Pepper
Muddle ginger in the shaker – shake – double strain – Double Old-Fashioned glass over ice cubes;
Garnish: Pickled chili pod – rum soaked pineapple wheel – pinch of cayenne pepper;
Song: Les Baxter – Voodoo Dreams
Nevertheless, I think this drink is allowed to call itself a Mai Tai! It tastes like the original cocktail just with a few enhancements. At first you will actually struggle to taste the difference from a normal Mai Tai, but in the middle of the sip you will taste the spices and chilies. Depending on how much Bitters and Cayenne Pepper you use the taste will literally hit you in the face. The way I prefer mine is that you can taste the hotness, but it doesn't overwhelm you. In the aftertaste the hotness of the fresh ginger will add to the spiciness of the chilies. At the end just a word of advice concerning the garnish: depending on what kind of chilies you use you might not want to eat the pickled pods. I soaked mine just for 24 h in overproof rum and the infusion was so hot that it hurt. The question arises now why you would soak them in rum in the first place, but I think they look lovely and give the drink a certain dangerous look.