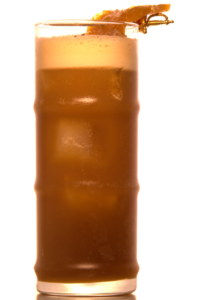 The Plantation Coffee is the first Drink I created and it's also a Tiki drink! – What better cocktail than this to kick off Tiki Month?


I dreamt this drink up while I was trapped in university and attending my technical drawing class as a first semester. It was so boring that it had me craving for a drink. To distract me from the painstakingly work I contemplated over what ingredients I had left at home. All I knew was that the drink definitely had to be strong, but also delicious and fruity.
I chose rum as a base because it seemed like the best spirit to fulfill the task assigned. In contrast to the innumerable bottles I stock now – I had only two bottles of rum at the time. Those two bottles were: Ron Zacapa 23 Sistema Solera from Guatemala a very rich, sweet and full bodied rum. It is still is one of my favorites. The other one was Bacardi Superior which really isn't that good at all. I didn't even buy the bottle my sister did, but that sounds like a lame-excuse now, doesn't it?
With the rum question answered, because of a lack of other options, I thought about other ingredients. Quickly I remembered the combination of pineapple and coffee I read about over at A Mountain Of Crushed Ice. To make the drink a bit more sophisticated I added the Berlin Capital bitters I just had bought.
Over the time the recipe changed a bit and there even was a time when I thought that it doesn't work, but the recipe here tastes (hopefully) quite good. It all depends on the coffee liqueur. Use homemade or a good quality one like Giffard. If I find the time I will post a recipe how to make the liqueur yourself.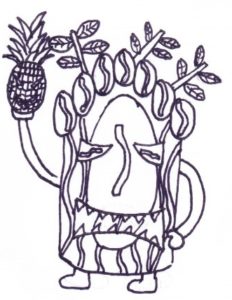 3,5 cl Havana Club Blanco
3,5 cl Appelton Extra 12 Years Jamaica Rum
2 cl Giffard Coffee Liqueur
2 Dashes The Bitter Truth Berlin Capital Bitters (Or Fee Brothers Plum Bitters)
3 cl Lemon Juice
4,5 cl Pineapple Juice (100% Juice)
1,5 cl Simple Syrup (or Demerara)
Shake – strain – Longdrink glass over ice cubes;
Garnish: Pineapple Wheel – Brandied Cherry;
Song: Manu Chao – Malegria

For one of my creations the drink is relatively fruity. It is also rather sweet, but that is sort of the point of a Tiki drink, isn't it? In the beginning you will taste a combination of fruitiness and coffee, topped off by a little bit of acidity from the lemon and pineapple. These flavors elegantly mask the rum, but in the aftertaste it comes through and lets you know that you shouldn't mess with the drink. If you don't go crazy on the coffee liqueur, you will even taste a bit of dried plum aroma from the bitters. As a conclusion you can see here that you can create cocktails from "leftovers", if you pay attention to which ingredients work well together.
Before I forget I probably should explain Tiki Mounth to you: Doug Winship over at the Pegu blog started this tradition. He writes great articles about drinks and about none-cocktail related topics, too. Normally he is more of a gin guy, but also enjoys the occasional Tiki drink. So he decided to call February Tiki month and devote a whole month to the drinks he otherwise would neglect a bit. Since I am facing a similar problem I thought I'd join him and take part in this Tiki month tradition.