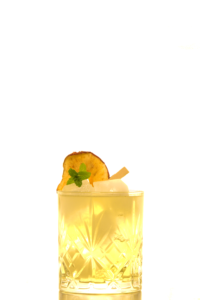 Get the pun? Harmony – Ecstasy Of Gold – Ennio Moricone? Never mind, this drink is based around an apple eau de vie and it also features a secret ingredient. So enjoy!

I was really relieved when this drink worked out the way it did. With that many different flavors, it was a bit of a gamble. As always I had the idea some time ago and it took a while until I got all the ingredients. Like the Other Way this one is based on a drink from my boss that is called the Adult Lemonade. I changed it to fit the flavor profile of my secret ingredient: fennel pollen. Ever since I heard off them I wanted to do something with them and after a little research in the flavor bible I drafted the recipe.
At first it also contained caramel bitters, but I was worried that there might be too many different flavors. So I left them out. Moreover I wanted to use the Plantation 3 Star rum in this, but when I finally started shopping, it was sold out and I didn't want to use the more expensive Banks 5 Island rum. Well, which rum to use then? – Simple, since rums are a blend of rum from different islands I just blended my own.
I started off with white Jamaican Rum, Appleton White to be precise and added Havana Club Blanco. After that I threw in some El Dorado 3 Years to give the mix a bit more body. With none of the rums exceeding 40% I was worried that the alcohol content could be too low. So I added some Wray & Nephew White Overproof. The resulting blend was quite good, but lacked a bit of Jamaican rum flavor. So I mixed it with just a little bit of LPS 2nd Release Jamaica rum. With hindsight I wouldn't pick the Appleton White again, because it has an alcoholic burn like overproof rum and apart from that there is not much.
Of course you could argue if it is really necessary to blend your own rum? – In my opinion it is not necessary, but there are two reasons why you should: First it's the same thing the big companies do. They tell you that they "carefully" select the rum that goes into the blend, but I personally don't believe that. I think they have a flavor in mind and blend the hell out of different rum until they reach the desired flavor, while keeping their costs down. So why can't you do the same. Second you can adjust the blend to your own taste and this is the biggest advantage here. Let's keep in mind we are talking budget rum here to mix a "craft" cocktail. It would be a different story if you start blending expensive rum and mixing it with coke. Even then if you have the money and are into this sort of stuff, I won't keep you from doing it!
Let's get back to the drink: I admit this is a fairly exotic cocktail and probably no one besides me is able to mix it. – Let this be a challenge to you! However, it is worth it. The next ingredient alone is worth the effort of tracking it down. The Golden Delicious eau de vie, which is also the namesake for this drink, can be perfectly enjoyed on its own. Mine is distilled in Switzerland and you can still taste the fresh apples in the finished product. Although I admit it tastes very similar to Williams pear Eau De Vie you can detect a distinct difference. The apple eau de vie tastes a bit fresher with more acidity. Moreover, it pairs extremely well with Jamaica rum, which I discovered when mixing this drink for the first time.
The two things the drink lacked were a sweetener and a mixer. To provide the sweetness I made some Yerba Buena syrup. I had ordered a plant and I didn't really know what else to do with it. This had the benefit of preserving the flavor over winter. To top off the drink I went for some Cidre, while the Adult Lemonade uses apple juice – kind of the grown-up version of the Adult Lemonade. The key here is to use dry Cidre otherwise the drink ends up being too sweet. If you like you can use cider, too. Bulmers works here very well.
4,5 cl Blanco Rum Blend* (Plantation 3 Stars or Banks 5 Island also work)
1,5 cl Morand Golden Delicious Eau De Vie
2 cl Yerba Buena Syrup** (1:1)
⅛ Bsp. Fennel Pollen
Top off with Van Nahmen Cidre Brut or Bulmers Original Apple Cider
Shake first four ingredients – strain – Double Old-Fashioned glass over ice cubes – top off with Cidre;
Garnish: Dried apple wheel – mint sprig – lemon sugar;
Song: Ennio Morricone – The Ecstasy Of Gold
250 ml Appleton White Rum
250 ml Havana Club Blanco
150 ml El Dorado 3 Years
50 ml Wray & Nephew White Overproof Jamaica Rum
50 ml LPS 2nd Release Jamaica Rum
Mix in a bottle – agitate – use wherever a recipe calls for white rum;
250 ml Water
250 g Sugar
12 Sprigs Yerba Buena
1 cl Wray & Nephew White Overproof Jamaica Rum
Put Yerba Buena sprigs in a pot – bring water to boil – pour boiling water over Yerba Buena sprigs – let sit for 1 – 2 days depending on the taste – strain – add sugar – heat if sugar doesn't dissolve by stirring – add rum and bottle;
This drink manages to be fruity without being overpowering sweet. It's more of a tart fruitiness. The two things you will taste the most are the ester notes of the Jamaica rum and the eau de vie. The Cidre keeps the balance in this drink, that's why it is so important to use a dry one. The fennel lingers on throughout the whole sip, but is most present in the aftertaste where the other flavors fade away.
I know that this is a difficult drink to replicate, but it is worth it! Of course I think that, in the end it's my creation so I am a bit biased. Maybe, but just maybe you can switch the Yerba Buena syrup for some homemade mint syrup. Make sure that the mint contains the least amount of menthol possible. Otherwise the delicate flavor of the fennel pollen will be lost.