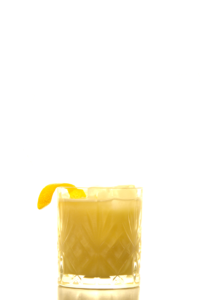 In my opinion Sherry is a far too underestimated ingredient. That's why I often try to come up with new drinks that use this fortified wine. I am especially proud of this one, because it was a bit of a gamble if the ingredients would match. Luckily they did.

As avid readers of my blog may have noticed, I often mention a mysterious book called "the Flavor Bible". It's where a lot of inspiration for my drinks comes from. Actually it's a cookbook so I am kind of misusing it, but it's just perfect for matching flavors to each other. But that only works if you already have the initial idea. Often cocktails from other bartenders are the perfect starting point. This doesn't mean that I am copying them, but you can discover new flavor combinations or ratios that work well. One place where you can find a lot of beautiful photographed drinks are the photo galleries on Starchefs.com.
I could spend hours looking at the cocktails presented there.
In this case I stumbled upon a drink called the Milk Of Sorrow from Nicolas De Soto. It's a combination of Calvados, Amontillado Sherry, Wray and Nephews Overproof Rum, Pine Nut Orgeat, Lime Juice, and Angostura Bitters. Just while I was reading the list of ingredients I instantly knew that this flavor combination would be just perfect. First the combination of nutty sherry and orgeat is simple and perfect at the same time, second apples and nuts just belong together (just think backed apples) and third the milky texture of homemade orgeat adds just the last part of complexity to this drink.
One drawback of the Starchefs picture galleries is that most of the time you don't find a recipe for the drinks. So you have to improvise if you want to recreate a drink shown there. However, if you just want to get some ideas and then create your own cocktail it's just fine.
Although I am sure that the Milk Of Sorrow is a very delicious drink, I thought there maybe are too many ingredients in it. Therefore, I decided to leave some of them out, the things I kept were the calvados and the sherry. Instead of pine nut orgeat I wanted to use my homemade almond orgeat and I added an orange cordial as a backbone of the drink. I think too many cocktails just use lemon and lime because those are the obvious choices. That's why I am trying to replace them whenever I can. After making the cordial I turned around and went against my previously postulated principle and added a little bit of lime again. It's a bit hypocritical I know, but otherwise the drink would be too sweet. Probably the most important ingredient is the last one: hazelnut eau de vie. It is used as a float here and it provides a third nutty component. Moreover, it changes the flavor of the drink while sipping it, because it more and more interacts with the remaining ingredients.
Shake first five ingredients – strain – Double Old-Fashioned Glas with ice – float with eau de vie;
Garnish: No garnish – or orange twist if you must;
Song: The Trouble With Templeton – Glue
Even the smell of this drink is special. I don't know why, but it somewhat reminds me of stracciatella ice cream, even though it should remind me of hazelnut ice cream. The taste starts off with roasted hazelnuts and continues with fruitiness and a medium sweetness. The sherry shines through at the end and provides that typical "sherry-nuttiness". As mentioned before this cocktail will change and develop with time. The eau de vie will become more and more integrated with the drink.
This time the name doesn't come from a song. It's just Spanish for "the best wave". Sherry has a connection with the sea in my opinion and therefore I chose a maritime name. As for the song: Of course this drink doesn't smell of glue, but the drinks needs a light and easygoing song to accompany it. Glue from The Trouble With Templeton just seemed perfect for it!
Don't worry I will provide the recipe for the homemade orange cordial soon!