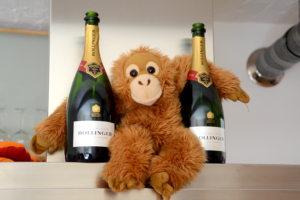 Every year the members of the German cocktail forum meet in a different city to exchange ideas and learn more about drinks and spirits. This year's destination was Berlin, which probably has the fastest changing cocktail scene throughout Germany.

The agenda included barbecue, a cognac tasting, a raki tasting, a trip around some of Berlin's most interesting new bars, a champagne tasting and last but not least a cocktail competition.
As you can imagine this wasn't a weekend to rest your feet and relax, quite the contrary, it ended up being almost hard work. Of course we also had a lot of fun and I gained some interesting new impressions. Even the barbecue, which was provided by Chicago Williams, couldn't have been more delicious. It started off with probably the best burger I ever had, followed by roasted rips and pulled pork sandwiches. The tasty barrel aged beer produced by Eichhofener stole the limelight from the cocktails, but the rumor has it that some drinks were mixed anyhow.
The next day began with a cognac seminar held by Julia Nourney, a spirits expert and licensed cognac B.N.I.C. educator. In the seminar we learned everything there is to know about the regulations and production methods of cognac. In the subsequent tasting we sampled twelve different cognacs with qualities ranging from V.S. very special to X.O. extra old. I will provide you with my tasting notes in a separate article.
In the evening we had an exquisite meal in an Ottoman restaurant that was accompanied by a small raki tasting. After that we were ready to start the bartour, which probably made every Berlin bartender shiver in advance. The tour led us to a small, but special selection of cocktail bars. Two of the bars, which left a lasting impression, were Hefner Bar in Charlottenburg and Bar Franzotti in Kreuzberg. Hefner Bar is a classic cocktail bar, where you can enjoy your carefully crafted and reasonably priced drinks also on the terrace near Berlin's boulevard Kurfürstendamm. While Bar Franzotti is a more modern take on a cocktail bar, with great emphasis on the personal consultation. At the moment there is just a small menu written on a chalkboard, but a whole menu is in progress.
On the third day we received a visit by one of Germany's leading Champagne experts: Torben Bornhöft led us through the afternoon with a comparison between champagnes produced by small wine-makers and the ones made by large champagne houses. While educating us he made also sure that we used up the tremendous amount of champagne that we had gathered. An extra article describing the different styles and my experiences will follow soon.
The meeting concluded on Sunday evening with excellent sushi made by Eman and a cocktail competition with cognac as the base spirit. The highest award went to TK85 and Marler for their espuma crowned drink using Pierre Ferrand 1840 cognac.
All in all it was a great event and a lot of fun for all participants. We have to thank the promoter and all of the helpers who made this special event possible!