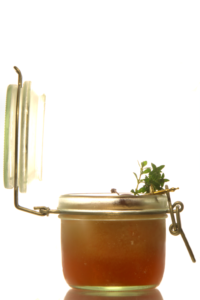 Sometimes you are just not in the mood for a spirit forward drink. At those moments it is always good to have a great fortified wine on hand. Even better when you also can choose from a range of jams and some herbs in your garden. Throw all this together and you already have a new cocktail!
To be honest, the Wasting Thyme is just a cheap rip-off of another recipe of mine: Some time ago I created the PX Jerez Smash which, as the name already suggests, uses Pedro Ximénez Sherry, mint, lemon juice and homemade stone fruit jam. However, the Belsazar Rosé Vermouth just longed for something similar. But first some words on this fortified wine! While the usual vermouth categories are blanc, dry and sweet the creation of a high quality rosé vermouth is something special. I think the idea the people behind Belsazar had was to create a vermouth suited for hot Summer evenings. With the addition of bitter oranges, orange blossoms, pink grapefruits, raspberries and red currants this fortified wine just seems perfect for those nights! As with the other Belsazar products the base wine is Riesling from the Kaiserstuhl and for fortification eau de vies from renown producer Scheibel are used. All in all, the Rosé is a great addition to their portfolio, because it manages to be very very fruity, without becoming cloyingly sweet! Which makes telling you what vermouth made by them is best almost impossible, because honestly they are all exceptionally good!
| | |
| --- | --- |
| | Belsazar Rosé Vermouth |
| Alcohol: | 17,5 % |
| Price: | 21 € per litre |
| Appearance: | Pink, big windows, fast tears |
| Nose: | Wine, fruits, raspberries, caramel, some tannins, rose pedals, oranges, slight sweetness |
| Taste: | Fruity, some sweetness, red berries, black currants, wine notes with interlaced tannins, orange peel |
| Aftertaste: | Medium long, fruity and sweet with hints of raspberries |
| Rating: | |
How to mix drinks with wine!
When it comes to mixing drinks with wines or fortified wines in particular the most rewarding style of drinks are sours. There is just not much that can go wrong if you stick to some basic rules: For example you should approximately know the sugar content of the wine you are mixing with and adjust the amount of sweetener you use accordingly. The second thing you should pay attention to is the lower alcohol content. You should use a fair amount of wine in a recipe: While you might use just 4,5 cl to 5 cl (~ 1½ oz) of a spirit in a cocktail with wines I would not use less than 6 cl (2 oz). With this in mind you can go crazy on the other ingredients to use in your cocktail. As you might already have noticed I like to use jam and herbs in combination with fortified wine. I can not tell you exactly why, but in my mind those three things just go together very well. This time I went for fruit in rum made by the outstanding Austrian jam producer Staud.
2 Bsp.
Staud's Seven Fruits In Rum
3 Sprigs
Thyme
Shake – double strain – chilled Marmalade glass over ice cubes;
Garnish:
Thyme sprig – Brandied Cherry
Song:
Jack Johnson – Waisting Time
It comes as no surprise that this drink is fruity! Still, it is amazing how many different fruits you can find in a single sip of it. There are red berries like cranberries, raspberries and red currants, but also darker fruits like plums. You even get a hint of rum in the aftertaste. Yet, the vermouth remains the main flavour in this cocktail, supported by a herbal note from the thyme and a slight acidity. Depending on how sweet your fruit in rum are you might either use a little more or add a little simple syrup to adjust the balance of the drink. With the Staud's jam two bar spoons were actually enough, more would just overpower the other flavours in this light refresher.
Just decide when its summer!
Now you might argue that it is Winter and you are not in the mood for a sunny and light drink right now. Well, while I obviously enjoy spirit forward Manhattans a little bit more when it is cold outside you can just use this drink as salute to warmer days! However, the dark fruit notes of the jam also almost make this cocktail a Winter warmer, when you are not in the mood for dark spirits. Ok, maybe this all is just an excuse to sip a pink drink and get in touch with my feminine side…