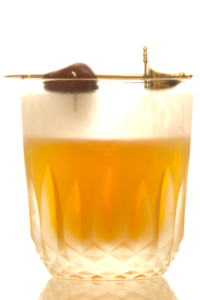 After the Original Dark and the Black Cask the Barbados 5 Years Rum is the third bottle from the French Plantation rum series I am featuring here on my blog. Now you might suspect that I am working for them and I would have to deny that of course! Ok maybe there is a little truth to it, but I am only presenting their rum because I really enjoy them. This being said, let's get to why you should take a closer look at this Plantation Rum from Barbados!
Nowadays there are four distilleries operating in Barbados: Mount Gay, Foursquare, St. Nicolas Abbey and West Indies Rum Distillery. Yet, Ferrand won't tell you at which one their Barbados 5 Years is distilled. This is part of the deal Ferrand has with their individual rum producers for their Plantation series. What I can tell you is that this rum is a blend of column and pot still distillates and aged for three years in Bourbon barrels. Afterwards it is shipped to France where it is filled into small, used Cognac made out of French oak barrels and stored for two years at Château de Bonbonnet in Ars, Cognac. In the end the rum is bottled at 40 % ABV, which might be the only small drawback. Certainly, it would have been even better higher drinking strength.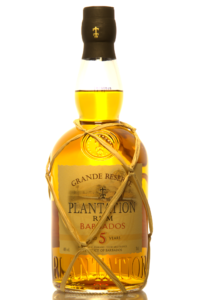 | | |
| --- | --- |
| | Plantation Rum Barbados 5 Years |
| Alcohol: | 40 % |
| Price: | 32 € per litre |
| Appearance: | Amber, medium sized windows, fast tears |
| Nose: | Molasses, burned sugar cane, caramel, ester notes, dried fruits |
| Taste: | Molasses, slight sweetness, candied bananas, burned sugar cane, ester notes, dark chocolate, dried fruits |
| Aftertaste: | Long with caramel, charcoal and dried plums |
| Rating: | |
Most people will not even care if their rum is made out of molasses or sugarcane juice, but the Plantation Rum Barbados 5 Years does not leave a whiff of doubt about what it is made off! With its heavy molasses, vanilla and caramel notes it is an atypical English style rum. Sure, there is some noticeable sweetness, but still you also get a fair amount of ester and dried fruit notes. You could almost go as far as to say that there are some banana notes going on. On the one hand, in this price category it should not come as a surprise that this is not the most complex of rums, but on the other hand it is definitely not boring, overly sweetened rum either! I can only repeat myself in saying that you get quite a lot for your money, which by the way is also the case with a lot of other Plantation rum bottlings. Naturally, I was in search for a drink that would not overpower the main flavour components of the rum, but still would be complex.
Manhattan – Old-Fashioned Hybrid
If I had to categorize this cocktail I would say that it lies somewhere between a Manhattan and an Old-Fashioned. It has the basic components of a classic Old-Fashioned: spirits, bitters and sugar, but also the vermouth and bitters combination of a Manhattan. Essentially, this means it belongs to both categories, or none, or that it does not really matter at all! One reason for creating this recipe was that I found a small bottle of tonka bean and vanilla syrup in my fridge and wanted to use it in a recipe again. And what better way to do this as with a rum cocktail? The second reason was that I also had some Pineau Des Charentes lying around, which also deserves to be used in more cocktail recipes!
Stir – strain – chilled Old-Fashioned glass;
Garnish: Brandied Cherry;
Song: Chet Faker – Release Your Problems
With its strong dried fruit and ester notes the Plantation Barbados manages to keep the upper hand in the Release Your Problems. Still, the Pineau Des Charentes also brings a noticeable winey taste and a certain sweetness to the mix. As anticipated the tonka and vanilla notes also play along very nicely! Apart from the fact that those two spices are one of my favourites, they also intensify the whole drinking experience, without adding any classic Christmas spice flavours to the drink. Not that I don't like allspice, cardamom, cinnamon and cloves, but I think we will get a shipload of them the next few weeks. So, I guess it is refreshing to treat yourself with something different and still suitable for Winter!
The verdict!
Plantation rum did it again! They managed to create an affordable, yet exciting rum, which really makes great drinks. On top of that you absolutely can sip a glass of the Plantation Barbados 5 Years neat and this statement is not just marketing nonsense. In my opinion you can only intensify the neat drinking experience if you treat yourself with the Plantation Barbados Extra Old. The drawback however is a little loss of mixing ability. Now it is up to you to decide which one you should get for your Hot Buttered Rums!