Finally, it seems to have caught on with spirit start-ups that the next new gin might not be the best way to start your venture. Besides the already featured German rum, Birds Weissbrand is another very interesting new spirit. Basically the Birds is a gin, made out of grapes, without juniper – but better!
What do you get if you decide to take a base spirit and redistill it with botanicals? No, if you are using everything besides juniper you will not make a gin, but a whole new spirits category instead! Now you might argue that this is not a very creative or inspired idea to just get rid of the juniper. And yes, to use a wine as basis for your spirited drink is also nothing new. However, bring those two things together and you get a bright new spirit that refuses to be simply categorized! The brilliance behind the Birds lies in the simplicity behind the idea. As soon as I heard about this new product from a bartender friend of mine I just had to grab a bottle and test it!
Jet-set spices
First, let's talk a little bit more about the product: Some people might ask themselves why it is called "Birds" and my guess is that it has something to do with the botanicals used in the production of the Weissbrand. The herbs and spices used for the production of the birds are sourced from all over the world and this is the first clue to why there is a small plane on the bottle. Translated to a marketing speak this means that with this spirit you are able to taste elements of all five continents. Instead of plain and simple neutral grain spirit Riesling wine from the Moselle region are used in the production of Birds. All in all, twelve botanicals bring spice to the mix. They are angelica root, cacao peel and pink peppercorns from America. Cloves and rainforest pepper from Africa, mace and eucalyptus from Australia, liquorice and star anis from Asia and apples, orange peel and red currants from Europe.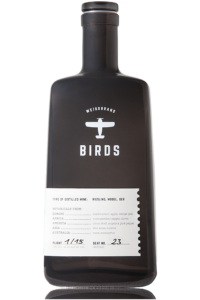 | | |
| --- | --- |
| | Birds Weissbrand |
| Alcohol: | 42,2 % |
| Price: | 80 € per litre |
| Appearance: | Clear, small windows, slow tears |
| Nose: | Eucalyptus, cacao, pepper, berries, cloves, allspice |
| Taste: | Slightly sweet, wine, spices, fruity, red berries, cacao, eucalyptus and other herbs |
| Aftertaste: | Prolonged aftertaste with cooling menthol and dark chocolate |
| Rating: | |
Besides the great bottle design even the first aroma of Birds Weissbrand is complex and intriguing! If you take a whiff you will get hit by cooling eucalyptus and cacao bark notes. Yet, there are also other spices and fruits lingering in the back of the Birds. At no point you will be missing the absent juniper, well unless you are a proper Gin-Nerd. Let's assume this is not the case and then you will be delighted by this new flavour combination. The sip delivers everything the nose promised and a little bit more. Especially, the herbal notes are more intense in the sip. The thing I enjoyed most about the Birds was its powerful cacao flavour which is balanced by interesting fruit notes of red berries. If it wasn't for those fruit notes you could almost mistake this for an cacao eau de vie!
Carrot on a stick
Usually, when creating a new drink I first start with the product and only then begin to wonder on what to do with it. This time however, it was the other way round: In October I felt a bit under the weather and was drinking a lot of carrot, ginger, lemongrass-tea with honey, lemon and fresh ginger. I enjoyed this combination so much that I started asking myself how to use the tea in a cocktail. Then the Birds came along and it seemed like the perfect match for the tea. Following my other experiments with tea, I just used the cold tea as a kind of filler in a Highball style of drink. To make the drink a bit more sophisticated I also added dry vermouth and homemade lavender syrup to the recipe. All in all, the different complimenting and contrasting flavours created a compelling mix which makes you forget all about G&Ts!
Brew tea and let cool – stir – strain – chilled Highball glass with ice cubes;
Garnish: White Grapes – Long Lemon Twist;
Song: We Are Serenades – Birds
* In a pan – add 250 g sugar and 125 ml water – stir in four tsp. lavender blossoms – bring to boil – let rest over night – strain – add 1 oz Vodka – fill into clean bottle and seal;
Even though the Birds is paired with an equal measure of non-alcoholic ingredients, it manages to stand out of the mix. The powerful cacao and eucalyptus notes are still very prominent in the finished drink. Still the composition results in more than just the sum of its individual components! You also get a slightly floral hint from the lavender and fruity, yet dry notes from the vermouth. There is just enough sweetness from the syrup and the vermouth to balance the drink. This simple fact is somewhat important, because if you use to much syrup the lavender will overpower the other ingredients. Now I have to admit, that this drink might be more suitable for Summer, but still the cacao and ginger notes at least in my mind are also suitable for the colder seasons.
Mix with tonic water if you must
Of course, no one keeps you from mixing the Birds Weissbrand with tonic water. The result probably will be a very pleasant drink indeed! However, if producers go through all the trouble of inventing a new spirits category, would it be too much to ask for you to find new ways of enjoying them? And yes this question is meant to sound provocative, because as a bartender you sometimes whish that people would stray from their paths and try something other than a Gin & Tonic. Maybe we should all see this as an opportunity to discover new interesting cocktails and highballs! One thing is for sure the guys behind the Birds found their way of creating a captivating new spirit!