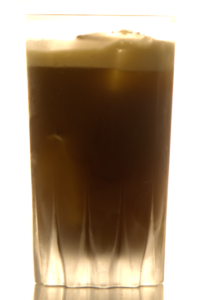 Normally beer is not the first flavour that springs to mind when thinking about liqueurs! And even though there are some beer liqueurs out there, few of them made their way to the back boards of high-quality cocktail bars so far. Still,  there is a small Bavarian start-up who set out to change that. Luckily, I not only had the chance to try the Heiland Doppelbock Liqueur, but also an interesting cocktail idea!
The idea to create the Heiland Doppelbock liqueur was born when Stefan was working at Matthew Bax's Gamsei bar. One beer Old-Fashioned cocktail, using a beer reduction, was all it took to set the wheels in motion. After his first batch and introducing the liqueur to his brother Max and his friend Kay the decision was made to produce it in larger quantities. Now, after experimenting for many months the Heiland Doppelbock Liqueur is made using the namesake Doppelbock beer, rum, sugar and spices. The original recipe will remain a secret of the three young guys from Munich. So, let's see how the Heiland Doppelbock liqueur can live up to the expectations.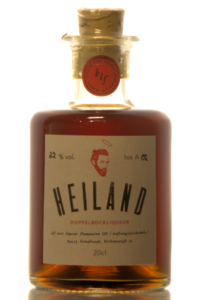 | | |
| --- | --- |
| | Heiland Doppelbock Liqueur |
| Alcohol: | 22 % |
| Price: | 52 € per litre |
| Appearance: | Burned sienna, big windows, fast tears |
| Nose: | Chili peppers, ginger, stout notes, caramel, vegetal notes, |
| Taste: | Noticeable sweetness, reminiscent of dark beer, caramel, vanilla, rum notes, chili, spices |
| Aftertaste: | Medium long aftertaste with caramel and spices |
| Rating: | |
Weird beer and chili mix
To be honest, if you take the first whiff of the Heiland Doppelbock Liqueur it is an unusual aroma to say the least. Due to strong vegetal notes of chilis and bell peppers it takes a while to familiarize yourself with the aroma. However, if you get used to it you are rewarded with an interesting combination of hot spices and dark beer notes. Moreover, the taste of the Heiland liqueur is really different from its nose. The green vegetal notes are dialled down a bit and give more room to a caramel-like sweetness. Also, if you close your eyes you can almost imagine yourself drinking a dark beer. Minus the carbonation, at room-temperature with additional spices, but still…
Even weirder drink idea
I cannot really tell you how the process of creating this cocktail was. All that stuck with me was that I was taking a look at my drinks cabinet and my eyes fell on a bottle of Fernet. And I thought to myself: "Hmmm, it's been a while since I mixed a drink using this! I wonder if it works with the Heiland liqueur". From there I went to a strange Café Correto idea using an Amaro. In the end, I only needed a little sweetness to level out the bitter notes of the espresso and Fernet. If you now think that this is one of those crazy combinations that sound strange on paper and magically transform into a rainbow of beautiful delightfulness on your palate – your are a mistaken… Do not get me wrong, I really enjoy this drink! Yet, even I have to admit that the tastes might come off a little bit wired (but in a good way). I do not know if this is due to the use of two liqueurs, or the combination of Fernet and coffee, but chances are high that you will not like this drink if you are not a bartender or into bitter things or both. At least it will not take you down a beaten path, that's for sure!
Shake – strain – chilled Highball glass over ice;
Garnish: No garnish;
Song: UNKLE – Awake The Unkind
This cocktails is clearly dominated by the combination of Heiland liqueur and Fernet. While the aroma of the drink smells mostly of coffee, the chili and eucalyptus notes are especially prominent in the sip. You will of course also notice the espresso's coffee taste when drinking the cocktail and it is supported by a slight, multi-layered sweetness. Also there are some caramel and toffee notes in the aftertaste. The funny thing with this drink is that for less experienced cocktail connoisseurs it will taste stronger than it actually is. This perhaps is due its powerful flavour profile. As said before, this really is a cocktail for people who dig Fernet and you are probably best advised not to serve it at a bachelorette's party… Still, if you are looking for a complex drink which nicely plays with different bitter components this is the right choice for you!