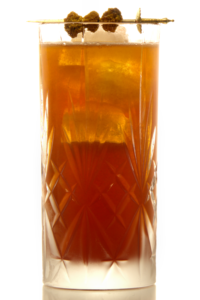 Even though I am already in Christmas mode, I cannot help myself but to create none christmas themed cocktails! Well, maybe you could take the peated whisky in this recipe as a metaphor for an open fire or the combination of cherry jam and chocolate spices for fruitbread. To be honest, when creating this cocktail, I did not really think of a Christmas connection. Nevertheless, we have quite a lot to talk about this time!

The beauty and the beast
If you call your product "beast" you better have a reason to do so! And what can I say, the Peat's Beast Single Malt Pedro Ximenez Sherry Finish in cask strength gives you more than one! First, there obviously is a lot of smoke. However, this should not come as a surprise when keeping in mind that the Peat's Beast is distilled from barley with 35 ppm of phenols on the grain. Second, it is non chill-filtered and bottled at cask strength, which in this case means no less than whopping 54,1 % ABV. On top of all of that, it is finished in Pedro Ximenez Casks, which is a heavy and sweet style of sherry. Still, the headline would not be well chosen if there was not a counterpart to the fierce smoke and strength of the whisky. In this case it comes in the form of the Mondino Amaro Bavarese. With its ruby red colour it leaves no doubt on which other famous Amaro it sets out to teach the meaning of fear. Yet, I can already tell you that the Mondino manages to keep its individual character. On top of that, it is also organically produced.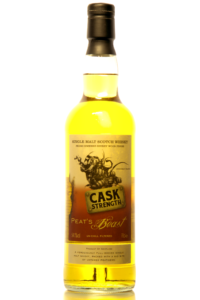 Peat's Beast Pedro Ximenez Sherry Finish Cask Strength
Alcohol:
54,1 %
Price:
74 € per litre
Appearance:
Straw, small windows, slow tears
Nose:
Smoke, pears, charcoal, caramel, dried fruits;
with water: Less smoke, dried fruits, vanilla, toffee
Taste:
A lot of smoke, alcoholic sting;
with water: Caramel, slight sweetness, vanilla, still a lot of bonfire smoke, hints of dried pears and cider
Aftertaste:
Long aftertaste with smoke, malt and fruits
Rating:
Even if the Peat's Beast is not the most complex Single Malt out there, it delivers a lot a proper Malt Head can wish for: Powerful smoke, strong alcoholic punch and an interesting refinement in sweet sherry barrels. During the first tasting of the Peat's Beast I did not really notice the sherry finish. On the one hand this was due to its massive smokiness, but on the other hand it was also because the typical PX notes of sweet, dark fruits are substituted by dried pear flavours in this single malt. At this level of alcohol content it might not come as a surprise that you can, should and probably will add a little water to bring the Peat's Beast down to drinking strength. This will of course make the malt more accessible, dial down the smoke a bit and also underline the other flavours. If you do so, you will recognize that behind all that smoke and the sherry notes lies a rather slim distillate with typical Bourbon cask flavours. Compared to other Islay cask strength single malts the Peat's Beast is quite the value-for-money-tip and because of this you can allow yourself to use it in a cocktail every now and then…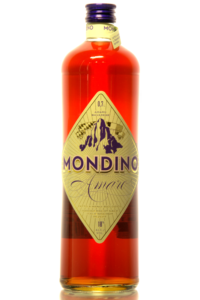 | | |
| --- | --- |
| | Mondino Amaro Bavarese |
| Alcohol: | 18 % |
| Price: | 28 € per litre |
| Appearance: | Ruby red, small windows, slow tears |
| Nose: | Grapefruit, bitter, slight sweetness, herbs, rhubarb, lovage |
| Taste: | Sweet, slight bitterness, oranges, cinnamon, cloves, rhubarb |
| Aftertaste: | Prolonged aftertaste, bitter with grapefruit peel and spices |
| Rating: | |
The Mondino was created by a small Bavarian distillery according to an original Italian recipe. Among other locally sourced herbs and spices Arancia Amara, rhubarb and yellow gentian are used to flavour this bitter liqueur. The first thing you will notice when trying this Amaro is, apart from its beautiful colour, the interesting mix of bitter and sweet flavours. There are strong fruity, citrus notes in perfect harmony with rhubarb and herbal, almost umami notes. You already get from my rating that I enjoyed this bitter liqueur very much, even more than Cam… No, I am not going to say it, because I want you to see the Mondino as an individual produt! There will be some cocktails where you better use the Mondino and others which will still call for the big red Amaro brand. I think the difference between both is best described this way: While the big brand has its own taste, the Mondno tastes of things. If this makes any sense at all…
Funky and fruity peat monster
This time the cocktail I want to present to you evolved from another idea I had: When I had my vermouth phase a few weeks ago I also had the idea for a drink I called Twistin' & Turnin'. It used bourbon, rosé vermouth, cold black tea, blueberry jam and cider. So far, I did not get the chance to try it, but still it seemed as a perfect starting point for a drink using the Peat's Beast. As always, I just started to switch some ingredients for others and finally ended up with a new drink entirely! With the use of peated single malt and a dark red colour I also needed a new name for the drink, which reflected the kind of "evil" powers this concoction has. This is the reason why I changed the name to "Devil's Work" after a song by Miike Snow.
2 Dashes
The Bitter Truth Xocolatl Bitters
2 Bsp.
Staud's Weichsel Sour Cherry With Chocolate Spices
Top off with
Van Nahmen Cider brut
Stir jam with Mondino in base of shaker – add rest and ice – shake – fill chilled Highball glass with ice cubes and half with cider – double strain drink;
Garnish:
Pinch Of Coffee Spices – Three Dried Physalis;
Song:
Miike Snow – Devil's Work
This drink ranges between plain wired and a great flavour combination. There are all sorts of fruits like apples, cherries and pears, but everything is rapped in a coat of cold, dark smokiness and on top of all of that there also is a funky, spicy chocolate tastes lingering in the back. Which maybe could be seen as the devil's wit, if you are into that all of that metaphor stuff… The only criticism I have with my combination is that maybe the Mondino does not get enough room to show off its whole potential. However, it at least contributes two things: It gives the drink a bitter and fruity backbone and it also lends the cocktail some of its beautiful yet dangerous colour! That being said, you could also just mix up a Negroni using the Mondino and refine it with a few dashes of Peat's Beast. I can tell you this is also an excellent, yet less intriguing choice!