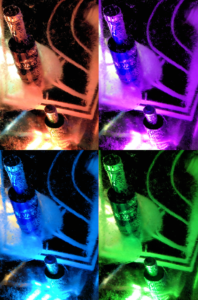 There a certain things every cocktail lover or bartender should do at least once in his life. – No, I am not talking about a shot of Chartreuse or something like that, but of the the production of spirits. And of course this is one thing you as a spirits connoisseur can not know enough about! I have to admit that until recently I myself had not visited a distillery. However, with this visit to the Lantenhammer distillery, I more than made up for it!
While the first two distilleries were mainly producing gin, the Lantenhammer distillery in Hausham was my first one only dedicated to the production of the finest eau de vies. Of course, you can visit the Lantenhammer premises throughout the whole year, but my roommate and I chose to visit it when they were celebrating their winter festival. Apart from the distillery building and shop there were a lot of small booths set up and decorated with branches of fir. This meant that besides the chance to try the excellent Lantenhammer and Slyrs products you could buy a lot of different local goods ranging from wool hats to locally produced cheese.
Wine is fine, but liqueur…
Naturally, my focus was more on the distillery and their products, but even I had to remark that the atmosphere was very beautiful! To familiarize my friend with eau de vies we started our small tasting of Lantenhammer products with their Cuvées. They are kind of similar to liqueur, but just consist of eau de vie and fruit juice form the particular fruit. Besides the Mirabellen Cuvée I already featured here on my blog, we also tried the Williams pear, raspberry and sloe Cuvées. The first one of the three had a strong pear note, I was already familiar with from the Red Williams eau de vie, but it was of course sweeter, very mellow and at the same time had an even stronger fruit character. Both, the raspberry and the sloe Cuvées were also very interesting, with the raspberry eau de vie having a natural flavour with some vegetal notes. Because some of the kernels still remain in the mash when producing a sloe eau de vie, the liqueur made from it had a distinct almond taste in combination with a strong fruitiness and some astringent notes.
800 tonnes of fruits
Yes the 800 tonnes of fruits are the total amount of raw material the Lantenhammer distillery manages to process throughout one year alone. Yet, let's start at he begining! Therefor, we joined a tour through the distillery itself, before we contiuned our tasting with the stronger spirits. The tour started in the room where the six stills are standing. There one of the twelve distillers working at Lantenhammer told us everything we wanted to know about the company and on how to produce premium eau de vies. – The distillery was founded 1928 by Josef Lantenhammer who started producing gentian eau de vie in Schliersee. After the distillery had to close during World War II, Mr. Lantenhammer opened it up again with his first few Deutsche Mark. Nowadays the company is run by the third generation and besides the renown eau de vies also the first real German pot still single malt is produced. The idea to make his own single malt was dreamt of by Florian Stetter after a trip to Scottland with his distillers in 1992. As the story goes, they made a bet about a case of beer that Florian would not be able to distil his own single malt. In 1999, after seven years of trying, the result was good enough to be aged for three years in new oak casks. So, in 2002 the first 1600 bottles of three year old Slyrs whisky were sold.
Only the best quality
The enormous amount of fruit the Lantenhammer distillery uses for the making of their eau de vies does not mean that they would compromise when it comes to quality. They have contracts with a lot of farmers who know better than to deliver anything less than the highest quality. For example the Williams pears are sourced from Italy, the hazelnuts from Turkey and the sloes from the Carpathians. When the individual fruits are delivered to the distillery they first have to pass a visual examination by the distillers. Yet, this is just the first step the fruit has to master, afterwards the sugar content is determined with a refractometer and should way in about 75 ° Oechsle, which by the way, depending on the fruit, is pretty much the maximum of sugar you can get. If the fruits have the right quality and sugar content they sometimes are post-ripened until they reach the ideal maturity. Only then the fruits are put in a water bath to rinse of the residual dirt and after that they are processed through a progressive cavity pump for controlled crushing. At this stage you have to be careful not to let rotten fruit or stalks fall in and you have to be especially careful with fruits like rowan berries that have a high density. Otherwise it could happen that the high viscosity mash simply breaks the tube.
Temperature controlled fermentation
After the mashing of the fruit, special yeast is added to transform the carbohydrates of the fruits into alcohol. At the beginning of this process, the so called glycolysis, it is crucial not to fill the fermentation tank to the max and also to control the temperature. If one of both things is neglected you probably will be very successful in producing a fruit mash volcano instead of any eau de vie. This is why Lantenhammer cools down their smaller fermentation tanks with a kind of sprinkler system to 18 °C – 22 °C. In their bigger, 30.000 l tanks they have a build in cooling system along with a stirring unit. When the fermentation is finished the yeast dies down and the finished fruit mash has an alcohol content of 6 % to 7 %. Now the first distillation run is done on four one year old 1600 l copper stills from renown German producer Arnold Holstein.
Raw and fine distillates
The first run on the big copper stills is done until the spindle in the spirits save reaches 10 % ABV and takes about four hours. The slop that remains in the stills is either sold as animal feed or thrown away. After the initial distillation the spirit is kind of cloudy and as we were able to smell for ourselves does not have an intensive fruit note, but vegetal and a bit unpleasant notes. This is why the raw spirit is then redistilled on smaller copper stills with a maximum capacity of 450 l. This takes about eight to nine hours. At this point also the heads and tails of the distillate are split and only the heart is used for the production of the premium line of Lantenhammer eau de vies. Only with the Williams and Raspberry eau de vies the heads and tails are redistilled for a second time and then used for the Lantenhammer standard eau de vie line.
My preciouse… stone ware
When the heart of the distillate is collected it is not bottled straight away, but put in stone ware containers. The advantage of stone ware is that it allows some exchange of air without adding additional flavours. Though the two drawbacks of stone ware containers are that they tend to break if they are dropped from even the smallest heights and that they are out of production for quite some time now. The Lantenhammer eau de vies stay in these special vessels for one to ten years, depending on the character they develop. Just as an example the sour cherry eau de vie has an average age of eight years. During this time the Angel's Share amounts to about 1 % to 1,5 % ABV per year. Thereafter, the spirits are filtered at 2 °C and brought down to drinking strength with mountain spring water from the Spitzingsee. However, not all of the Lantenhammer eau de vies are chill-filtered. They also have a line of unfiltered fruit brandies, which come in frosted glass bottles. Since this year there also is a new line of eau de vies, which were aged for three to four years and afterwards finished in Slyrs single malt barrels for three to six months.
All in all, it was a excellent evening and we got great insights into the production of eau de vies. Just if you are wondering where the promised stronger spirits ended up, here are two tasting notes of new "Lantenhammer" products:
| | |
| --- | --- |
| | Raritas Juniper 2015 |
| Alcohol: | 46 % |
| Price: | 67 € per litre |
| Appearance: | Pastel gold, middle sized windows, slow tears |
| Nose: | Orange peel, juniper, fir needles, lavender, pepper |
| Taste: | Juniper, fir needles, mountain pine, slight sweetness, pine cones, orange peel |
| Aftertaste: | Long, juniper and pepper |
| Rating: | |
The Raritas Juniper is kind of a Bavarian Blended Gin and consists of Bavarka Gin, The Duke Munich Dry and Granit Gin. After the three gins are mixed according to a secret recipe the blend is aged in Sauterne casks for three months. Now you can start a discussion if a multi-layered spirit like gin really needs blending with others, but I think of this as an interesting new approach to gin! Each individual gin gets to play its part in the final sip and at no time one takes over completely, but still the whole picture is more than a combination of its individual components.
| | |
| --- | --- |
| | Slyrs 51 Single Malt |
| Alcohol: | 51 % |
| Price: | 86 € per litre |
| Appearance: | Saffron, big windows, slow tears |
| Nose: | Dried fruits, cereals, malt, port wine aroma, plums, caramel |
| Taste: | Sweet, malt, slight whiff of menthol, vanilla, combination of dried fruits, caramel |
| Aftertaste: | Medium long, vanilla and caramel |
| Rating: | |
The Fifty One is made using in-house malted barley, which is twice distilled and afterwards aged in American white oak barrels with a capacity of 225 l. The finish is done in port wine, Sauternes and sherry barrels. To keep more of its complexity the Fifty-One as its name already suggests only is brought down to a drinking strength of 51 % ABV. Some people will already call the regular Slyrs bottling one of the best German Single Malts, yet I am a bit more careful when it comes to name-calling. While the regular Slyrs Single Malt is a bit too young for my taste, I really enjoyed the Pedro Ximinez Finished version I already reviewed here. One drawback of it is that the Sherry tastes takes over the whole drinking experience and leaves the whisky itself just a small room to unfold. With the Fifty-One things are quite different, the finishing is still very recognisable, but there is still enough Single Malt taste in the final product! This is why I highly recommend this German Single Malt!