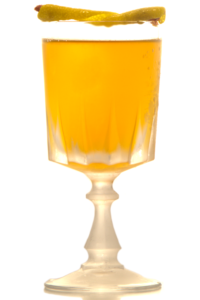 When doing research for an article about the Negroni I stumbled on the Harajuku cocktail. The special thing about this Negroni variation was its use of Hibiki Blended Japanese Whisky. Since, the big aricle on everyones favourite bitter drink will take some more time and planning, I set out to see if I could create a new Japanese style cocktail.


Well, I just did create a new drink and I am rather pleased with it. However, as some of you may know, the prices for Japanese whisky just sky rocketed. This is why I was perfectly happy to just review a bottle of Hibiki Japanese Harmony. The big advantage, besides the price tag, of this no age statement whisky, is its availability. Although, it is limited it probably will be on the market a bit longer than the other age statement bottlings. The whisky itself is composed of at least 10 single malts and grain whiskies form Suntory's Chita, Hakushu and Yamazaki distilleries. All in all, five different cask types are used. American oak is used as the whisky's base. Mizunara and sherry casks are there to season the blend. Also, smoky single malt whiskies are used to bring more depth to the mix and grain whiskies from the Chita distillery to complete the composition. So, let's find out how this whisky which comes in a glorious decanter bottle tastes like!

Hibiki Japanese Harmony
Alcohol:
43 %
Price:
78 € per litre
Appearance:
Dark straw, medium fast tears, medium sized windows
Nose:
Citrus notes, lemon peel, caramel, malt, exotic flavours, cinnamon, spices, vanilla
Taste:
Mellow, slight bitterness, hint of sweetness, vanilla, citrus notes a whiff of menthol
With a few drops of water: Very smooth, cinnamon, plum pudding, hints of fresh cut grass
Aftertaste:
Relatively long aftertaste with lemon peel and cereal notes
Rating:
One of the best sipping whiskies
The Hibiki Japanese Harmony is a whisky of contrasts. On the one hand it is not the most complex whisky I ever had, but on the other hand it certainly is the one with the most intense citrus notes! It also is not the smoothest whisky in the world, except when you add a few drops of water. Then the whisky suddenly is transformed into a smooth blend of citrus and vanilla aromas. Be carefull, this way the whisky will go down way too easyily! This just might be the best whisky to introduce someone to Japanese whisky, because it delivers everything you possibly could expect from a sipping whisky. Moreover, the Hibiki does this in a very nice and polite manner. Yet, I also was intrigued to see if the Japanese Harmony could also stand up against other ingredients when being mixed.
Again some Japanese inspired cocktails
Therefore, I created a kind of Japanese Manhattan variation. To spice things up a bit and to underline the Hibiki's citrus notes I decided to use grapefruit bitters instead of normal Angostura Bitters. Apart from that, I also added a splash of Yuzu juice. I was not quite sure how this would play out, but I gave it a shot. I used the Cocchi Vermouth Di Torino for the vermouth. It is a sweet vermouth from the Piedmont area in Italy, with Moscato wines as a base. The wine is then infused with exotic and local herbs and spices after a supposedly 100 year old secret recipe. You can find my tasting notes for the Cocchi vermouth below. Just one last note on the cocktail I dubbed the "Keep Growing" after a great modern-old-school hip-hop song: I thought that the drink was lacking one final ingredient. Luckily, I had some Japanese plum liqueur on hand from my previous Japanese inspired cocktails. The so called Umeshu liqueur might not seem like much with its 12 % ABV, but it magically lends everything it touches into a delicate Japanese flavour.

| | |
| --- | --- |
| | Cocchi Vermouth Di Torino |
| Alcohol: | 16 % |
| Price: | 30 € per litre |
| Appearance: | Amber, slow tears, medium sized windows |
| Nose: | Fruits, grapes, English wine gum, raisins, Barolo wine |
| Taste: | Sweet, plums, raisins, vanilla, nutmeg, cloves, dried fruits |
| Aftertaste: | Medium long with bittersweet notes |
| Rating: | |
I really like vermouth, especially red ones. This means that I also like the Cocchi! It has a intense wine flavour with beautifully interlaced herbal and spice notes. However, for enjoying it neat it has a touch too much sweetness for my taste. This being said it is complaining on a high level, because basically with a nice mix of bitterness, dried fruits and spices it delivers everything you can expect from a vermouth. Also mixed drinks will very much benefit from the additional sweetness, the Negroni for example.
3 Dashes The Bitter Truth Grapefruit Bitters
1 Dash Yuzu Juice
Stir – strain – chilled Cocktail glass;
Garnish: Lemon Twist – Japanese Cherry Blossoms;
Song: L'Orange – Stop Growing Feat. Meyhem Lauren & Billy Woods
This drink is a perfect show-case for how flavours interact with each other. While the citrus flavoured ingredients the whisky, bitters and juice form a powerful alliance, they are opposed by the vermouth and Umeshu as the fruity and sweet components in this drink. Interestingly, the vermouth somehow leaves the stage to the other ingredients, but also gives the drink a proper backbone and structure. Clearly, there are certain elements reminiscent of a Manhattan or a Rob Roy, but all in all the drink feels lighter and less spirit forward. Moreover, the vermouth's bitterness and the slightly salty cherry blossoms (they are preserved in salt) create accents in the overall drinking experience. I can very well imagine this drink being a perfect Summer Manhattan variation! Just be careful not to pair the Hibiki Japanese Harmony with too powerful elements, it would be a shame to drown its lighter and delicate facets in ginger ale…