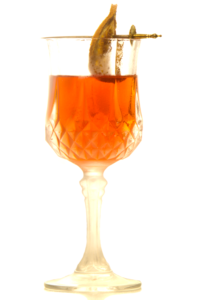 What would you do if you had various fortified wines on hand? Making classic cocktail variations would certainly not be the worst idea. Well, that is why I settled on mixing a Rob Roy variation. Of course, I named it according to the unwritten law of giving drinks with Scottish ingredients the name of a Scottish folk hero.
The first of the two aperitif wines I would like to present to you was the Cocchi Americano Rosa. The Rosa is made from Brachetto and Malvasia wines, fruits, herbs and spices. Especially, cinchona, citrus fruits and gentian. Its recipe is similar to the Cocchi Americano Blanco, but the Rosa uses a higher amount of ginger and rose pedals. The second fortified wine in question is the Vermouth Amaro also produced by Cocchi. This amaro – vermouth hybrid dates back to an original recipe by Giulio Cocchi and is composed of chiretta which is an Indian herb, a double infusion of cinchona, rhubarb, quassia wood and wormwood. Also a bit of Barolo Chinato is added to the mix to lend the Vermouth Amaro more elegance. The Vermouth Amaro is also called "Dopo Theatro" which translates to "after the theatre". This is a reference to the piedmont tradition of drinking a glass of vermouth over ice after visiting the theatre.
| | |
| --- | --- |
| | Cocchi Americano Rosa |
| Alcohol: | 16,5 % |
| Price: | 38 € per litre |
| Appearance: | Red, slow tears, small windows |
| Nose: | Raspberries, cinchona, tannins, fruity, reminiscent of Spanish Rosado, a lot of other berries, hint of vanilla, wormwood |
| Taste: | Sweet, fruity, slight bitterness, vanilla, berries, raspberries, black currants and other red fruits |
| Aftertaste: | Extremely long with pronounced but pleasant bitterness |
| Rating: | |
While the regular Cocchi Americano already seems like the perfect aperitif wine for Summer, the Rosa manages to be even more suitable for a hot Summer's day! Instead of the pronounced orange peel notes from the original it delivers a fruit basket filled with red berries. This means that the Cocchi Rosa is very pleasant on its own and has just the right amount of bitterness. Of course, the Vermouth Amaro comes with more bitterness than the Americano, but it is very well integrated, too. The noticeable sweetness of the Cocchi Vermouth Di Torino is dialled down a bit in this one, which means that I enjoyed it a little bit more. Therefore, in my mind the Vermouth Amaro is a nice crossover between vermouth and Amaro. Now let's see how a drink with both fortified wines turned out!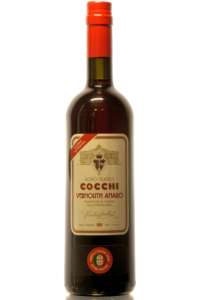 | | |
| --- | --- |
| | Cocchi Vermouth Amaro |
| Alcohol: | 16 % |
| Price: | 40 € per litre |
| Appearance: | Dark caramel, slow tears, medium sized windows |
| Nose: | Wormwood, gentian root, herbs, cloves, some sweetness |
| Taste: | Sweet, cloves, some bitterness, herbs, spices |
| Aftertaste: | Long with noticeable bitterness |
| Rating: | |
The main idea here was create a twist on the classic Rob Roy with a touch of additional bitterness and herbal notes. As a base spirit I went for a great Blended Scotch which not only gives the drink its Scottish heritage, but also a strong, yet not overpowering smokiness. To differentiate more between a have a Rob Roy and a Manhattan besides using a different style of whisky, I am always using Peychaud's Bitters instead of plain Angostura Bitters when mixing a Rob Roy. I copied this neat trick from Gaz Regan who mentions that the anise notes pair especially well with Scottish whisky. To figuratively add more spice to the drink I decided top off the drink with a few sprays of flaming absinthe. On the own hand this gives the drink a nice herbal note, but on the other hand I have to admit that playing with fire and booze is always fun! Obviously, when using an open flame and high proof spirits you have to be very cautious not to set something on fire, e.g. your kitchen…
3 Dashes Peychaud's Bitters
Spray Absinthe to a flame on top of the drink;
Stir – strain – chilled Cocktail glass;
Garnish: Dried Orange Slice;
Song: Owl John – Cold Creeps
The first thing you will notice about the Robert The Bruce is its intense combination of herbal and smoky aromas. Yet, after the first whiff of flavours has settled a certain sweetness and wine taste emerges. When you are actually sipping the drink you are definitely reminded of a Rob Roy with the familiar combination of malt, smoke and fortified wine notes. However, besides the nicely balanced bitterness of the Vermouth Amaro the drinks seems lighter than a Rob Roy made with 100 % sweet vermouth. I guess this is due to the lack of a certain "barrel aged" vermouth aroma which is replaced with the beautifully fruity aroma of the Cocchi Rosa.
In conclusion I am very happy with this concoction and the next time I might actually mix it with a peated single malt. The fortified wines from Cocchi can certainly handle a more powerful counterpart. Moreover, the products from Cocchi can also be used in any number of vermouth based cocktails. So, you could say that they are very good indeed, but I guess for the discerning bartender this might not come as this big a surprise…