While being mostly great on their own amaros and vermouths also make great cocktails. Also the beautiful thing about cocktails made with fortified wine is their relatively low ABV while at the same time delivering a lot of flavours. Since, I kind of neglected this style of cocktail so far I decided to focus on it with this combination of bitter vermouth and a vermouth reduction.
I already introduced the Cocchi Vermouth Amaro to you in another article. Its great combination of wine-like character and a pleasant, but noticeable bitterness inspired a whole bunch of cocktail ideas in my mind. One of them was combining it with an apple cider reduction. However, although the supermarket in my hometown is quite big and features an impressive collection on American sodas I could not get even one bottle of cider… This is why I improvised and just used dry vermouth instead. This also has the advantage of using up the bottle before it oxidizes. Basically, to make a reduction you add the vermouth to a pan and bring it to a boil. After that, let it simmer until it is reduced to half its initial volume.
To add a little bit more depth to the drink I was looking for some bitters. Luckily, I had a bottle of homemade wormwood bitters on hand. The funny story about them is that I actually made some rose bitters by infusing vodka with rose petals. Yet, after mixing the rose essence with the bittering agent mainly containing wormwood the mix quickly lost its original rose flavour. So, I just dubbed them "wormwood" bitters and decided to use them anyway. You can check out how to make bitters at home in one of my previous blog entries here.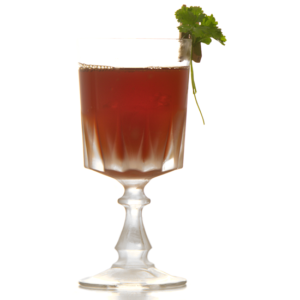 6 cl Cocchi Vermouth Amaro
3 cl Reduced Dry Vermouth*
3 Dashes
Wormwood Bitters
Stir – strain – chilled Cocktail glass;
Garnish:
Sprig of parsley;
Song:
Mello Music Group – Slow It Down Feat. Oddisee
*Reduced Dry Vermouth:
200 ml Belsazar Dry Vermouth
Add vermouth to pan – bring to boil – simmer until reduced to half the inital volume – fill – clean bottle – keep refrigerated;
This low alcoholic cocktail starts of with a nice combination of herbal notes and a wine-like taste. There is also a noticeable sweetness to it, but it is elegantly balanced by an apparent bitterness. However, the gentian and wormwood notes do not overwhelm the drinking experience. In the back of the sip there is a fruity taste of dried apples and pears lingering on.