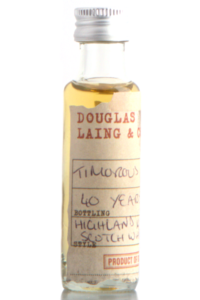 Sometimes you just need a little luck to get to try something very special! In this case I entered a competition and was lucky enough to be amongst 100 people who got the chance to try the new Douglas Laing Timorous Beastie 40 Year Old Blended Malt Whisky. Of course, I could not keep myself from sharing my impressions with you!
Little frightened mouse
As one of the most renowned independent bottlers Douglas Laing decided to name their series of Highland Blended Malt Whiskies Timorous Beastie. This is also the name of the little field mouse from Robert Burns' poem "To A Mouse". In the case of the 40 Year Old Blended Malt it is composed of single malt from the Dalmore, Glen Garioch and Glengoyne as well as others. This means that there is a good chance that it has a little bit of sherry notes and probably no smoke flavour. Apart from that, it is bottle at cask strength, without neither colouring, nor chill-filtration and limited to only 1080 bottles. However, I do not know if the 2.86 bottles they gave away as 2 cl samples are already included in this number.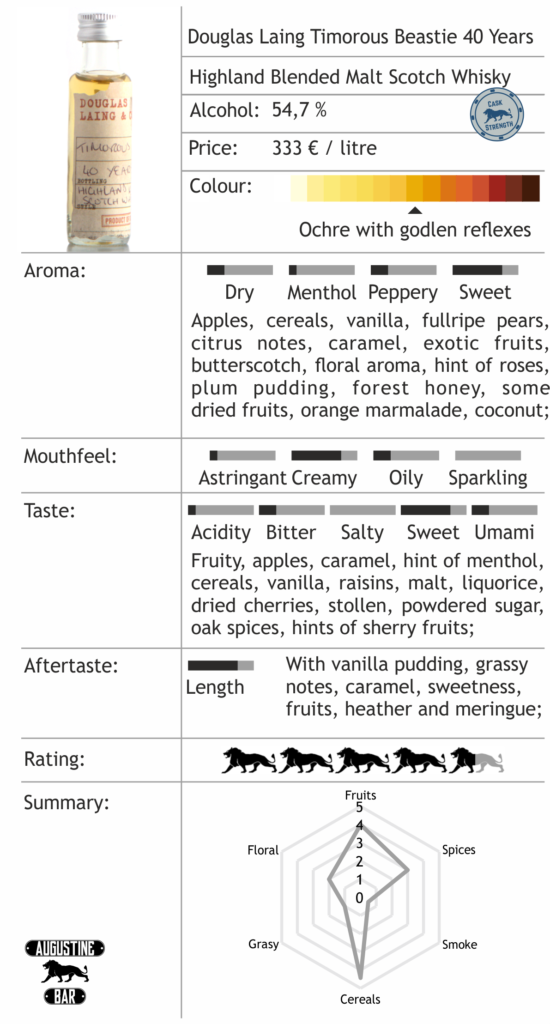 As the headline suggests there is absolutely no reason why this Blended Mouse Malt should be afraid! The whisky is just beautifully balanced with a whole bunch of aromas which will make you spend a lot of time only taking in its beautiful bouquet. It starts off with a lot of cereal notes, immediately accompanied by ripe pipfruit notes. Then after a while citrus fruits emerge together with a slight hint of rose petals. If you add just a few drops of water there even will be some exotic fruits on which I could not quite put my finger on and a whiff of desiccated coconut. All of this is presented on a nice plate of caramel, vanilla and other spices as well as some malt notes. Yes, this is only how the Timorous Beastie Blended Malt smells like! If you take your first sip, best before you add the water, you will get more apple and pear notes with cereals. Of course, you will notice the higher alcohol, but it just comes in the form of a little bit of menthol on your palate, but you probably can spare the water altogether. However, if you add the few drops you will be able to open up the flavours just a little bit more. If you do so, this shows just a hint of dried fruits and I guess this is where the Dalmore Single Malt plays its part. You really have to look for the sherry cask notes, but they are there. For me they came in the form of raisins and dried cherries, before sweet baked goods started the transition towards the aftertaste. As it should be with a whisky this old, the special part comes in form of a long and lasting aftertaste! You will not be disappointed! Basically, what you get is an encore of all the flavours you previously tasted. In addition a little bit of heather and meringue also show themselves.
All in all, this is a rather special and exceptional Blended Malt! If you see a bottle you probably should invest in it, put it in a nice decanter and savour it every time you want to toast to a special occasion! The downside of this will be that you will just continue to find a lot of occasions and run out of it very quickly. For this kind of money, it will be hard to find a suitable replacement!