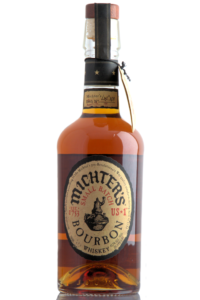 It has been a while since I put some bourbons to the test. So, I thought it was time to review some new bottles. This is why, I arranged a blind-tasting with some friends. In total we tried eight different bourbons, five with an ABV between 45.7 % and 50 % and three cask strength versions. Let me just say this: There were some surprises waiting for us!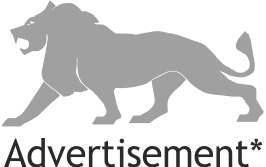 Luckily, today there are a lot of different bourbons readily available. Of course, here in good old Europe less than in the U.S., but there is still quite a number of bottles to try out there. To help you with the decision, I thought you might like to know how some of them fair in a blind-tasting. This means that we first tried five non cask strength bourbons in random succession. Then, we continued with three cask strength versions. To see how the bourbons in question would behave when being mixed, we also made Old-Fashioneds with them. The ratings and tasting notes are averaged over all of the tasters, but of course are highly subjective.
I already put the Elijah Craig head to head with two other bourbons. Nevertheless, we wanted to see how this great standard bourbon would do when being compared to some other rivals, too. Interestingly enough, for a readily available bottle of bourbon the Elijah Craig spent quite some time in a barrel and yes in the US the twelve was already dropped from the label. Still, considering its price it is always worth taking a closer look at when you are searching for a good value for money bourbon. After all, it makes a hell of a good Boulevardier! Its mash bill is said to consist of 75 % corn, 13 % rye and 12 % barley. Yet, as you can see in the picture we just had the rest of the bottle left for sampling. Therefore, the Elijah Craig had already lost some of its flavour. I took this into account when calculating its overall score. In terms of figures it would have only scored a solid 2.5. Apart from that, it was still obvious that the Elijah Craig is a very complex bourbon with a lot of oak flavour. However, there were also some nice red berry notes in its flavour. All in all, this means that the Elijah Craig still manages to be the best value for money bourbon in this tasting.
The Four Roses Single Barrel, as the name suggests, is only bottled from one barrel. While this is a good thing, it also means that the taste can vary between each barrel. Apart from that, it might be interesting to know that Four Roses does not use genetically modified corn and the mash bill consist of 60 % corn, 35 % rye and 5 % malted barley. As you can see from the previous Spirit Smack Down on bourbon the Four Roses normally scores higher. Yet, in this case we did not enjoy it that much. I guess this is due to this specific barrel which resulted in a very dominant glue flavour and almost overwhelming floral notes. Not knowing that it was the Four Roses in the blind-tasting, I even went as far as labelling it the youngest bourbon in the field. However, as we will see later on things were very different when making an Old-Fashioned with it.
The Cleveland Black Reserve is the most controversial bourbon of them all! It is aged under two years, so officially it is not allowed to call itself whiskey. Nevertheless, the Indiana sourced spirit is not only further aged with oak, but the aging process is also aided with oxygen and pressure changes to speed up the whole thing. As a whiskey purist you now might condemn this method, but let me say this: We did not manage to tell it apart from the others in the blind-tasting. Furthermore, it even shares the top score with the Michter's amongst the not cask strength bourbons.
The Knob Creek Bourbon is part of Jim Beam's exceptionally Small Batch Collection. As the name already suggests, it consists of a smaller number of specially selected casks compared to their usual bottlings. This version of Knob Creek is bottled at 50 % ABV and also quite interestingly priced. Its mash bill consists of 73 % corn, 13 % rye and 10 % barley. Overall, it is hard to tell if the Elijah Craig or the Knob Creek is the better value for money. In my opinion, the Knob Creek is the one you should choose if you want more grain an vanilla flavour, but less oak notes. This means that it works best in cocktails containing fresh juices like the classic Whisky Sour for instance.
Similar to the Cleveland Bourbon, Michter's also speeds up the aging process. However, thy are inducing thermal cycles to their warehouses. However, the rest of the production is done according to the general rules for bourbon. This means that the mash consists of at least 51 % corn and the new make is aged in charred American oak barrels for five to eight years. After aging the bourbon is chill-filtered according to Michter's own technique. Apart from those facts, Michter's is very secretive about the sourcing and mash bill of their whiskeys. However, this did not keep the Michter's from winning in the non cask-strength segment of the blind-tasting. I guess it is also interesting to know that this actually is the second blind-tasting the Michter's won. Last year it also scored high in another double blind-tasting I took part in.
To be honest, the Stagg Jr. was the bourbon I was most excited about! After all, it shares the name and heritage with one of the most famous bourbons of them all! In contrast, to its father which is aged for at least 15 years, the Stagg Jr. only spends about have that time in a barrel. Nevertheless, it is also bottled at cask strength and it also carries antlers on its label. So when breaking out my tasting notes from the George T. Stagg 2009 release there were certain similarities noticeable. One of course being that you get a smack in the face by a healthy amount of alcohol and menthol. Both also had a certain candied violet and fresh cut grass note to them and you could definitely see the connection. To be fair, the George T. Stagg spent a lot of time in a sample bottle so some of its flavours might have already been lost. All in all, I can say that the Stagg Jr. does not disappoint and if you cannot get your hands on the George T. Stagg this is the next best thing!
I have a kind of love and hate relationship with the Booker's. While everyone tells me that it is one of the best bourbons out there, I did not enjoy it that much when sampling it the first time. However, when preparing a Mint Julep with it, the resulting drink is just glorious! Well, while this being a cask strength single barrel expression and the taste between different bottles can vary, I guess that some part of me not liking it is just due to psychology. In the blind-tasting, when I did not know it was Booker's, I enjoyed it very much and I did not even add water to it. Part of this might be due to the Stagg Jr. numbing my palate a bit… Apart from that, I guess that now I am also converted to being a Booker's fan. What I can say for sure is that it really deserves sharing the first place in the blind-tasting with the Stagg Jr.!
The Barrel Proof version of the Elijah Craig is kind of a legend in the U.S. There it was gone before anyone realized it even was available. The funny thing is, that here in Germany the Barrel Proof is almost a standard bottling. In this case, we had a bottle from a batch which clocks in at a whooping 67.8 % ABV. So it might not come as a big surprise that it was the most powerful bourbon we tried. Naturally, for such a high powered whiskey it provoked polarized opinions. It was clearly less smooth than the Booker's, but also a little bit more complex which led to mixed reviews and a slightly lower rating than the other two cask strength bourbons. However, all three of them were very good and I guess it is really just a matter of personal preference which one you enjoy more.
The Old-Fashioneds
We used the same recipe with all of the bourbons, except the Elijah Craig. In this case only 1 oz was left in the bottle and we adjusted the recipe accordingly. With all the other drinks we used the following recipe:
5 cl Bourbon Whiskey
3 Dashes Angostura Bitters
0,5 cl Simple Syrup
Stir – strain – chilled Old-Fashioned glass;
Garnish: Orange Twist and Brandied Cherry;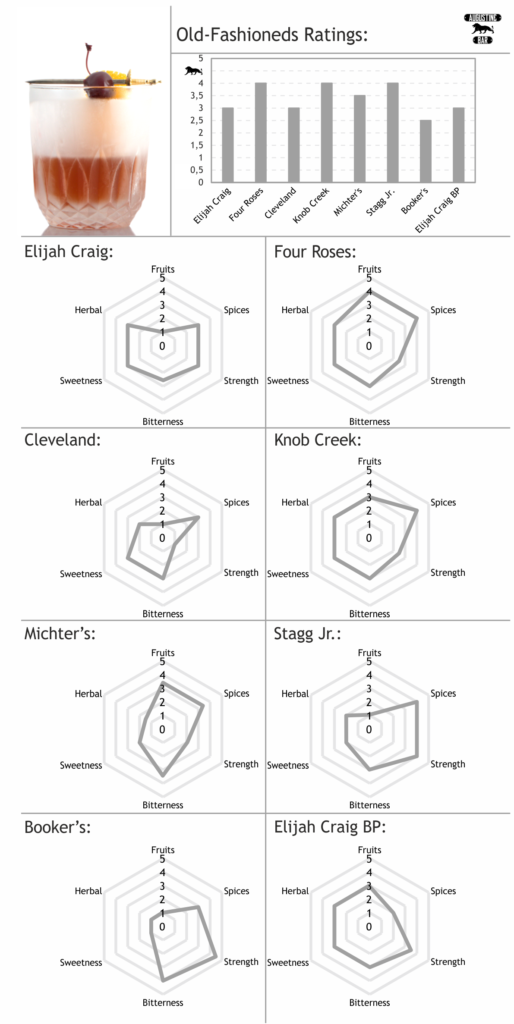 As you can see above, all of the Old-Fashioneds were great. However, some even were exceptionally good! Maybe the biggest surprise was the Four Roses which we did not enjoy this much in the blind-tasting, but it made an almost perfect Old-Fashioned. I also should mention the Knob Creek here, which very closely followed on the second place. Another thing we did not expect was the Booker's which was relatively smooth when enjoyed neat. However, the Old-Fashioned made with it, while being very bitters- and spirit-forward, seemed kind of unbalanced. Again the Stagg Jr. won the rating when it comes to the cask strength bourbons, because it was strong, yet balanced and very complex.
*The fact that I received a product reviewed in this article for free, did not – in any way – influence the rating of said product.