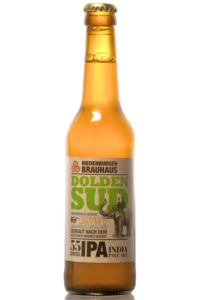 As promised with the Riedenburger Sommer Sud, here is my review of its bigger brother the Riedenburger Dolden Sud IPA. Right away I can tell you that this is one of my favourite IPAs. It has just a perfect balance between flavour and quaffability. What also helps is that the best place for drinking craft beer in Nuremberg has it on tap! However, let's see if the Dolden Sud can live up to the expectations!
First, some information on this Indian Pale Ale: The Dolden Sud is a special brew by the Riedenburger brewery and their take on a traditional Indian Pale Ale. As the story goes, two sons of master brewer Michael Krieger were send out to find a new style of beer. Yet, they came back with an old recipe for a hop-heavy Indian Pale Ale. This recipe was so good, that the guys at Riedenburger decided to market it anyway. Apart form that, it is completely organic. In total, eight different types of hops are used for brewing the Dolden Sud. They are Amarillo, Cascade, Centennial, Chinook, Saphir, Spalter, Hallertauer Mittelfrueh and Pilgrim. This means that besides its ABV of 6,5 % it comes with a moderately high International Bitter Units (IBU) score of 55. When it comes to malt Riedenburger only mentions that they are using their own Summer malted barley for brewing the Dolden Sud.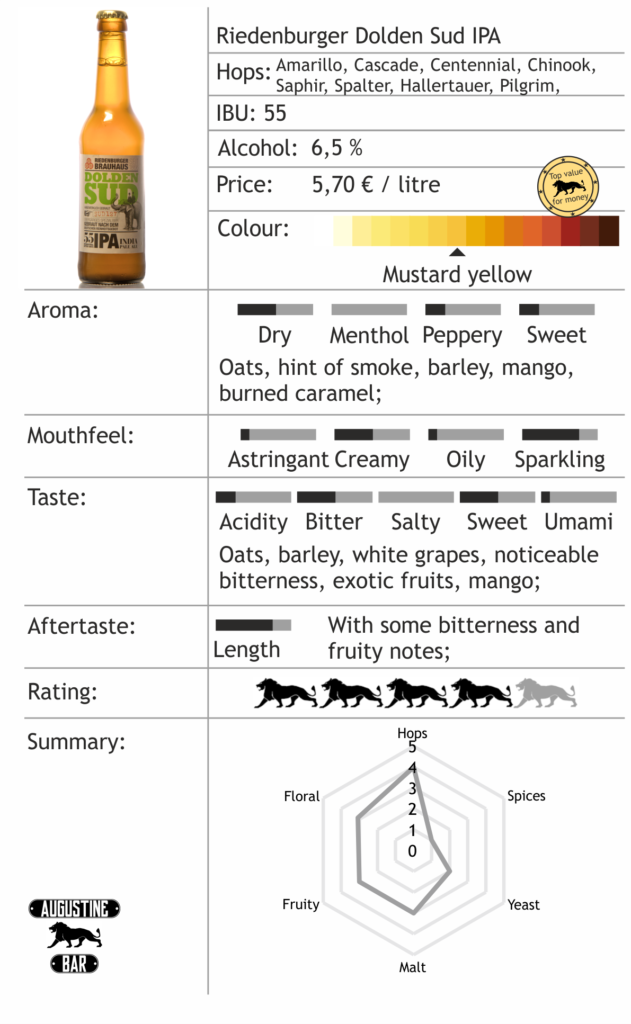 Yes, the Riedenburger Dolden Sud still remains one of my favourite IPAs! I especially like its fruity complexity which comes from the use of multiple hop varieties. Furthermore, the fruitiness just goes perfectly well with the malt notes and the pronounced bitterness. In contrast to other craft beers, this one makes you actually crave another one after you have finished the first glass. Do not get me wrong, there are a lot of great craft beers and IPAs out there, but more than a few are so hop-heavy or extremely fruity that you are totally fine with just one glass. While I do not recommend drinking on a daily basis, this one would surely earn the title of an "Everyday-IPA". Of course, it is even fresher and a little bit more complex when you try it from the tap, but still the bottled version is perfectly fine, too!