As a cocktail and spirits enthusiast chances are high that your passion also makes its way over to other culinary fields. For instance, since I began mixing drinks, I am far more interested in things I am cooking and what is in them. The same thing applies for wine or for champagne in this case! However, I also admit that sometimes champagne is a little bit pricey. This is why I am always looking for a bottle with a great value for money like the M. Massaux!
The champagne in question the M. Massaux is produced by Janisson-Baradon which is always a great choice if you want to mix great refreshing champagne cocktails! Of course, they are also great on their own, like the Brut Sélection for instance which makes for a great aperitif champagne. Yet, with its mix of 50 % chardonnay and 50 % pinot noir with 36 % reserve wines it has enough complexity to accompany a whole evening.
Young and fresh – excellent for champagne drinks
There is not much information to be found on the M. Massaux which is maybe because it is mainly intended to be sold to bars and restaurants. Yet, I suspect it to be similar to the Janisson-Baradon Brut Cuvée. The Brut is made from all three of the famous champagne grapes chardonnay, pinot meunier and pinot noir with a 40 %, 50 %, 10 % mixture. Apart from that, Wolfhart Wiegmann, from the wine store Pinot in Nuremberg mentioned that the M. Massaux has a little bit less dosage than the Brut. This way the entry level brand of the Baradon range should be even more suited for being served as an aperitif, or for mixing drinks. At my birthday party I served a riff on the Kir Royale by replacing the crème de cassis with homemade cherry liqueur and the freshness of the champagne accompanied the cherry notes very well.
Janisson-Baradon M. Massaux Champagne Tasting Notes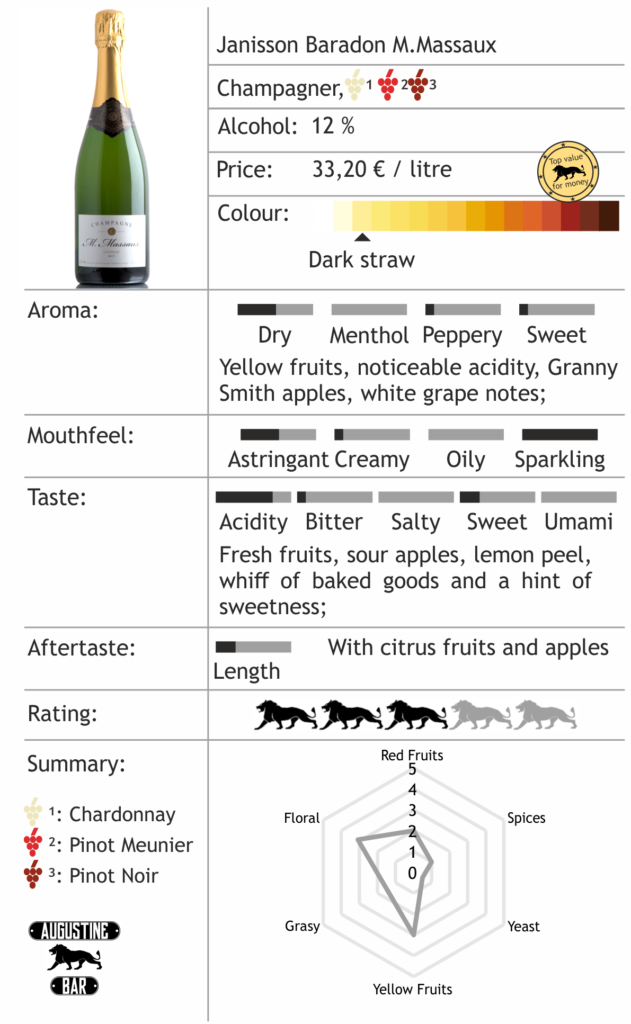 As you can already see from my tasting notes, I very much enjoyed the M. Massaux. Of course, you notice a juvenile freshness, but in my opinion this is the whole point of this wine. As mentioned before, it is just perfect as an aperitif or for celebrating, especially in Summer. You get a lot of fresh citrus and yellow fruit notes, with some winey character, but almost no yeast like notes. This means that fans of very matured champagnes should probably look elsewhere. However, if you are just looking for a very good value for money champagne than grab a bottle if you see it! Oh and before I forget, here is my Cherry Kir recipe:
1,5 cl Homemade Cherry Liqueur (Or Cherry Heering)
Top off with Janisson-Baradon M. Massaux Champagner
Build – champagne glass;
Garnish: Lemon twist;