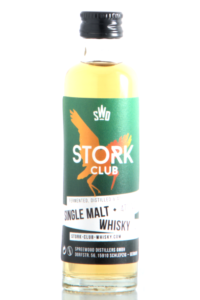 For the first Spirited News of 2017 I am introducing whiskeys from the Spreewood Distillery to you – not gin – for a change! The distillery, formerly know as the Spreewald Distillery, is located in the Spreewald region South of Berlin.  The guys behind the renamed and reorganised company now produce a straight rye and a single malt whisky. Both carry colourful labels and pack quite a bit of punch!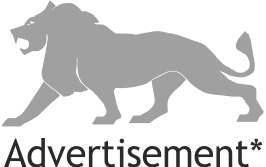 Each of the three gentlemen behind the Spreewood Distillery has rather an interesting background from the spirits and drinks business: Steffen Lohr is a former bartender who for instance worked in the bar called "Der Raum" in Melbourne and also was a Bacardi brand ambassador for years. Then there is Sebastian Brack who invented the Thomas Henry soda brand and also took part in the founding of Belsazar Vermouth. Last but not least the third one in the team is Bastian Heuser co-founder of the Bar Convent Berlin and also a former bartender. However, never mind all this spirits business royalty, what really matters is the taste of their whiskies!
First, let's take a closer look at the non-aged statement single malt produced by SWD. It is of course distilled from pure malted barley and aged in barrels which previously held bourbon, sherry and white wine. Similar to their rye the single malt is bottled without the addition of colouring or flavours and without chill-filtration. The Stork Club Single Malt comes with an ABV of 47 % and suggestions for which beer to pair it with. It is said to especially go well with Pils, wheat beer or lager. Second, the Stork Club Straight Rye Whiskey is made from malted as well as unmalted barley and aged after distilling in former bourbon and white wine barrels. It is bottled at a whopping ABV of 55 % and is said to pair well with Bock beer, IPA or Pale Ale.
The most remarkable thing with the Stork Club Single Malt is its hazelnut flavour! Clearly, hazelnut eau de vies come to mind when sipping this single malt. Yet – on the one hand, the whisky lacks a little bit of complexity and I suppose it could make due with a little bit more time to mature. On the other hand however, I could not work out any juvenile notes either. This means that, if you are a big fan of hazelnuts, you should give this one a try. Although, you should not ignore the rye whiskey!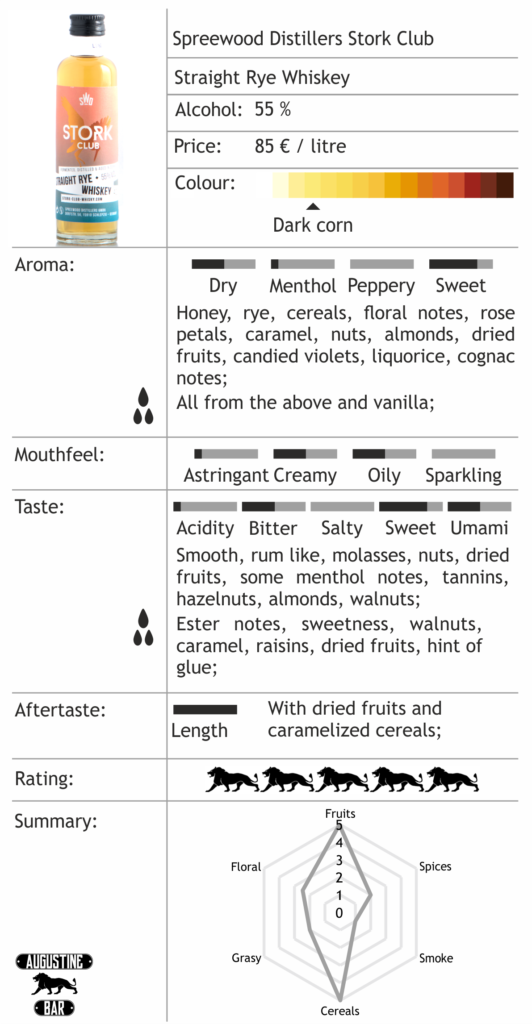 Well, maybe you already guessed it from my tasting notes, or maybe you did not… Nevertheless, the Stork Club Straight Rye is one hell of a whiskey! Sure, you will notice its strength, but with a few drops of water, it becomes smooth while at the same time staying unbelievable complex. With its dark fruit and ester notes it almost reminded me of a well aged rum, from Jamaica or Guyana. Yet, the rye as a raw material is still noticeable in the bouquet and sip. On top of all of that, the Stork Club Rye also keeps the distillery character with a distinct hazelnut aroma. It even manages to add almonds and walnuts to its multiplex layers of flavour!
*The fact that I received a product reviewed in this article for free, did not – in any way – influence the rating of said product.