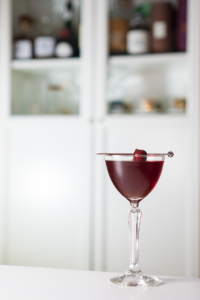 I am always in search of extra ordinary eau de vies. This time I found a special grape eau de vie from a small boutique distillery in England. Besides the current trend grape Siegerrebe, the eau de vie also comes from one of the most renown eau de vie distillers in England. Although it is made to be enjoyed neat, I also thought of a cocktail which hopefully honours the effort that went into the production of this special eau de vie.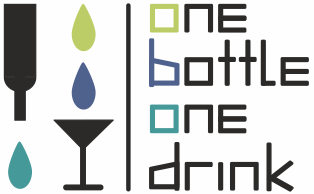 The grapes for the Siegerrebe eau de vie come from the Three Choirs Vineyard in Gloucestershire. The marc of the Siegerrebe grapes are brought to the Capreolus distillery and then rehydrated. Afterwards they are distilled in a small copper bain marie still. All in all, in 2017 only 96 375 ml bottles were produced.
Fruity, grape marc spirit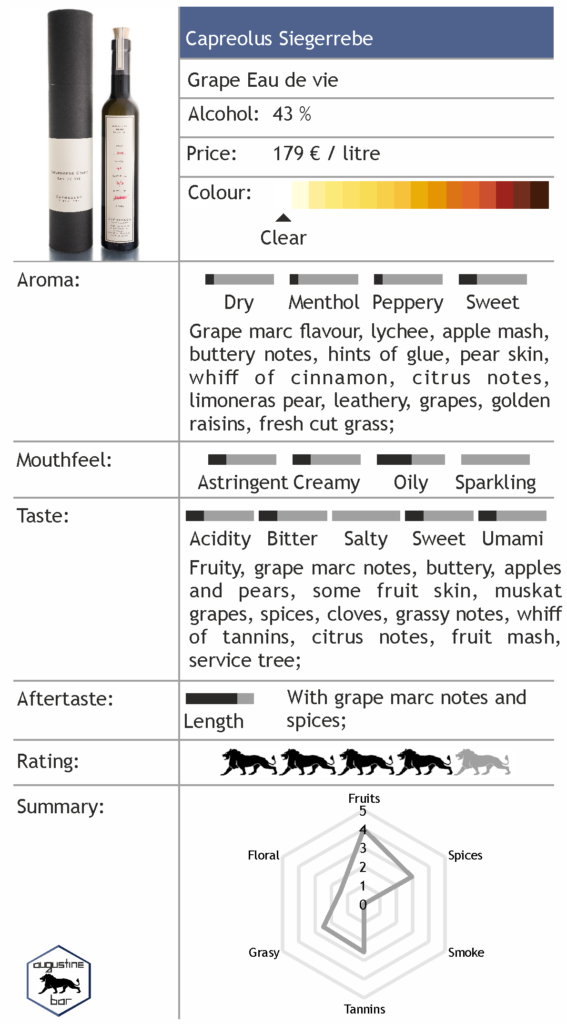 The Capreolus Siegerrebe starts off with a typical grape marc spirit flavour. There are notes of apples and pears and clear cut fruit skin. You can also detect hints of tannins as it is typical for Italian grappas. However, to compare the eau de vie with ordinary grappa is not fair. The grape marc spirit is more complex than any other grappa I tried so far.
A Chancellor variation
For a drink with the Siefgerrebe, I tried to use other ingredients that would highlight the quality of the eau de vie. That is why I used the Chancellor cocktail recipe as a base. Together with a twenty year old port wine from Taylor's, I used the Mancino Chinato, a Barolo Chinato variation. Instead of orange bitters, I added my distinctive Grappa Manhattan bitters mix. Years ago, I found out that a mix of lemon bitters and Jerry Thomas bitters work particularly well with grape marc spirits.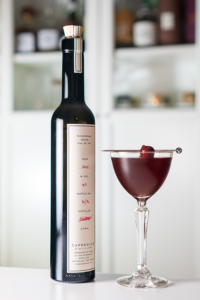 4,5 cl Caprelous Siegerrebe
3 cl Taylor's 20 Year Old Port
0,75 cl Mancino Chinato

1 Dash TBT Lemon Bitters
3 Drops TBT Jerry Thomas Bitters
1 Bsp. Simple Syrup
Stir – strain – chilled cocktail glass;
Garnish: Brandied Cherry;
Song: The Helio Sequence – The Captive Mind;
Not to praise myself, but "The Captive Mind" is one of my better creations. You definitely have to be a fan of grape marc spirit to enjoy this cocktail. On top of that, you can detect some grassy notes in the flavour. All in all, it is surprising how the Caprelous Siegerrebe can stand up to the other ingredients.