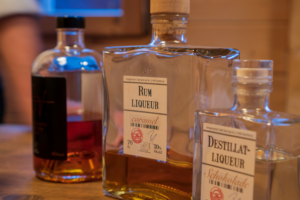 When going on holidays, I always check out which distilleries are near. So, when we went to the North Sea, we spent a night on Gut Basthorst to visit the Feingeisterei. Besides eau de vies and liqueurs the two also produce gin, rum as well as aquavit. In the future a whisky will complement their portfolio.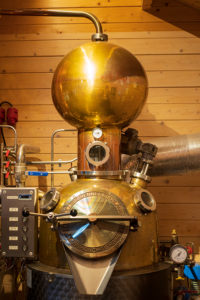 Fabian Rohrwasser the owner and distiller of the Feingeisterei started as a distiller near Hersbruck. However, in Franconia he was just one of many eau de vie producers. Since moving to Northern Germany this changed dramatically. Here his still was just the fifth still in the whole state of Schleswig-Holstein. Nevertheless, he produces high-quality spirits and all of this in a very confined space. Though in an idyllic setting on the Basthorst manor, it figuratively is just a small room and some space for storage.
Wild herb aquavit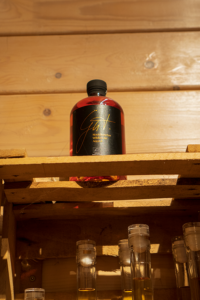 I already wrote about Fabian's 5 Continents Gin as one of my first reviews here on the blog. Back than I clearly lacked some experience when it comes to tasting gin neat. However, besides Fabian's rum one of his newer products is an aquavit. His Aquavit is made with wild herbs from Northern Germany. Fabian gets some of the herbs from a Demeter certified acre nearby, but he needs to buy the others, because of the organic certification. The Gut. Aquavit is also barrel aged and changes colour when mixed. It tastes smooth with a lot of herbal notes. The caraway seed note is very well integrated and accompanied by some cumin notes. In the back of the taste you can find a little sweetness which is due to the small amount of sugar added. I will review the aquavit in more detail in a separate article.
Everyone's darling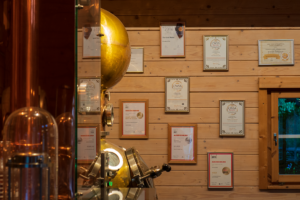 It might seem that blood oranges are a new trend amongst German eau de vie distillers. Yet, according to Fabian it was pure coincident that he made a blood orange eau de vie. His wife Martina was out buying lemons for their gin when she discovered the blood oranges at their fruit supplier. Of course, the Feingeisterei Blutorangengeist from Sicilian fruits has a clear cut blood orange note. However, the bouquet is more reserved as with other blood orange spirits. Instead, the flavour is more prominent and the orange notes are accompanied by some tannins.
Cacao and chocolate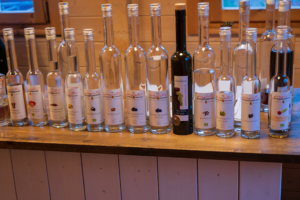 Since, chocolate eau de vies work very well in cocktails, it is always a highlight to try one. So, the third spirit I tried was the chocolate spirit from the Feingeisterei. It is made from organic cacao beans and organic neutral spirit. You can find dark chocolate notes, roasted flavours and a hint of milk chocolate.
The next steps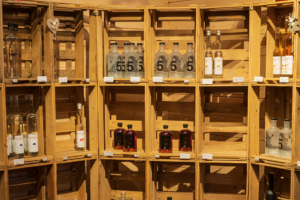 All in all, Fabian's spirits (and some other gins from Northern Germany) are well handcrafted on his 150 l Müller still. Yet, he does not rest on his success. The change ranges from small steps like introducing new eau de vie bottles to bigger ones like starting a new distillery. Fabian's new project is called FARO Whisky Distillery and located in the next village Schretstaken. There he will distill whisky from self-malted Northern German barley. The first releases are planned for 2021. Until then you have the chance to join a exclusive whisky club and get first and limited releases.