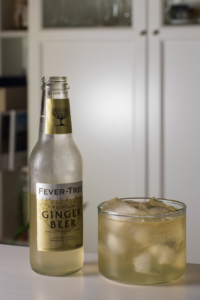 Even when we just talked about apricot eau de vies a few weeks ago, I still am curious to try other apricot spirits. On top of that, there are not a lot of cocktails using apricot eau de vie. So, I take every chance to come up with a new cocktail.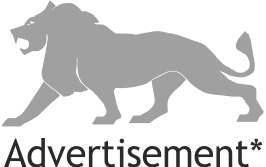 The Brand8 distillery only uses fruits they grow themselves. This way they can harvest it at exactly the right time. On top of that, they also grow old verities and contribute to the biodiversity. Before mashing the fruits are excessively cleaned and sorted. Only yeast is added to the fruit mash and the texture, smell and temperature is regularly controlled during fermentation. Karlheinz Ganzer distils the fruit mash on small stills which results in only around eight litre of spirit, hence the name "Brand°8". The eau de vies are then brought down to drinking strength with water from Brand°8 own well.
Complex apricot flavours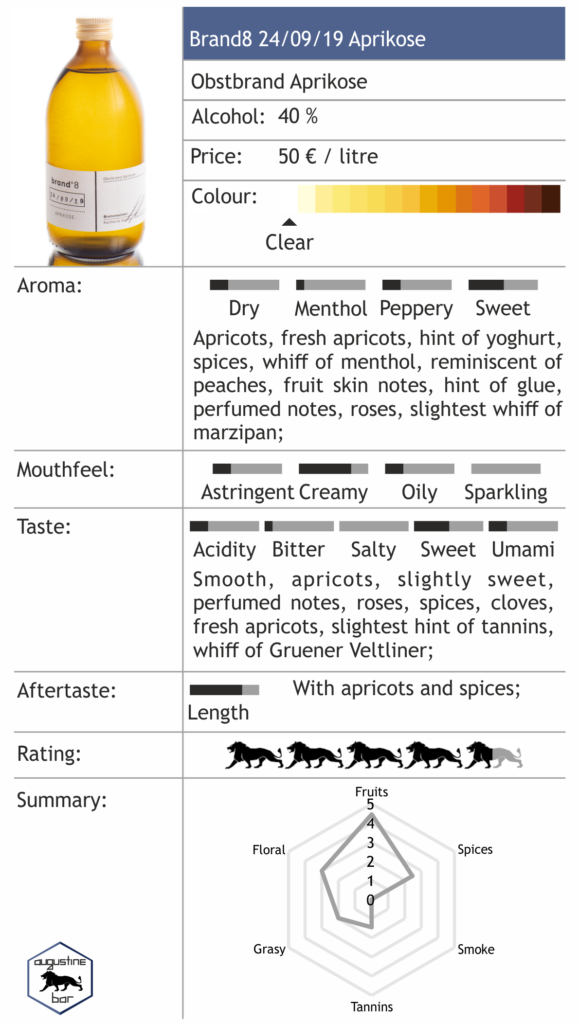 The Brand°8 Aprikose straight walks the line between being complex and being too raw a spirit. On the one hand, you get some menthol notes, but on the other hand you are rewarded with complex stone fruit flavours. The aromas range between fresh apricots, apricot yoghurt and peaches. Beneath it all, you can find a certain spiciness. I guess it is easy to get from my tasting notes that I absolutely enjoyed the Brand°8 apricot eau de vie!
Easy mix of scotch and ginger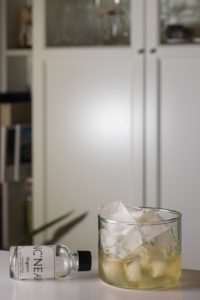 For a drink with the Brand°8, I just threw things together for a quick and easy highball I had lying around, an organic Scotch Single Malt and ginger beer. The malt form the Nc'Nean distillery is organic, bottled in a 100 % recycled bottle and only produced using renewable energy. I really applaud this effort! When it comes to taste, the whisky is malt forward with a hint of smokiness. At the same time it is light and lacks a little bit of age. However, this made it a perfect fit for the apricot eau de vie highball, because I did not want the whisky to overpower the eau de vie.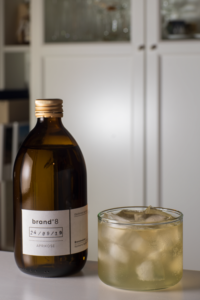 3 cl Nc'Nean Organic Single Malt
2,25 cl Brand°8 Apricot Eau de Vie

Top off with Fever Tree Ginger Beer;
Built in Double Old-Fashioned glass over ice – stir;
Garnish: Lemon Twist (no drop);
Song:Deptford Goth – Near to a River;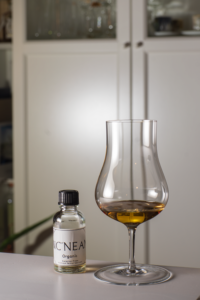 As simple as the drink might sound, the young scotch and the apricot eau de vie really work well together. Additionally, the ginger beer gives the drink a ginger bite and some fresher notes. All in all, the drink is a great mix of whisky and eau de vie flavours reminiscent of a Dark & Stormy with more fruity notes.
*The fact that I received a product reviewed in this article for free, did not – in any way – influence the rating of said product. The Apricot eau de vie was provided by Brand°8.