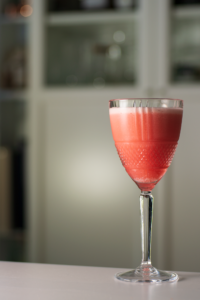 I know that Summer is officially over, but I want to share this fruity cognac drink with you anyway. Especially, because I absolutely agree with the Trinklaune slogan "drink more cognac"! In tis case I finally came around to try the highly praised Naud V.S.O.P. For a drink I kind of stuck with a similar theme than last week and also used the Italian herbal liqueur Strega.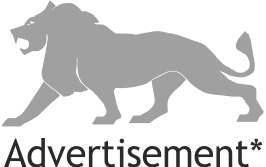 The Naud V.S.O.P Cognac comes from the family owned distillery with the same name. For the cognac, the wine still on its yeast is distilled twice in small, wood-fired copper pot-stills. The V.S.O.P a blend of primarily eau de vies from the Fins Bois appellation and selected Eau de Vies from the Bons Bois. However, it also contains 30 % eau de vies from the Petite Champagne appellation, which matured in new oak barrels. The Naud V.S.O.P is at least five years old, but also contains 10 to 15-year-old cognac.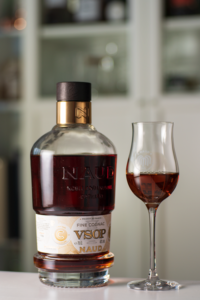 Typical cognac with floral hints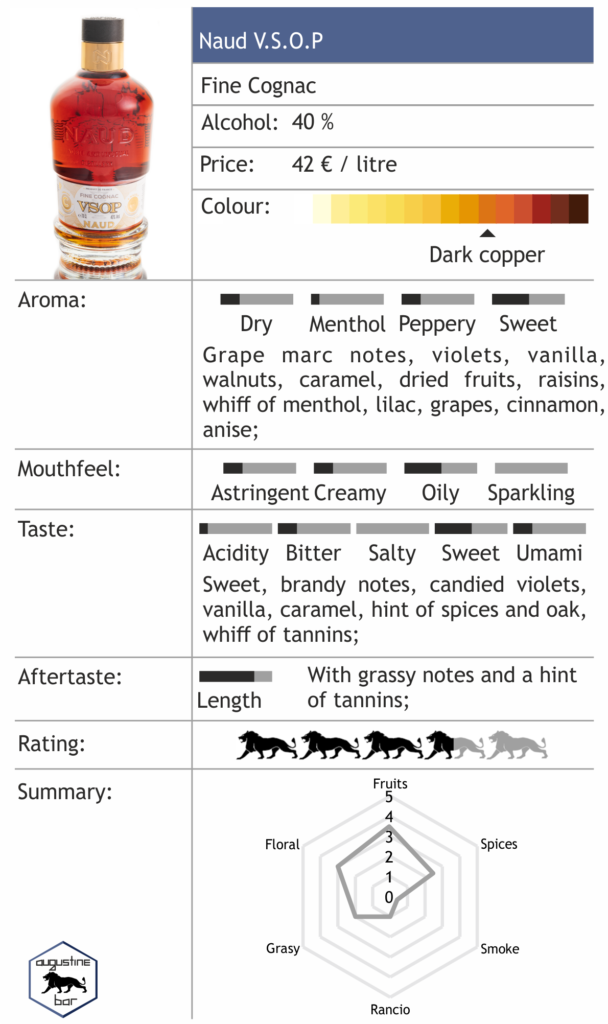 Well, if you try something for the first time that others praised, it sometimes can be a little disappointing. However, not in this case! The Naud V.S.O.P delivers everything you would expect from a medium aged cognac. There are grape notes, dried fruits and typical candied violet notes I always get from high-quality cognacs. Apart from that, I found some walnuts and a hint of anise in the taste which I did not encounter too often in brandies. The only criticism might be that it could just be a little more complex. Yet, that is nitpicking, because for mixing cocktails and occasionally sipping it neat the Naud V.S.O.P is just great. This is why I combined it with Strega and red currant syrup in a cognac sour variation.
4,5 cl Naud V.S.O.P. Cognac
1,5 cl Strega Liquore
3 cl Lemon Juice
2,25 cl Red Currant Syrup
1,5 cl Auqa Faba

Shake first with ice – strain into second shaker – shake again – fill into chilled Cocktail glass;
Garnish: Dried Orange Wheel;
Song: The Barr Brothers – Hideous Glorious;
While you could categories basically every sour with cognac and a liqueur as a Sidecar, the "Hideous Glorious" is a little more complex. The red currant syrup gives the drink a refreshing touch, while the Strega takes it more in the direction of a Champs-Élysées cocktail. Last but not least, the Aqua Faba adds a nice mouthfeel to the cocktail.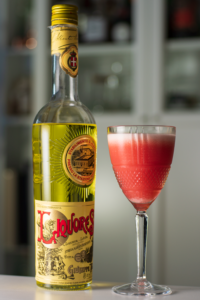 *The fact that I received a product reviewed in this article for free, did not – in any way – influence the rating of said product. The Naud Cognac was provided by Vodka Kultur.