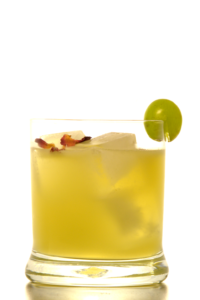 Are you fed up with all the bad Caipirinhas you have to gulp down while attending World Cup parties? Check out my variation for a more sophisticated cocktail that you can actually enjoy while watching your favorite team.
With the worldcup going on at full speed I thought I share this twist on the classic Caipirinha with you. It was inspired by Tony Conigliaro's fig Caipirinha and the use of Tokaji in one of Jim Meehan's recipes from the PDT Cocktail book. In my opinion there are way too less recipes calling for this Hungarian dessert wine and I could literally taste the combination with fresh grapes and cachaca being a winner. Ok enough with the bad soccer references, but it really wasn't that hard to come up with the final recipe.
Basically any good cachaca works in this, as long as it's not Pitu. By the way: no, Pitu is not a spirit category, it's a brand name. This is a common misunderstanding here in Germany, maybe because it was the first cachaca being available here. However, my cachaca recommendations are Velho Barreiro, Nêga Fulô, Magnifica Tradicional or Armazem Vieira Turmalina. As for the Tokaji you probably won't find a lot of drinks calling for it and the chances are high that you won't like it on its own, because of its overwhelming sweetness. So you have two options: buy a cheap one or try substituting it with another dessert wine you have on hand. The important thing is that it's very sweet and made out of white grapes.
If you are crazy enough to buy Tokaji I suggest you go for Tokaji Aszú 3 Puttonyos. In the past the three described the number of tubs filled with noble rot grapes that were added to the raw wine. That means, that a higher number describes a sweeter but also better quality wine. The Tokaji Aszú 3 Puttonyos is a good compromise between quality and price and adequate for this Caipirinha variation.
5 cl Nêga Fulô Cachaca
1,5 cl Disznókö Tokaji Aszú 3 Puttonyos
3 cl Lime Juice
2 cl Honey Syrup with Bloom Pollen*
5 White Seedless Grapes
Muddle grapes in shaker – shake – double strain – Double Old-Fashioned glass;
Garnish: Grape – dried hibiscus blossoms;
*Dissolve honey in equal parts warm water and add some bloom pollen
Song: Stan Getz – Desafinado
As you can imagine this is a fresh and sweet drink, with grape and honey notes in the foreground and the sweetness of the wine lingering on in the back. The lime juice and the cachaca are the counterpart for all that sweetness, so that the drink stays balanced and fresh. All in all this is the right drink for summer, world cup or no world cup and just a quick hint for the gents: it's especially popular with the ladies. – Just saying…