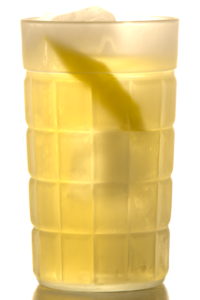 Sometimes a bottle sits around for quite sometime without me having any clue which drink to mix with it. Then all of a sudden I get struck by drink ideas, often even more than one… What this has to do with tequila, you might ask? – Simple, this drink was created in a few seconds. However, it took some fine tuning to get it right. Let us see if it turned out any good!
To test the Don Fulano's abilities I could just have mixed up a Margarita, but where would have been the fun in that? – Ok forget that question, my mind wandered off to Mexican beaches filled with college students… Nevertheless, I wanted to create something different! No wonder then that it took me a while to come up with a recipe. What got me started was a new tea I was given, Haas & Haas Pai Mu Tan white tea to be exact. It has an unbelievable complex aroma, that at the same time is very delicate and almost floral. First, I wanted to use it with gin and I think I definitely will do that sometime. Yet, this time I decided to mix it with the Don Fulano Tequila, to create a real Iced Tea!
It is not like I hate the Long Island Iced Tea…, but I think I can say that I loathe it dearly! Still, I like the idea of taking the ingredients, throwing most of them out and replacing them with good stuff, so that it is a different drink entirely and giving it a similar, but provocative name! Yes, I know that this sounds somewhat crazy, but sometimes you have to play games with your guests to get them to drink the right stuff. In this case I first wanted to add tequila, gin and Kirschwasser to the drink and well, I did. However, it neither turned out as ghastly as you might now imagine, nor did it result in the complexity I was hoping for. As a consequence I dropped the gin from the recipe and added some vinegar. I realize that I am not really whetting your appetite for this drink, but there is a simple reason for adding vinegar: The drink needed some acidity to balance out the dominant notes of the tequila and the sweetness.
D*** good Highland tequila
Though, before we get to the drink recipe I feel the need to tell you more about the Don Fulano Reposado Tequila. As every tequila it has to be made in the state of Jalisco, Mexico. To be more precise the Don Fulano is a Highland tequila, which is aged for eight to two years in pre-used and new French oak casks. I guess this is something special, because most tequila producers just use ex-Bourbon barrels.
| | |
| --- | --- |
| | Don Fulano Reposado Tequila |
| Alcohol: | 40% |
| Region: | Highland tequila |
| Age: | Eight months to two years in new and used French oak |
| Price: | 64 € / per litre |
| Appearance: | Crème, large windows, fast tears |
| Nose: | Agave, noticeable vanilla notes, black pepper, earthy notes, a hint of minerals |
| Taste: | Vanilla then agave, a little bit of caramel and some fruitiness, again some mineral flavours |
| Aftertaste: | Long aftertaste with earthy and spicy notes |
| | |
I think I have to stop myself from sounding overly enthusiastic about this tequila! Ah, I can not restrain myself from bursting it out: it is damn good tequila! After all my gin reviews you might think that I am not the right one to judge, but believe me when I say this: I had my fair share of agave spirit. A lot of crappy ones which are an insult to the lemon and salt they are served with and a lot of good 100% agave ones, too. To put my rejoice into retrospect, it is not the tequila with the most agave flavour, or the most spicy one and also not the most complex. However, it does not hit your palate with a wooden club either! I guess my point is, that it is a perfectly balanced Reposado, who has everything you could possible ask for. For me it even has some Highland terroir flavour, because there is a whiff of earthy notes and minerals in the aroma and taste. – On to the Iced Tea now!
Stir – strain – chilled Highball glass with ice cubes;
Garnish: Lemon twist
Song: Rodrigo Y Gabriela – Hanuman
The first thing you will taste is the tequila, but after a split second it is accompanied by the Kirschwasser and the underlying sweetness. The tannins of the white tea are noticeable, but they do not play the first role in this, they are more there to give the drink depth and structure. If you do not overdo it with the vinegar, you will not even notice that it is there and this is key here. Believe me when I say this: This amount is just right any more and the drink will loose all its balance and will be overwhelmed by a astringent tartness. Any less and the drink will feel like lacking something. Of course this also means that you can switch this cherry vinegar for any other fruity vinegar, as long as it does not contain too much acidity. In my opinion this is an excellent summer refresher and I am glad that I had this strike of creativity. Let me know if you have any other interesting Tequila cocktails I should try!