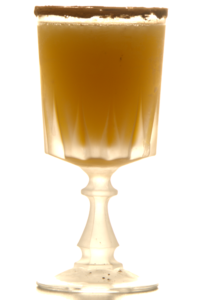 Sometimes I am an idiot, for instance when it comes to the Dodd's Gin. I am absolutely convinced that its makers intended to name it "Dude's Gin" and therefore I am refusing to call it otherwise. Most of you will now moan and think: "so we are back to gin reviews then?" – Well yes, but this gin is really worth a closer look!
To become serious again, here are some facts about the Dodd's gin: It is named after Ralph Dodd who in 1807 wanted to start the London Distillery Company, but never was successful. It took more than 200 years to get things going, when two guys met and restarted the whole idea. The gin itself is mostly distilled in a 140 l copper alembic still called "Christina". However, the botanicals with more volatile aromas are distilled in a modern Büchi rotary evaporator. The two spirits are then blended over several weeks. Amongst the organic botanicals you will find angelica root, cardamom, fresh lime peel, juniper, London honey and red raspberry leaf.
Martini with quite a punch
I was first introduced to Dodd's Gin by an article on Trinklaune and after their praise I could not wait to try it. A little while latter I had the chance to enjoy it at Le Lion in Hamburg and what can I say: The gin really is as good as its description. Moreover, the Dodd's Gin makes an excellent Martini variation with Noilly Prat Ambre, which was first created by Le Lion's very own Mario Kappes. Consequently, I am very glad to now have the opportunity to conduct my own extensive survey on the Dodd's Gin's mixing abilities.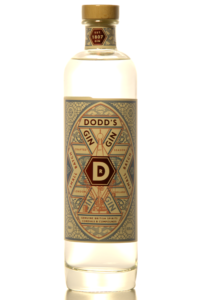 | | |
| --- | --- |
| | Dodd's Gin |
| Alcohol: | 49,9 % |
| Price: | 66 € / per litre |
| Appearance: | Clear, medium sized windows, slow tears |
| Nose: | Juniper, slight sweetness, intense lime flavour, spicy notes similar to bay leaf |
| Taste: | Strong juniper and citrus notes, smooth, but powerful, spices, slightly sweet notes, reminiscent of a summer meadow |
| Aftertaste: | Long aftertaste with juniper and spices |
| | |
Of course this gin is very complex and interesting when drinking it neat, but after a while the sheer amount of aromas will numb your senses. – The high alcohol content with almost 50 % ABV could also have something to do with that, although you will not notice any alcoholic burn or sting. It might sound redundant to say that this gin's most prominent notes are juniper and citrus fruits, but it is simply true. Along with that, there is something else lingering at the back, for some people this is the honey used in the production of the gin. I will go as far as to say, that this gin, despite its ultimate quality, is longing to be mixed. THIS DOES NOT MEAN DROWNING IT IN TONIC WATER!!!
Coffee, gin and lemon
As Torben already described in his article this gin goes perfectly well with lime cordial. So, I thought that combining it with some form of citrus flavour would be a good idea. As mentioned before and since I am an idiot I wanted to create a drink in reference to the Big Lebowski. With this in mind and the Dude's affection for coffee liqueur, I simply threw Salvatore Calabrese's Breakfast Martini and Dick Bredsell's Espesso Martini recipe together and slightly adjusted the amounts. This also meant that I could finally put my homemade espresso liqueur to good use. I basically mixed 175 ml cold quality espresso with 125 ml rum (75 ml HSE Blanc & 50 ml Lemon Hart 151) and added 35 g organic cane sugar.
4,5 cl Dodd's Gin
1,5 cl Homemade Espresso Liqueur
1,5 cl Lemon Juice
0,75 cl Honey Mix (1 Part Acacia Honey : 1 Part Water)
Shake – double strain – chilled Cocktail glass;
Garnish: Cacao powder coated glass;
Song: TV On The Radio – Happy Idiot
The dominating flavours of this drink are the juniper and spice notes from the gin in combination with a refreshing citrus aroma. If you go the extra mile and make your coffee liqueur yourself, the coffee taste will just linger in the back and give the cocktail more depth. Depending on the sweetness of your honey, you will have to adjust the amount of sweetness in this drink and if you get it right you will be rewarded by an elegant balance between acidity and sweetness. However, there is more going on in this drink: you will not directly taste the honey, but in my opinion it forms a link with the honey used for making the gin. I was quite fascinated by this and it is one reason why I highly recommend this gin to you, no matter the price. There are other gins out there which deliver have as much aroma for a higher price…