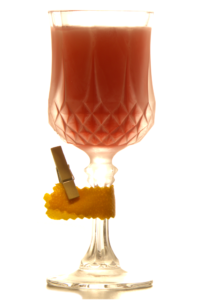 To clear things up: nothing is ruined – Ruin is the name of the cocktail I created, but more on that later. First let me introduce the NB London Dry Citrus Vodka to you. Yes, you have read correctly a London Dry VODKA – Let me explain:
The folks behind the NB London Dry Gin thought the time was right to expand their portfolio. Others might have made another gin, a sloe gin liqueur or heck – even a normal vodka. However, Viv and Steve wanted to create something new entirely. So, they took a test batch of their gin with reduced botanicals that they liked and decided to bottle it as their London Dry Citrus Vodka. On the one hand, the term London Dry is used correctly here, because all the flavour comes from the botanicals and no other flavours are added. On the other hand, I cannot shake the feeling that they are trying to surf the wave of success that is gin and London Dry Gin for that matter.
Convincing through inner values
Apart from that, the product itself looks similar to the NB gin, just with a grey label instead of a white one and this is all you are going to here me say about the optics of liqueur bottles. I have heard that some people choose their gin depending on its looks, a concept that I cannot even begin to get the hang of. Instead let us talk about the NB Citrus Vodka's intrinsic values:
| | |
| --- | --- |
| | NB London Dry Citrus Vodka |
| Alcohol: | 40% |
| Price: | 64 € / per litre |
| Appearance: | Clear, small windows, fast tears |
| Nose: | Lemon peel and pith, slight hint of alcohol, some spices in the background |
| Taste: | Smooth, spicy and dry, lemon peel and some fruitiness, without being scented |
| Aftertaste: | Medium long aftertaste with refreshing lemon notes |
| | |
The NB Citrus Vodka has a nice, fresh lemon taste that is more reminiscent of dried lemon peel than of the actual fruit. As a result of this it manages to deliver lemon aroma without having a perfume like flavour. Underneath the citrus flavour there is more going on, but it is difficult to describe. As with the NB Gin the botanicals are perfectly arranged and balanced. Needless to say, that if you are a flavoured citrus vodka drinker, if such people even exist, you will not find any of your familiar artificial lemon flavour here. Still, I bet this would make a nice Cosmopolitan if you are into this sort of stuff… I know I secretly am and therefore I invented a little twist on the Original Cosmopolitan.
This cocktail will not leave you in ruins
Well, if you consume too much of it, it might, but otherwise it is a very pleasant honest to the teeth sour style cocktail. All I did was taking the Original Cosmopolitan recipe and switching out this and that. Instead of gin I of course used the NB Citrus Vodka, but I also changed the Cointreau to Nardini Acqua Di Cedro, an Italian citrus liqueur. Why you ask? – Just because it was standing around. Additionally, it added a third, more pulp like, level of citrus aroma to the cocktail.
4,5 cl NB London Dry Citrus Vodka
0,75 cl Nardini Acqua Di Cedro Liqueur
3 cl Lemon Juice
0,75 cl D'arbo Raspberry Syrup
Shake – double strain – chilled Cocktail glass;
Garnish: Orange twist;
Song: Cat Power – Ruin
Of course this drink is named after a song, anyone might have a guess why? – Ok, surely nobody will get my absurd idea behind that. So, let me explain: I the song Cat Power lists a lot of places that she has metaphorically visited and if you have visited a lot of places you are a Cosmopolitan. Get it? No? Doesn't matter, let us talk about the drink instead. This cocktail certainly tastes like a standard sour style cocktail, but with the addition of a distinct lemon taste and this is not a tautology. The lemon peel and pith aroma of the citrus vodka is still noticeable in the finished drink. Besides the pinkish colour the raspberry syrup obviously adds a certain amount of fruity sweetness to the mix, which will probably make this popular with the ladies. However, even the most sturdy bartenders might have to admit that there is nothing more refreshing than this kind of drink on a hot summer evening.
In conclusion, I quite enjoyed the NB Citrus Vodka. As with their gin there is a certain mist of perfection around it. The botanicals are very well balanced and the alcohol is beautifully integrated. Despite that I am not so sure if the market demands this kind of spirit. Even though, a lot of so called gins have less juniper flavour than this vodka, it is just not cool to drink vodka right now, or is it?