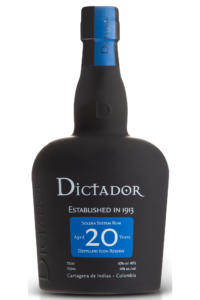 As promised, the gin review on the Black Forest Gin will be the last one for a while now, but since I am a hypocrite this is an outright lie, as you will notice when you have finished reading this article. Nonetheless, this still is a piece about rum: Dictador Rum to be exact, so follow me and find out what this hieroglyphic introduction is all about.
First, some facts about the company itself: it derives its name from a myth of a draconic tax collector named Severo Arango y Ferro. Arango y Ferro travelled to what we now know as Colombia in the 18th century to "improve" the tax collection in the Spanish colony. He soon fell in love with the forerunner of modern rum. Back then spirits were not only drunk in great quantities, but also used as currency. In 1913 Don Julio Arango y Parra, a descendant of Arango y Ferro, established the Destilieria Colombiana to create fine rum in memory of the "Dictador". Nowadays the third generation of the family started to export their rum internationally with the help of European investors.
I had the chance to try all four regular bottlings of Dictador rum, as well as their two gin varieties. The twelve year old is the entry to the range of Dictador rums, continuing with the twenty year old and reaching the top with the two X.O. fillings. Consequently I started with the twelve year old and here are my tasting notes: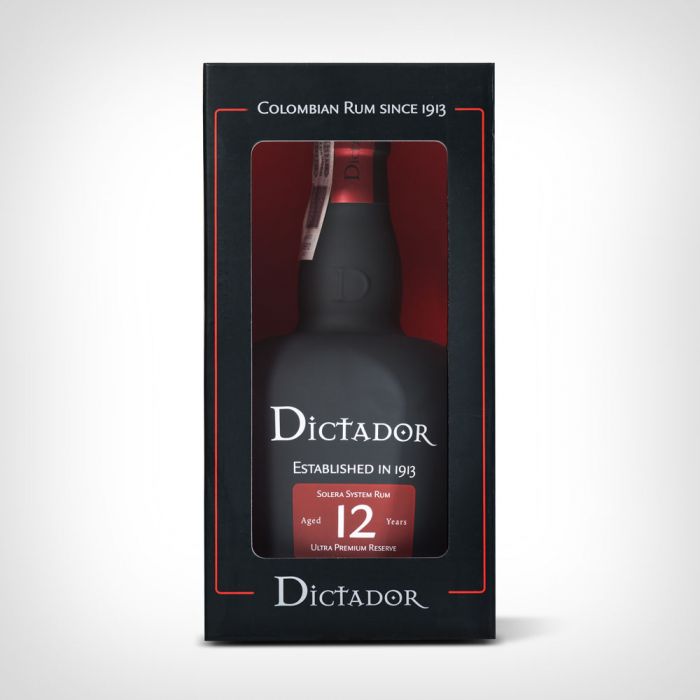 | | |
| --- | --- |
| | Dictador 12 Year Old Solera System Rum |
| Alcohol: | 40% |
| Price: | 43 € / per litre |
| Appearance: | Auburn, small windows, slow tears |
| Nose: | A lot of vanilla, caramel, caramelized violets |
| Taste: | Sweet, vanilla, violets, caramel, some spice aroma, reminiscent of cacao beans |
| Aftertaste: | Medium long aftertaste with caramel and vanilla |
| | |
The twelve year old Dictador is distilled from something called virgin sugarcane honey, which translated into plain English means that only the juice of the first sugarcane pressing is used form fermentation. Then 30 % of the sugarcane honey mash is distilled in a traditional alembic pot still and 70 % in a stainless-steel continuous still, which results in a not too heavy and not too light bodied spirit. Afterwards the raw spirit is aged in pre-used oak barrels, which previously held Bourbon, according to a secret Solera system. This means to call itself twelve years, the youngest spirit in the blend has to have this age with the rest being older rum. The term that Dictador use to describe this rum is "medium bodied" and that exactly hits the spot. It is neither too sweet, nor too harsh, not too boring, neither overly complex. This way it will be well received by a lot of people, especially novice rum drinkers. What I especially like about this one is that it is not as immensely sweet as other pleasant sipping rums.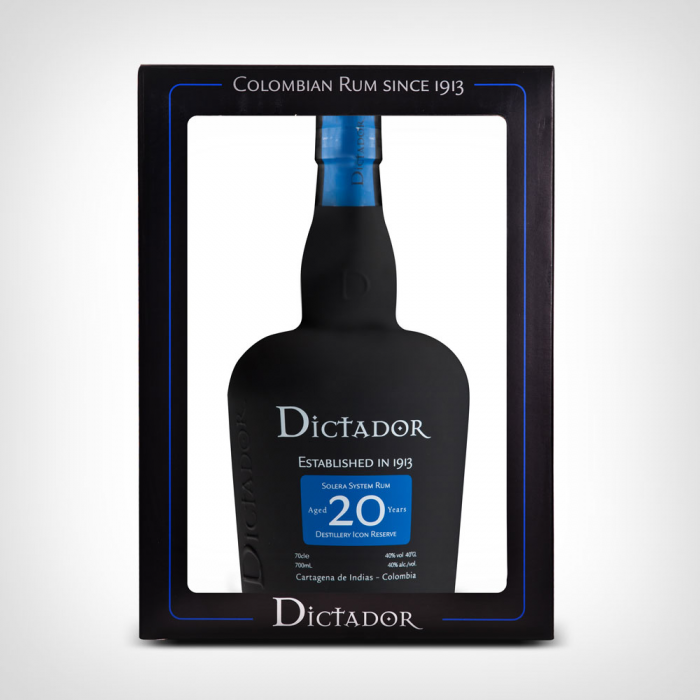 | | |
| --- | --- |
| | Dictador 20 Year Old Solera System Rum |
| Alcohol: | 40% |
| Price: | 70 € / per litre |
| Appearance: | Dark orange, small windows, slow tears |
| Nose: | Clear walnut notes, again caramel and vanilla, some spices lingering in the back |
| Taste: | Sweetness, burned sugarcane, vanilla, more caramel and pronounced bittersweet cacao notes |
| Aftertaste: | Long with nuts, caramel and a slight bitterness |
| | |
For the twenty year old rum the same mix of distillates is used and also aged in ex-Bourbon barrels using a Solera system. However, this time the youngest rum in the mix is twenty years old. When sampling the different sorts of rum I got a bit confused and thought that the twenty year old was the top of the line impression from Dictador, so I tried it last. Nevertheless, because of its complex walnut and burned almost smoky sugarcane notes you could sell it for a higher price. In my opinion the twenty year old hits the sweet spot, where there is enough complexity, but not too much bitterness from the oak. I quite liked it and I think it is the most rewarding bottling from Dictador.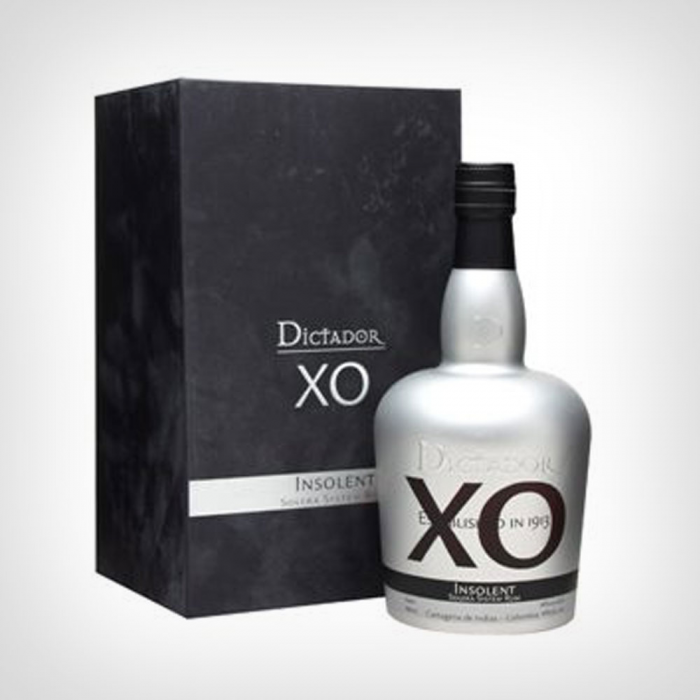 | | |
| --- | --- |
| | Dictador XO Insolent Solera System Rum |
| Alcohol: | 40% |
| Price: | 123 € / per litre |
| Appearance: | Russet, small windows, slow tears |
| Nose: | Vanilla, walnuts and caramel |
| Taste: | Walnuts, sweet caramel, cooling menthol, dried plums |
| Aftertaste: | Medium long with dried fruits and nuts |
| | |
I am not so sure if Insolent is a good name for a rum, but first the basic facts: Like all Dictador bottlings the raw material for this rum is juice from the first sugarcane pressing, which is distilled in a stainless steel alembic still. The unaged spirit is than filled into barrels which previously held either Port or Sherry. Those barrels are reused and after some time they are toasted again to help the aging process. Similar to the other fillings the special Dictador Solera system is used here. Back to the rum itself, not knowing the price I would have put it in a sort of medium range. Not bad, but not that complex either and especially since it does not carry an age statement. The only two things that give away that it is superior to the twelve year old are the walnut notes and the dried fruit notes coming from the former fortified wine barrels. You really can believe me when I say that you can actually taste the influence of the barrels, because at the time of sampling I was unaware of that fact.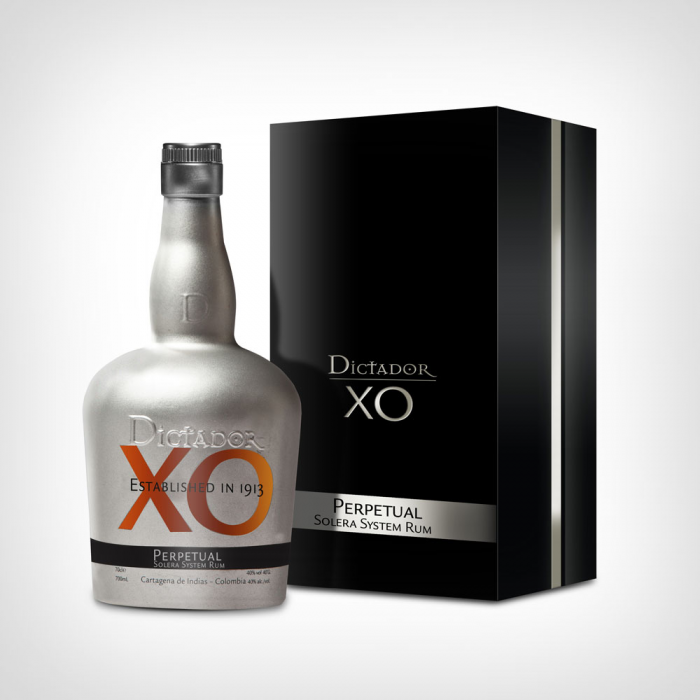 | | |
| --- | --- |
| | Dictador XO Perpetual Solera System Rum |
| Alcohol: | 40% |
| Price: | 123 € / per litre |
| Appearance: | Mahogany, small windows, medium fast tears |
| Nose: | Fragile walnut notes, a lot of caramel, burned sugarcane, sweet fennel and vanilla |
| Taste: | A hint of walnuts, vanilla, caramel and dark chocolate |
| Aftertaste: | Long finish with a load of caramel and vanilla |
| | |
Again sugarcane juice from the first pressing is used for the mash of the Perpetual. However, in contrast to the Insolent this one is distilled in a copper pot still, which results in a heavier style of rum. The second difference is that the Perpetual is aged in selected ex-bourbon barrels, also using a Solera system. When the aroma is concerned this one genuinely can live up to the expectation.  It is the party piece of the Perpetual and contains elements of all other Dictador bottlings and even adds a little bit more. For me this encore came in the form of a pronounced fennel note. Yet, the taste was not quite what the aroma has promised, but the long aftertaste could rather make up it.
And now we get to the point where I need to explain why I am a hypocrite: I told you: "No more gin reviews…" and as aforementioned – this was a simple lie. As some of you might know, Dictador also makes two barrel aged gins and a review of there products would not be complete without them. So, here we go: My thoughts about the two Dictador gin releases.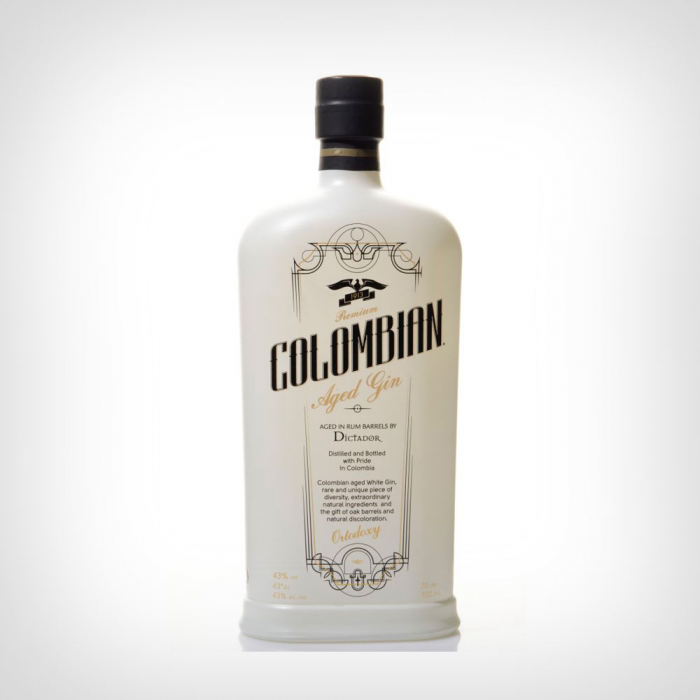 | | |
| --- | --- |
| | Dictador Ortodoxy Gin |
| Alcohol: | 43% |
| Price: | 41 € / per litre |
| Appearance: | Clear, small windows, medium fast tears |
| Nose: | Juniper, strong lemon peel, spices, cooling menthol, angelica, lime |
| Taste: | Smooth, medium bodied juniper, heavy citrus flavour, varying from lemon peel to lime juice, some peppery spices, refreshing peppermint |
| Aftertaste: | Medium long with mint and lemon oil |
| | |
The Ortodoxy Gin is produced from sugarcane and distilled five times. All in all twelve Botanicals are used, amongst them angelica root, black pepper corns, ginger, juniper, lemon tangerine and rosemary. After the distillation the gin is aged in used Dictador rum casks for six months. However, you will not notice it when look at it in the glass, because it is then naturally filtered (I have no idea what that means). Also the combination of botanicals differs from its brother the "Treasure": this one is set out to be more similar to a London Dry gin. First the compliment: with its fragrant citrus notes this gin is unbelievable smooth, while not lacking the distinct juniper flavour. Moreover, there is not an annoying common gum cistus note and instead it is completed by cooling menthol and mint notes. And now the scolding: I can not grasp the sense in aging a gin in oak barrels and than removing the colour and along with that all the flavour the wood could have brought to the mix… Hence, let's see if the "Treasure" can make up for it: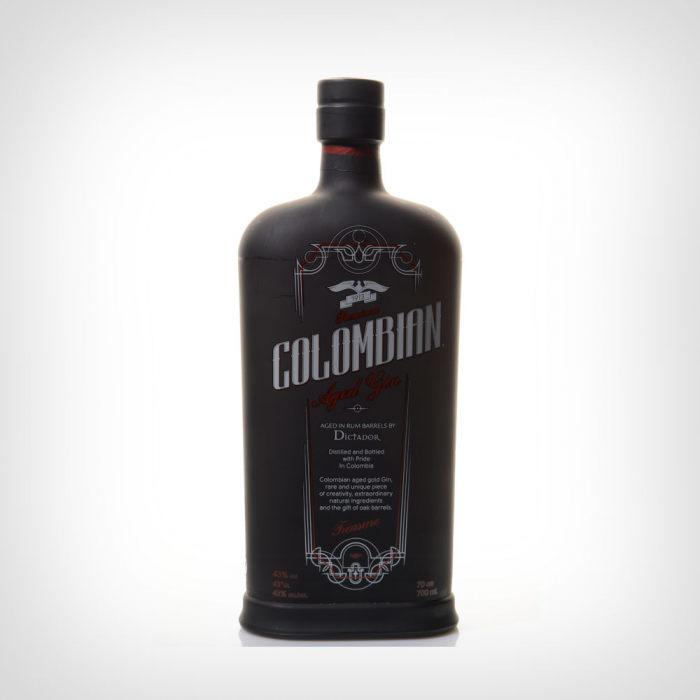 | | |
| --- | --- |
| | Dictador Treasure Gin |
| Alcohol: | 43% |
| Price: | 51 € / per litre |
| Appearance: | Light yellow reflexes, small windows, medium fast tears |
| Nose: | Slight whiff of juniper, again strong citrus notes, hint of sweet vanilla behind the botanicals and some berry aroma |
| Taste: | Lemon notes, juniper and spices, sweet berries along with a minor scent of vanilla, again refreshing mint notes |
| Aftertaste: | Medium long finish with spices and sweet lime peel |
| | |
As mentioned before the Dictador Treasure Gin has a more modern mix of botanicals and is also not filtered after the six month maturation in rum casks. It would be overstated if I would tell you that you can taste a wood aroma, but there is some different aroma lingering in the back that I believe comes from the barrel aging. Apart from that it is as smooth as the Orthodoxy. If this slight plus of aroma is worth the price I let you decide, I myself prefer my spirits unfiltered. Yet, I wish they would make an unfiltered bottling of the Orthodoxy, with its combination of botanicals. Just one quick tip at the end: Be careful on what tonic water to mix the Dictador gins with! (I suppose this is what your Dictador gin will end up with…) With 43% ABV they are not the most powerful of gins, so a light style of tonic water is in order. I would suggest 1724 or something similar.
In conclusion I enjoyed all bottlings from Dictador. They were smooth, yet interesting rum and gin styles, which will be well received by a lot of guests. Especially the rum is not overly sweet as it is the case with way too many others out there. However, the Dictador products also come with a keen price tag and you should savour them accordingly.