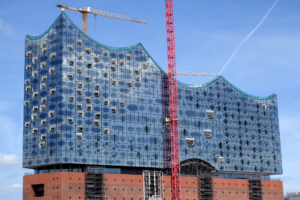 This year's C&D meeting took place in Hamburg and was clouded by a nationwide rail strike. We still somehow managed to get to this great city in the North and met up at a trendy burger restaurant. However, great burgers along with nice drink creations were just the start of many great things to come!
On beef and lions
Since, we were one of the first to arrive we were able to grab a delicious pulled pork burger with onions sautéed in red wine and an ice cold Pilsner Urquell at Brooklyn Burger Bar. After a very healthy dinner with a lot of burgers and fries, we decided to visit Joerg Meyer's famous bar: Le Lion right next to the beautiful town hall. From the moment we sat down at this elegant bar, we instantly knew that there was no over possibility than to spend the rest of the night here. The atmosphere was just too stunning and the drinks just were too good. Every single drink from our not too short order managed to remain perfectly balanced, while including a fair amount of spirits. If I had to choose one of them to be the best, it would be the already much talked about Dodd's Gin Martini. Though, each and every drink was magnificent, this makes no sense at all…
Unpronounceable coffee and a champagne guided tour
After a healthy breakfast with Ethiopian Yirgacheffe and cold brew coffee at Elbgold we did some sightseeing, where we of course visited a speciality liquor store. Later in the day we met up at the Landungsbruecken and took a ferry to the Elbphilharmonie. There some beautifully chilled champagne was waiting for us on our guided-tour through the Speicherstadt.
| | |
| --- | --- |
| Pascal Doquet | Blanc De Blancs Extra Brut |
| Grapes: | 100 % Chardonnay |
| Alcohol: | 12 % |
| Dosage: | 3,5 g / litre |
| Price: | 32,90 € |
| Nose: | Fresh green fruits, Granny Smith apples, some grassy notes |
| Taste: | Very refreshing, vibrant acidity, with green apples, but well integrated |
| | |
| --- | --- |
| Alexandre Salmon | Cuvée A. S. |
| Grapes: | 50 % Chardonnay, 50 % Pinot Noir |
| | Aged in 200 litre oak barrels for eight months |
| Alcohol: | 12 % |
| Dosage: | n.A. |
| Price: | 59,00 € |
| Nose: | Dark fruits, roasted bread, some freshness |
| Taste: | Again dark fruits, more sweetness, balanced by a little acidity, strong brioche notes |
| | |
| --- | --- |
| Cécric Bouchard | Côte De Val Villaine V12 |
| Grapes: | 100% Pinot Noir |
| Alcohol: | 12% |
| Dosage: | n.A. |
| Price: | 42,90 € |
| Nose: | Wet flint-stone, fire crackers, smoke and some fresh citrus notes |
| Taste: | Exactly what the nose promised, a lot of flint-stone and gun powder, with a noticeable acidity |
| | |
| --- | --- |
| Marie Courtin | Eloquence 2009/2010 |
| Grapes: | 100% Chardonnay |
| Alcohol: | 12% |
| Dosage: | 0 g / litre |
| Price: | 49,90 € |
| Nose: | Lavishing berry notes, especially black- and raspberries, fresh green fruits |
| Taste: | Again wild-berries, harmonically balanced acidity, some fresh baked bread |
I personally enjoyed the first champagne very much, because it just was the right drink for this beautiful sunny day. It was very refreshing, without having too much acidity. At this point it is only fair to mention, that it contained a little too much acidity for some of us. In contrast, the second and fourth champagne were real crowd pleasers. Don't get me wrong they were still a mile away from what some better situated people mistake for champagne nowadays. I am just saying that almost everybody from our small group enjoyed them.
The third bottle was altogether different: Until then I did not know that champagne could taste this way. With its pronounced flint-stone and smoke aroma it was very intriguing, but I am not sure, if I could have sipped more than one glass of it.
Refreshments before the demise
After this great tour, we stopped at the Trific restaurant for dinner, before we took off on our bar tour. Oliver Trific managed to serve us the ideal base for our endeavours that evening. The three course menu started off with different starters consisting of various freshly caught fish and one vegetarian dish with beets and goat cheese. For the main course we enjoyed delicious lamb over asparagus and in the end we were surprised by the genius combination of mouse au chocolate and fresh berry crumble.
But there was no time to relax for us, since we started our journey through the nightlife of Hamburg in groups of six. Our first stop was the cool Savvy Bar, where the bartender served us the right aperitifs for this long evening. Next up was the 3Freunde Cocktailbar in St. Pauli where we enjoyed a wide range of extraordinary cocktail creations from bar manger Jennifer Franke. I especially like the El Rabanito, a combination of Anejo tequila, mango, agave, lime and garden radish.
The tour continued with a quick stop at Boilerman Bar, where we quenched or thirst with some aperitif wine highballs and satisfied our hunger on some Italian pizza. After two more stops we finally reached our figuratively speaking last destination Le Lion (again). Bar owner Joerg Meyer had previously send us a video message, where he – let's put it this way – promised us that we would have a "great" evening. After the complimentary Cus D'Amato we tried two different Jacquesson Cuvées, the 738 Extra Brut and the 733 Dégorgement Tardif. While the standard Cuvée 738 was the great sipping champagne, as we know it, things were a bit different with the 733: The freshness was almost completely replaced by brioche and yeast notes and this was not in favour of all of us.
My great (tired) entrance and some eau de vies
The next day, the traces of the night before clearly visible, everyone seemed a bit more tired than usual. Nevertheless, we had a eau de vie tasting scheduled and that was exactly what we did. Since I am working with and had been learning about eau de vies in the last few months, I had put together an exclusive selection of eau de vies from Austria, Germany and Switzerland. Along with that, I gave a short overview of the eau de vie production and tried to answer all remaining questions on this topic. While all products were good, in my personal opinion the Dettling Réserve, Fassbind Brut De Fût Prune, Guglhof Waldhimbeerbrand and the Hiebl Marille Edelbrand stood out from the rest, because of their extraordinary aroma and quality. You can download my complete tasting notes here.
Experimental cocktail creations and nice end
Since the tasting had made all of us hungry, we had a big barbecue to fill our empty stomachs and after that we were ready for the traditional annual cocktail competition. The list of participants was similar to last year and they prepared some interesting concoctions. To not prolong this article I simply provide you with a downloadof the drink recipes. Nonetheless, I think I am speaking for most of us, when I say that the winners really deserved their price. The beet eau de vie alone managed to win high praises. In combination with Mezcal, Campari and Lillet Blanc the cocktail just blew us away with complex and earthy notes, complemented by the distinct Campari bitterness. Of course, I should also mention the second and third winners. My guest blogger Steve managed to convince the jury with a cold-buttered rum like drink and Gerhard (aka. Dadid) mixed up a classical and delicate combination of damson eau de vie and gin.
All in all I can say that it was a glorious weekend in one of Germany's most beautiful cities. The program and organisation were just perfect and I think I can speak for all of us, when I give a big thank you to Oliver Steffens, Daniel Klingbrunn, Torben Bornhöft and all the other helping hands!