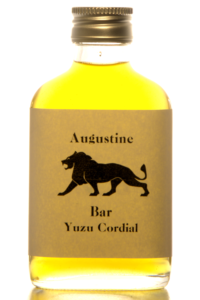 It seems like I have neglected this category for quite some time now. Something has to be done against that! Luckily I was just experimenting with a cordial recipe, which is the perfect opportunity to make up for my shortcomings on the DIY-front. So join me for this yuzu flavoured recipe!
Of course Sours are delicious and fun, but every now and then I am trying to replace the simple lemon or lime juice with something different. Vinegar would be one possibility, however I could not quite get the hang of using it in cocktails. Another very old way of bringing some acidity into the drink are cordials. These part juice, part syrup type of things have been around since the Royal Navy was fighting scurvy. I have already published two recipes for making orange cordial and a rhubarb flavoured variation. This year I somehow missed rhubarb season and did not make any. Nevertheless, I wanted to have a cordial on hand for refreshing summer drinks. So, I simply came up with a quick and dirty way of making a yuzu cordial.
3 cl Fresh Lemon Juice
3 cl Yuzu Juice
3 cl Water
75 g Organic Cane Sugar
2 Bsp. Yuzu Peel Powder
Peel Of One Lemon
Mix everything in pan – bring to boil – simmer for 2 min. – let cool down – strain through tea sieve – bottle in clean bottle;
This is quite different to your average lime cordial, it has strong and astringent lemon notes and the yuzu is really noticeable. Just half an ounce of it mixed with mineral water makes a refreshing lemonade, with the Yuzu flavour still going strong. Nonetheless, probably everyone will use this in a Gimlet style of drink and I will definitely try this, too. Yet, the first cocktail I mixed was new drink entirely using two types of malt. Don't worry the recipe for the drink is coming up next!